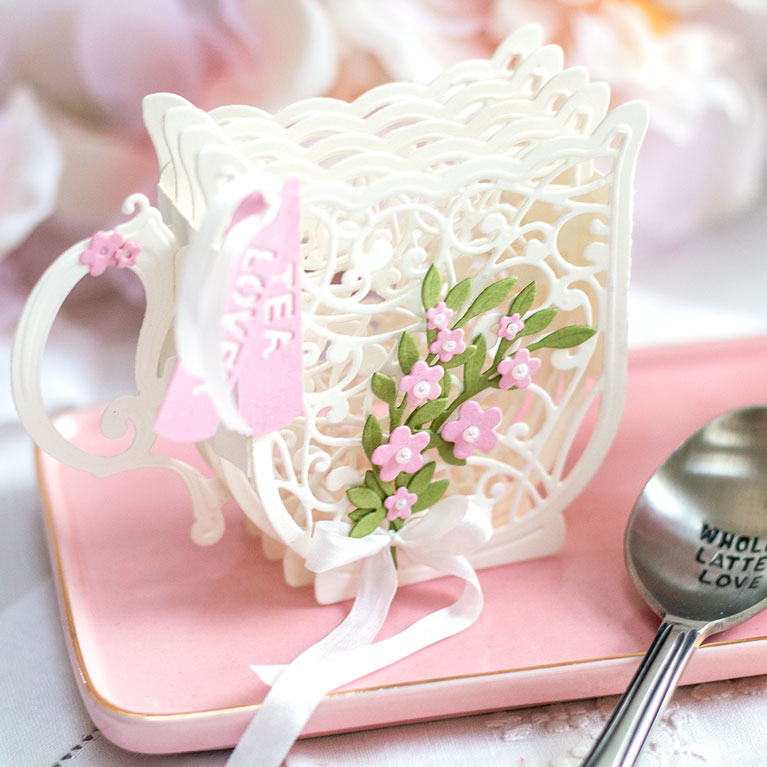 Happy New Year my sweet friends!!!  I always love writing a blog post to kick off the new year!  Is there ever a time where we have more optimism for the upcoming new year?  Well, I do!!  Many things to come with a new year, but today I'm introducing a new Amazing Paper Grace Die of the Month!  I love coffee and I love tea, so I knew that one day I'd bring out a 3D Vignette Cup.  So this one has been on my list for a long time – this sweet set is called Pop Up 3-D Vignette Coffee, Tea, or Me and I styled it specifically so that it could be used for Valentine's Day.  As with other vignettes, you can make a 3D item or use it flat on a card.
Inspiration for the Pop Up 3-D Vignette – Coffee, Tea, or Me
I have a major love affair with Coffee and Tea.  It's my self-care and I savor the moments I can sit down with a friend over coffee and while away the hours.  Who am I kidding though – I absolutely savor the time when I can sit down with a cup of coffee and just think.  I'm not the only one, I know there are cardmaking groups that make cards and posts only about coffee!  I think it goes hand in hand with our craft!
What's Inside the Pop Up 3-D Vignette – Coffee, Tea, or Me
This month's set comes with 21 dies.  A cup that can be cut as a solid or filigree along with mirrored cup handles that look good from both sides (yes, I'm left-handed but the cups can be right-handed cups too!)  The cups also come with a rounded top that lets you see the back dimension and even a die that when cut from a different color makes it look like your cup is full of liquid.  For embellishments – you can go for regular flowers are heart flowers with stems.  Lastly, there are a host of words, and words can be made from the individual letter dropouts.
Check out the video to see how easy it is to create a cup of love for your coffee or tea-loving friend:
I create a video for each Die of the Month for Spellbinders but don't forget, I have my own Youtube Channel – Be sure to Subscribe HERE.
More Inspiration for the Pop Up 3-D Vignette – Coffee, Tea, or Me



Could anything be sweeter?  This die template is simply begging for sweet little flowers.  Here I used Petite Floral Potpourri for a quick one-minute embellishment.  Ultimately, the little bow at the bottom makes this arrangement so that I can use the tea bag die and it won't fall out of the bottom.  Be sure to see the video where I show you how.



Some folks like it simpler and only want to make a card!!  This die works out marvelously on a card base.  Don't forget – the handle is reversible!



Lastly, I wanted to make it up with an elegant flare!  For this cup I wanted you to envision the steam wafting up!  For the steam, I cut up pieces of the handle and glued them together.
Coming Up
Did you see that I just released a new video on my Garden Shutters Interactive Card?  I haven't made a Youtube video for my channel in a while and it felt great to jump back into the drivers seat – you can see that video at this link:  https://youtu.be/8DtPstDCCWE
I couldn't stop thinking of things to make with this set and our design team has already begun creating with it as well . . .  as you know, our Creative Team always loves to show you their take on the new Coffee Tea or Me Die of the Month with a blog hop.
Feel free to reach out to me!  Here's where you can find me.
Click here to Follow Becca Feeken on Facebook!
Click here to Follow Becca Feeken on Instagram!
Click here to Follow Becca Feeken on YouTube!
Click here to Follow Amazing Paper Grace Creates on Instagram


Happy New Year!  I hope this year brings you many joys and fulfillment as you journey through the days!