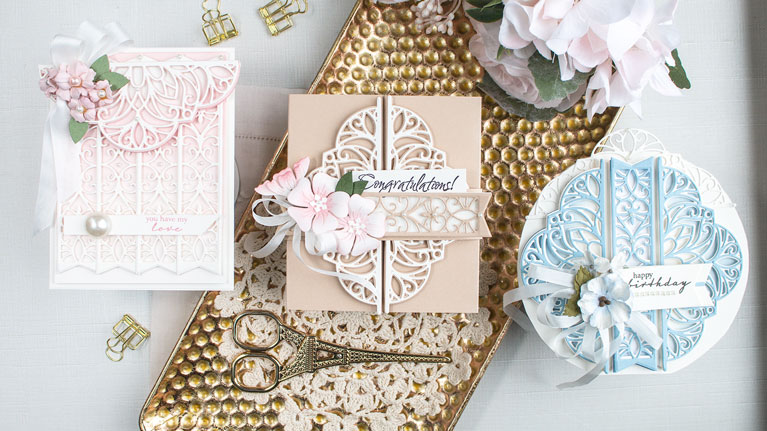 It's that time again!!!  Time to welcome a new Amazing Paper Grace Die of the Month! This month brings you Marvelous Medallion.  After I started working with it, I have to say I was so pleased with how versatile it truly is.  It looks like a doily except there are two pieces – one thicker, one thinner and together they created a shadow layer not only on the outsides of the design but on the insides as well.  My samples include an A2 Card, a round card, and a gatefold card.  And of course, this combination also looks right at home in an A7 Card.
P.S.  Don't forget to scroll down so that you can see the inside of the Gatefold Card!
Some links may be affiliate links, buying products through these links generates a commission at no cost to you.
The Inspiration for Marvelous Medallion
This month's set comes with 13 dies.  To me, sentiments are such an important part of a card – they should bring home your message, loud and clear.  With this design, you essentially have a split doily or split medallion that allows you to lay in any sentiment you desire.  The banner shape can be filled with filigree or left solid.  Plus this is a thick banner that will allow a large sentiment or more than one.   As always, there was room for a little flower!  These are simple – cut two – arrange them in a cross — and voila, you have a flower.
Please be sure to check out the video – I'd love for you to see how easy it was to create a unique background :-)
I create a video for each Die of the Month for Spellbinders but don't forget, I have my own Youtube Channel – Be sure to Subscribe HERE.
More Inspiration for the Marvelous Medallion



This was my favorite card to make and so very easy! And it's an A2! It gets a sweet delicate look from the ink that is swirled onto the edges in a graduated form.  If you can imagine, this card will accommodate any occasion – just change out the sentiment!



I used a small paper plate to trace two circles to cut for my card base.  A round card will not stand so I leveled it out a tiny bit at the bottom.  This gave me a unique new look in my tool box – one that I haven't sported in a very long time.  Again, I brushed on ink around the edges for a powdery look.  I hope you'll try!
I love me a gatefold card!!  Here I show you the inside and the outside.  Because this month's die is a round shape that is split into two – it makes it the perfect bookends for not only the outside of a gatefold card, but the inside.  The decorative strip is just the cherry on top – it can be used in so many decorative ways.
That's it for me today!  I hope you are inspired by the Amazing Paper Grace February 22 Die of the Month!  It packs a big punch and gives you lots of options.
Feel free to reach out to me!  Here's where you can find me.
Let's Chat                    – Follow Becca Feeken on Facebook!
See What's Up            – Follow Becca Feeken on Instagram!
Kick Back and Learn –  Follow Becca Feeken on YouTube!
Get Inspired               –  Amazing Paper Grace CREATES on Instagram


Are you new to my blog?  Please don't be shy and let me know you are here.  This blog has been my home of choice for so many years and long-form blogs are giving way to short, instant microblogging like Instagram.  Let me know you are still kicking around out there!