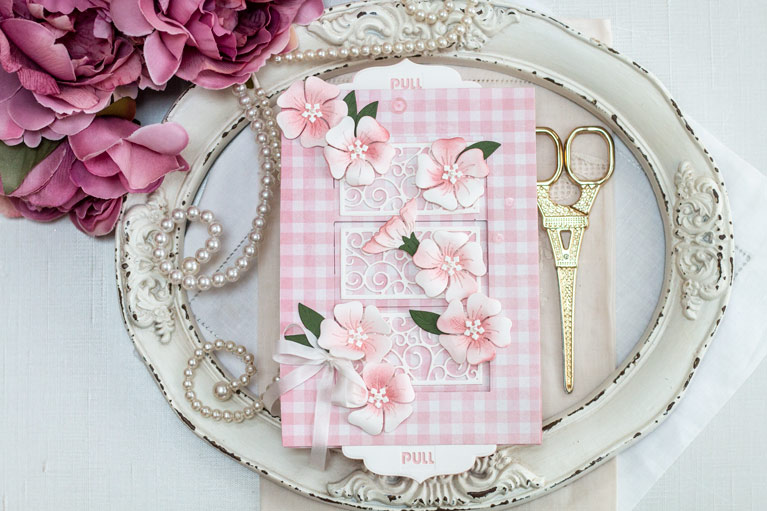 I just gotta say, it's as fun "making" an interactive card as it is "getting" one.  I think it all makes us little kids when we make things flip, turn and go.  I'm so tickled to be adding a new interactive card collection at Amazing Paper Grace and it is flipping fun.  No, really!!!  You'll have to see this one in motion on my Instagram.  Without further ado, I'm happy to Introduce the Garden Shutters Collection!!  Let's hear it for motion!! It creates a beautiful card and with one pull of a tab, the shutters open to reveal a delightful surprise sentiment on the other side! There are two card base sizes, A2 and 5 x 7-inch, to choose from. Each card base set has all the elements you need to assemble and embellish a card!  So it is two shutters for you or the full three?  Giveaway Information below.
Some links may be affiliate links, buying products through these links generates a commission at no cost to you.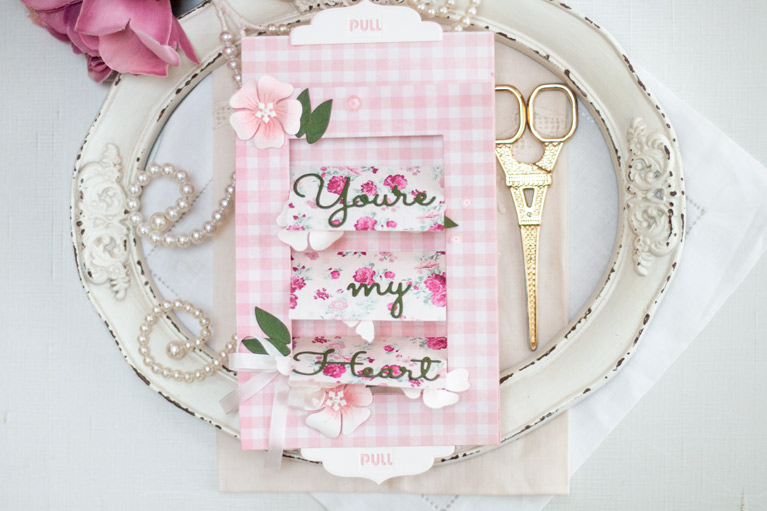 My Garden Shutters Card for Today

I have a very romantic card today and of course, it is pink!  I'm using:
S6-183 Butterfly Bliss Garden Shutters
and
S5-484 Primrose Heart Facade
I really love the A7 version of the card.  The dies do all of the work for you!!  I wanted to create the primrose flowers in a cascade that would fall down across the card.  Technically you don't know that there are shutters and the flowers serve as a camouflage of sorts.  It's really fun to pull and have the shutters rotate down.


Designers Tip:  This is important . . . you get the best mileage out of this card by having the shutters open at the top and rotate down.  That means you can literally fill the shutter up with flowers, vines or a diecut that extends up over the edge.  It will neatly rotate down without getting caught on anything.  
Garden Shutters Availability:
These dies and plates are available from Spellbinders right now! Click here: Garden Shutters Collection.
I'll have a detailed video to show how the Garden Shutters card is constructed with dies in the collection.


Did someone say giveaway?
We haven't done a giveaway in quite some time so it seems fitting to exit the year with a little fun.   Stop by tomorrow 12/30/21 to see the video and leave a comment to be in the running for a prize.






Accessories: S6-183 Butterfly Bliss Garden Shutters, S5-484 Primrose Heart Facade
Stamps: None
Paper: My Minds Eye – Blush Sweet Bouquet Paper
Ink: None
For more Garden Shutters Collection Inspiration Visit each Creative Team blog linked below for their take on creative paper crafting ideas using the Garden Shutters Collection!
Visit Katarzyna Bobrowska
Visit Tracey Sabella
Visit Robin Clendenning
Visit Joanna Wisniewska
Visit Patricia Manhire
Visit Agnieszka Posluszny
Visit Elena Olinevich
Visit Anita Kejriwal
Visit Becca Feeken at Amazing Paper Grace

Feel free to reach out to me!  Here's where you can find me.
Click here to Follow Becca Feeken on Facebook!
Click here to Follow Becca Feeken on Instagram!
Click here to Follow Becca Feeken on YouTube!
Click here to Follow Amazing Paper Grace Creates on Instagram


I hope you all had a marvelous Christmas!  I spent mine with family for the first time in 10 years!  It was pure bliss and I'm as happy as a lark!  I hope you had wonderful gatherings too.  It is so hard to believe that January is upon us.  It's busy for me and the Amazing Paper Grace Creative Team.  We have some wonderful things coming this year.
Thank you so, so much for making my blog a place you visit.  It's an honor to create things and chat about them with you all.  Please keep coming and drop a comment so I know what's going on in your life.   Sending huge hugs!