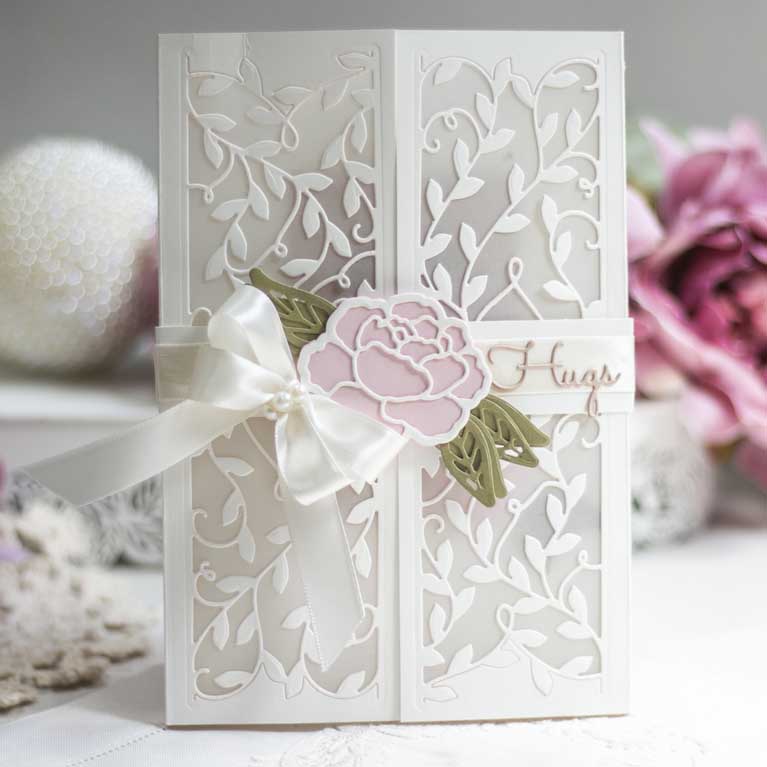 Sweet friends, you know what time it is!!  Yes, it's the beginning of the month and that means a new Die of the Month!  So without further ado, the Amazing Paper Grace August 2022 Die of the Month is called Peekaboo Trellis Panels.  There are two of them and they are perfect for cards, borders and decorating.  You can tell how much I love a die by how many projects I kick out and I had to stop on this one!
Some links may be affiliate links, buying products through these links generates a commission at no cost to you.
Inspiration for Peekaboo Trellis Panels
This die set is lovely and oh so useful, just because of its simplicity.  There are 13 dies in the set – stained glass like roses, a word, and two inlay panels that create a lovely see-through effect.  In my inspiration, I've cut the inlay in many ways and also used it as a decorative border.   I literally couldn't stop.
I love a quick box and the border was the perfect decoration I needed for my two-by-two by eight boxes.  I have a thing for gatefold cards, so I've included one this month.  I also loved that I could make a card where most of the inlay falls away for a lovely wispy set of vines.  Oh, I could go on but let me show you!
By the way, both edges of the die are non-cutting so if you want strips, you simply cut your strip to the size you need, position your Peekaboo Panel and cut away!!
On this month's video, I show you step, by foolproof step, how to make a gatefold card:
Crafting Ideas for Peekaboo Panels
This see-through card is the number one inspiration for the die set this month.  I love inlay panels and this makes the most intriguing card.  The bonus is that I think the panel looks dazzling!




It is also right at home on a slimline card!  This couldn't have been easier, just cut and mount!!



The trellis panels play into Christmas in a big way!!  Shhhh . . . don't tell anyone this isn't a bona fide Christmas die, it's just playing at being one!



And there you have it!!  This was a blissful couple of afternoons playing and experimenting.  Even though cards are my main jam, just think about all the things you can make with the Amazing Paper Grace August 2022 Die of the Month –  Peekaboo Trellis Panels.
By the way, each month we debut 8 – 10 new walk-through tutorials in the Amazing Paper Grace – Creative Encouragement Facebook Group.  I hope you join us there!https://shrsl.com/3l8ne
You can find me and our team here, be sure to follow!
Let's Chat                    – Follow Becca Feeken on Facebook!
See what's Up            – Follow Becca Feeken on Instagram!
Kick back and Learn –  Follow Becca Feeken on YouTube!
Get Inspired               –  Amazing Paper Grace CREATES on Instagram


Friends, I have been traveling non-stop and love it when I can sit down and visit with you in this way and create!  I hope you are all doing well and crafting your way through the year.  So hard to believe but it's time to start thinking about Christmas again!!