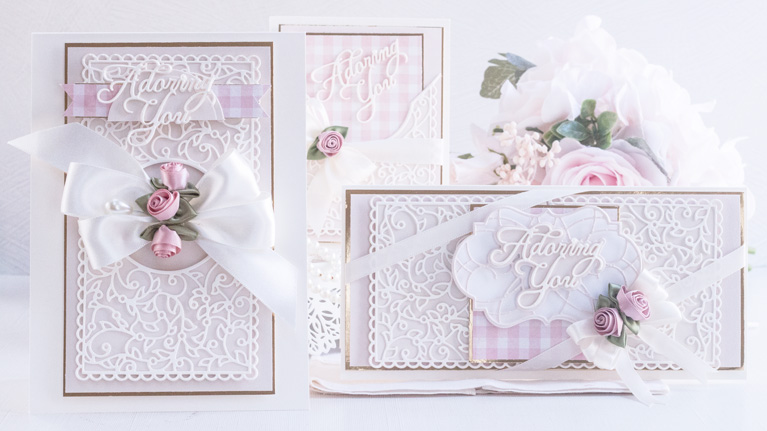 Hi there sweet friends.  Throughout the year I introduce several small die collections.  They are broken down into a small handful of dies that are meant to work well together.  Today I'm going back to my roots – my very favorite die is a classic, romantic, die that can be used multiple ways on A2 or A7 card fronts.   I'm tickled to share the Classically Becca Collection.
Some links may be affiliate links, buying products through these links generates a commission at no cost to you.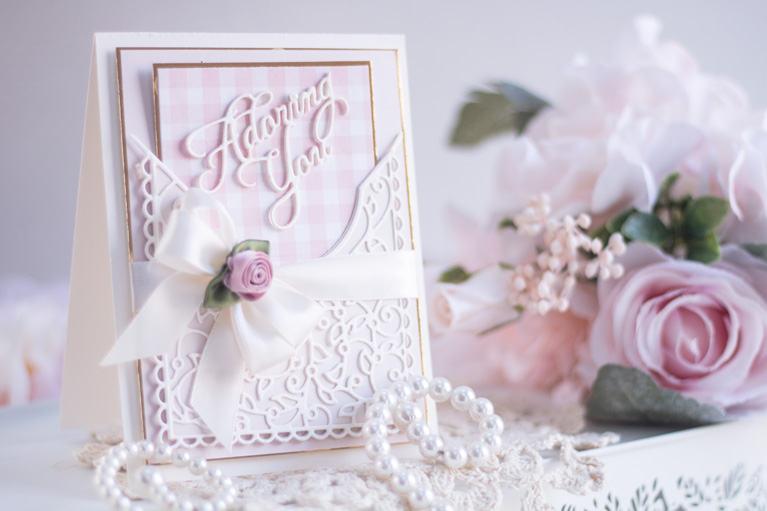 Whether coloring is your thing, or letting the dies do all of the heavy lifting, the Classically Becca Collection has card front elements sized to allow you to highlight a beautiful sentiment or let the dies create a beautiful background while you add a sentiment snippet to carry the day.
My Projects for Today
For my project today I used the S5-493 – Adoring Fleurette Card Builder in THREE WAYS
1. As an A2 Card
2. As an A7 Card
3. As a Slimline Card
It's easy!!!
For this ensemble of cards, I basically did the same thing on each card – it's just a different size.  This card builder brings out the best of the size you like.  It's a versatile set of dies that can be layered and mirrored for the most stunning effects.




Accessories:  Classically Becca Collection, S5-493 – Adoring Fleurette Card Builder
Stamps: None
Paper: My Minds Eye – Blush Sweet Bouquet Paper, Recollections Dove White
Ink: None
For more Classically Becca Collection Inspiration
Visit each Creative Team blog linked below for their take on creative paper crafting ideas using the Classically Becca Collection!
Visit Robin Clendenning
Visit Kate Skonieczna
Visit Joanna Wisniewska
Visit Patricia Manhire
Visit Agnieszka Posluszny
Visit Elena Olinevich
Visit Anita Kejriwal
Visit Katarzyna Bobrowska
Visit Tracey Sabella
Visit Becca Feeken at Amazing Paper Grace
Keep up with Amazing Paper Grace!
Let's Chat                    – Follow Becca Feeken on Facebook!
See What's Up            – Follow Becca Feeken on Instagram!
Kick Back and Learn –  Follow Becca Feeken on YouTube!
Get Inspired               –  Amazing Paper Grace CREATES on Instagram


Sweet friends, I hope you'll take a second to hop all of the links to see what the creative team has cooked up for inspiration.  Thanks so much for peeking in today!!