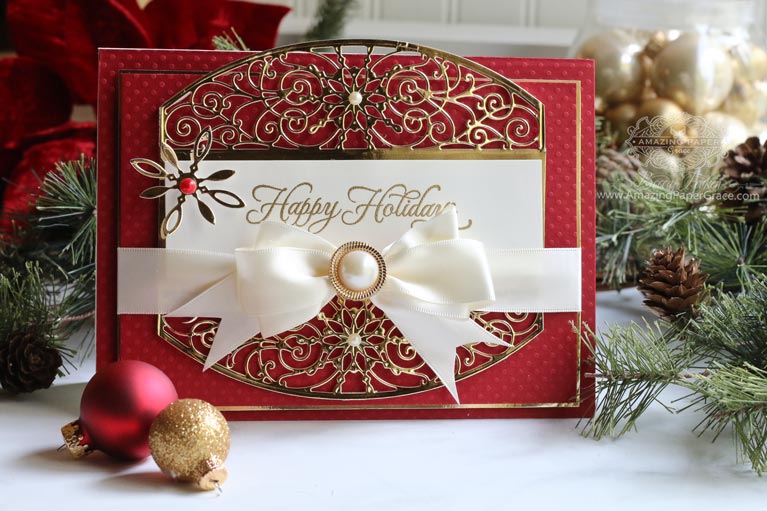 Tis the season to be jolly!  Even though it is only August, Christmas will be here in the blink of an eye.  I'm sure you are already listing out all the cards and gifts you're gonna make, right?  This year I've designed a Christmas Collection and am so tickled to be Introducing A Charming Christmas – for Spellbinders. We have a hop today to show you all the goodies and things we've made.  You can see the entire collection —–> HERE. 
By the way, here today I show a project using the Grand Cabinet, and it is back in stock as of yesterday but in short supply!
Also, if you read through my post and look at comments, many thought this collection was sold out – lol not yet :-) It is indeed available.
About A Charming Christmas Collection
Sweet little charms are so fun to play with, they can be dangled off of gifts, dangled off of cards and used in 3D Projects – they are just like the icing on the cake.  You will see that the "holiday" part of most of the sets in this collection have a Charm to personalize them – they are sized the same so you can mix and match them through your projects!  Here's the big deal: Outside of the charms and embellishments you add to make these dies Christmas, separately they can be used all year-round!! Yep, we're all budget shoppers too and want to get the most use out of a die!
Join us as each Creative Team member shares their creations with two dies from the collection.  Don't forget, each of us will be giving away an Amazing Paper Grace die pulled from the comments – one from each blog.  The prize details are at the bottom of my post.  So, without further ado let me talk about the dies I get to introduce:
My Projects Today:
First  up is S4-963 – Snowflake Topper Borders 
I love how both of these pieces can be used on the vertical or the horizontal for easy cards.  Today I decided to go with the horizontal panel by cutting the rounded element twice.   That leaves the perfect place for a sentiment!  I used the new stamps in the set from Sentimental Christmas for the sentiment – it's fairly large and holds its own on a card!
Second is S6-151 – Holly Jolly Christmas
I just love this template!!  Even though I like to make "special" cards, also during Christmas I love a card that I can make assembly line style.  This is all cut in one fell swoop and then assembled!   I wanted a card front design, in a classic style that's an easy card make, and looks like the beauty and essence of the season.  Yep, Holly Jolly fits the bill :-)
Third up is S4-961-3D-Angel-Ornament
Oh my, this is one of my favorites.  It's so easy to make – simply cut one of each angel, intersect them, tie on a loop, hang on your tree!!!  So one of the areas where I always fall down during the giving season is the tags and tie ons for bags and gifts.  Well, this ornament doubles as a gift tag!  I thought it would be so very cool to give some of the ornaments during an ornament exchange and on the bag, use a dimensional angel for the tag.
She's so simple on her own, but for the version that is hanging in the Cabinet Card Base. I cut two of each angel and then even cut out a set of wings to insert as well.  Cut, intersect, hang and admire!  No glue here on this just cut and assemble project.
Availability: