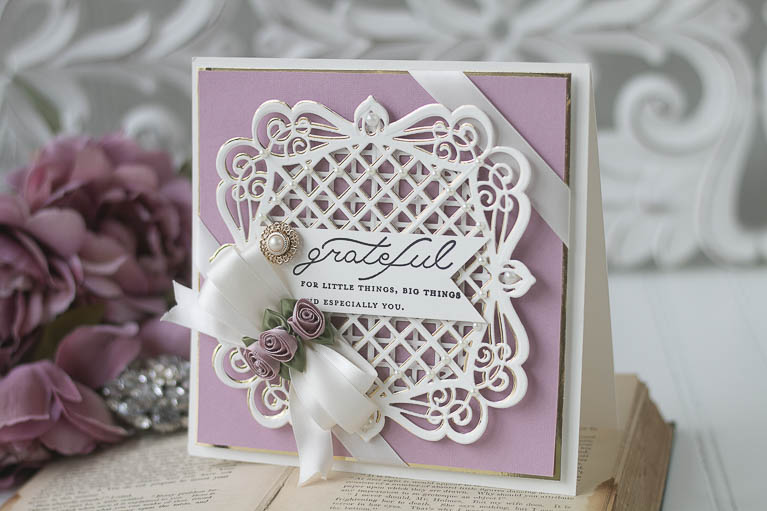 Hello Gracelets!!  As you know, each month I have the pleasure of introducing a new Die of the Month.  It's absolutely my therapy to play with this die and present it in several fashions over the course of the month.  This month the die is one that is capable of so many different arrangements because I've given you four motifs to work with. Welcome the Amazing Paper Grace September 2020 Die of the Month Lattice Quadrante.  I almost named it Lattice Pie but you know me, the elegant name won out :-)
Some links may be affiliate links, buying products through these links generates a commission at no cost to you
Inspiration for Lattice Quadrante
So often when cutting a die, I wish I had two motifs so that I could mirror and cut the same motif at the top and the bottom.  This desire is the inspiration for this month's Die of the Month, Lattice Quadrante.  I've given you four motifs that translate into countless configurations.  It just so happens if you use all four motifs, you actually come out with a rounded central element and I've given you a rim so that it can be completely cut out.  It's just as easy to use two of the motifs and the partial rim to get the shaping at the top and at the bottom.  With those pieces, I could immediately count about five different styles of cards.



Here is a short video that shows all the pieces to the die set and how to put them together if not making a round motif:
Lattice Quadrante Samples



Pretty much no month is complete until I've tried to make a box with the die of the month.  I love the box this month because it is so simple and the beautiful lattice makes the color come through.  Here the box is 2-3/4″ on each side and about 4 inches high.  I topped it off with a little spray of silk roses.



I think I'm taken with the ability to set up this motif as a "V".  Because four motifs are supplied, it's soooo easy to cut two at once for a lovely vertical mirrored panel.  I've always wanted to do this!  I've always done tall cards and they are so popular right now – this definitely scratches the itch to go vertical.  For this arrangement, I created a custom envelope using scoreboard but it could have been easily done with my We R Memories Envelope Maker as well.



I also created a set of pocket cards.  These are perfect for invitations, or if you have a lot to say!!  The Lattice Quadrante pattern is used to make "Peek a Boo"  V shape in a paper panel so that it shows front and center and gives you an idea that there is text inside for you to pull out.



This format of the pocket card was oooh so easy to make.  Simply cut one motif into a panel and glue the panel onto the front of the card, making a pocket.  I finished it off with a cardstock band on the front and glued the same band inside.  This card is 6″ x 6″



I don't know about you, but once I find something I like, I make many.  This was such an easy roll to get into and made me look in my stash for beautiful design paper.  I couldn't resist decorating up another pocket card.
We'll be bringing you more inspiration on ways to use the sweet pieces to this set, this month!  In fact, join us here tomorrow (September 2nd, 2020) when me and several of the Amazing Paper Grace Creative Team show you the interactive Christmas Cards we'll be making for Christmas this year.  


Sweet friends, August was an amazing month even though life was spent mostly in isolation.  I had the pleasure of working behind the scenes with new members of my creative team as well as the previous members who have stayed on.  In addition, this month I've had the opportunity to have Zoom calls with friends and with family.  It all really feeds my heart to have that connectivity to people.
Thank you!
I think for me, staying in touch is the key to staying happy.  That all leads me to say that popping in here every month is a continuing part of my well being.  I love it that after so long, I can still look at and read amazing comments and say hello back to each of you.  Thank you!  I know that it's hard to get around to blogs but I do so treasure the long time readers that have been here and eagerly look forward to when you weigh in every month.  I hope that as our journey continues, you are well and happy too!
Thanks so much for stopping by, see you soon!!