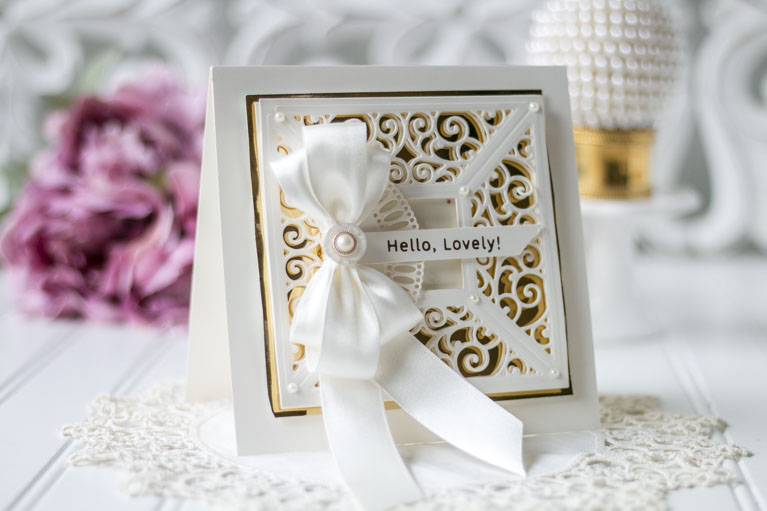 I guess you can say that I feel right at home going back to my roots with classic sewing inspired motifs! Introducing the Picot Petite Collection!
Over time we've had lace-inspired designs and have loved the feel of Hemstitching and Candlewicking.  Reminiscent of needlework and treasured handwork proudly displayed, I've developed another classic line of layering shapes that feel so much like tatting or picot crochet.  As you might imagine, these shapes are crisp, clean, and timeless. Whether you are simply adding a classic layer to a card or cutting an aperture to highlight a lovely sentiment – these shapes mix and match with other sewing inspired motifs as well as intricate backdrops.
Today you're in luck! Our Creative Team is sharing makes from the Picot Petite Collection.
Classic Shapes are Timeless
I'm a card maker too, so for this collection, I decided on the most popular die-cutting shapes in oval, round, square, and rectangles. Moreover, these classic shapes mix and match with Hemstitch Classics, Candlewick Classics, Elegant Twist Classics, and now Picot Petit.
The Inspiration behind Picot Petite
If you've ever seen tatting, the little loop produced along the edge is called a "picot".  It's this little loop that is the basis for the border on all of the Petite Picot shapes.  They are lovely as a backdrop for any other layerings as the little picot peeks out.  It's just a subtle way to bring in the ways of classic needlework to give texture and dimension to the backdrop of our cards.
Each of our Creative Team members will show you their take on cards made with a classic picot flair.
My Projects For Today
First up is Amazing Paper Grace S5-404 Filigree Quartet for Spellbinders
Here is what the dies look like:
For my project today, I made a layered card by double stacking the die cuts.  This die has four inserts and I used all of the inserts on the card and removed the inserts to get my gold layer.  I also used GLP-176 Borders and Sentiments for all the sentiments I'm showing today.



Designer Tip:  Highlight the focal point on your card by cutting up a die and using something pretty to draw the eye in to the place you want people to focus.
Here is the Spellbinders video showing amazing new samples as well as a walkthrough of the entire collection.
For my second card, instead of using the inlays to fill the Filigree Quartet, I reached for another die in my stash.  That's the truly lovely thing about this die, you can reach for almost any die to fill it.  Simply use all four rims and cut out your own insets.  For these insets I used S4-993 Floral Tiara Topper.
Picot Petite Availability:
These dies and plates are available from Spellbinders right now.  Click here: Amazing Paper Grace Picot Petite.
Picot Petite Inspiration Blog Hop!
Click on the links to each member, they're waiting to inspire you to create something beautiful:
Visit Joanna Wisniewska
Visit Beatriz Jennings
Visit Sathya Kala Sankaran
Visit Tara Brown
Visit Kate Skonieczna
Visit Linda Parker
Visit Becca Feeken at Amazing Paper Grace
Giveaway!  
You could win an Amazing Paper Grace Die of the Month! Enter to win on our new Instagram Account https://www.instagram.com/amazingpapergrace_creates/. All  of the entry details are there, look for this image below:
Special Offer!
Do you Love it? Do you Need it? Do you Want It All NOW?

Spellbinders is offering an exclusive 
Want It All Bundle
! Get all 6 Picot Petite Dies NOW and SAVE 20% (that's a $30 savings) over buying each die template individually!  You can see the bundle at this link: 
Want It All Bundle
I love your comments!   Which shape do you reach for most of the time?