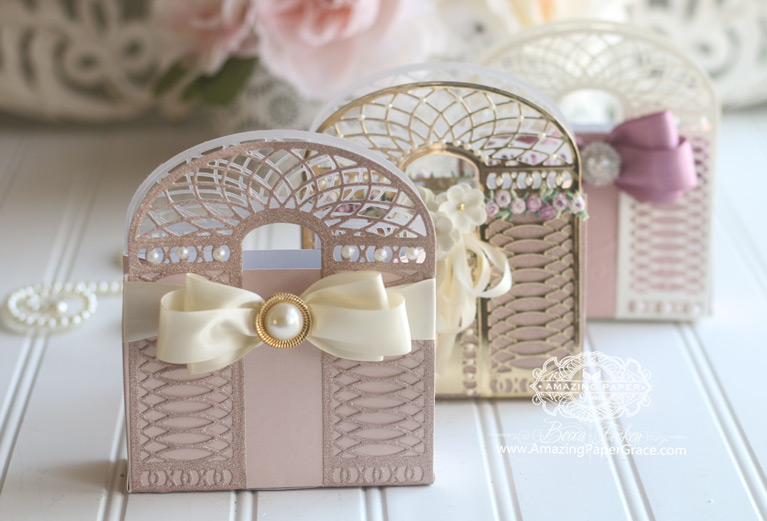 Good morning lovelies!  It's the beginning of a new month, so I'm back to introduce a new die of the month, the Amazing Paper Grace March 2019 Die of the Month – Spun Blessings Oval.   Die of the Month is an opportunity for me to create a multi-purpose die that will create many items and works well with that you have in your stash.  For new subscribers, if you are not familiar with the Die of the Month here's a post that will give you all the details.
Inspiration for this Month's Die
This month's die has 6 pieces.  It is a grand oval that will be good for layering but I'm in love with the inlaid pieces as well.  Using them independently as inlays will give a lot of texture to your cards.  Paired with basic shapes in your stash, these will punctuate rectangles, will give great texture to strips, circles and ovals.  Of course all alone, it's a layering background but then again, it works marvelously into 3D projects.
You know that I love creating ensembles.  In other words, I love being able to make something that matches the card I'm going to send.  Today I thought I'd share some sweet little gift bags that are perfect to go with a card made with the Spun Blessings Oval:
Spun Blessing Oval Samples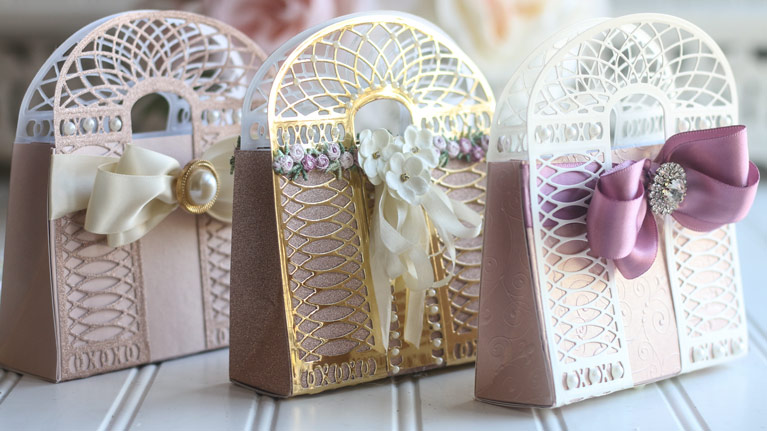 For my first project I knew that I wanted a little bag to light up my ensemble and this is as easy as it gets.  The video above will show you how to make it and it makes the perfect addition to anything you make with the Spun Blessings Oval or even the small inlays that can be used alone on a card.
The dimension of the bag are: 4-3/4″ wide by 5-1/2″ tall by 1'1/2″ deep.
I just feel like light radiates off the spirals cut by the die when it's backed by gold, so that's what I did when I made my card!  This makes an easy card by using the entire die and then I added several panels on top.



For those who like smaller cards, you'll be able to take the round inlay spiral motifs and simply cut them directly into a card.



On this project I simply cut off the top and bottom of my panel to get the rounded edges – I love them!  I can see using this motif time and time again.
That's my shares for you with the March 2019 Die of the Month!  Pop over to the Spellbinders Blog to ——>THIS POST <——– to have a look at many more pictures of the Spun Blessing Oval Die.
If you are already a member or have purchased any of the Die of the Month Dies, I hope you'll leave a review of the die on the Club Page.  If you like the direction I'm going with these dies, please leave a comment on the Spellbinders Blog Post so that I can continue to create in the same vein.  As always, if you have a constructive comment on how the dies work for you, please leave it – I read all of these and we discuss them as I plan additional designs.




Stamps: 
Paper:  Neenah Classic Crest – Natural White – Cover – 80lb smooth, Bazzill
Ink:  Versamark
Accessories:  Amazing Paper Grace Dies by Spellbinders, Spellbinders Foil System,  Amazing Paper Grace March 2019 Die of the Month.


Thank you so much for taking the time to stop by, I really appreciate it!!  Oh, and I'm curious, in the comments tell me how many years you have been making cards.  I have a personal bet going on with a friend that I'll tell you about in an upcoming post about how long we think people are cardmakers :-)