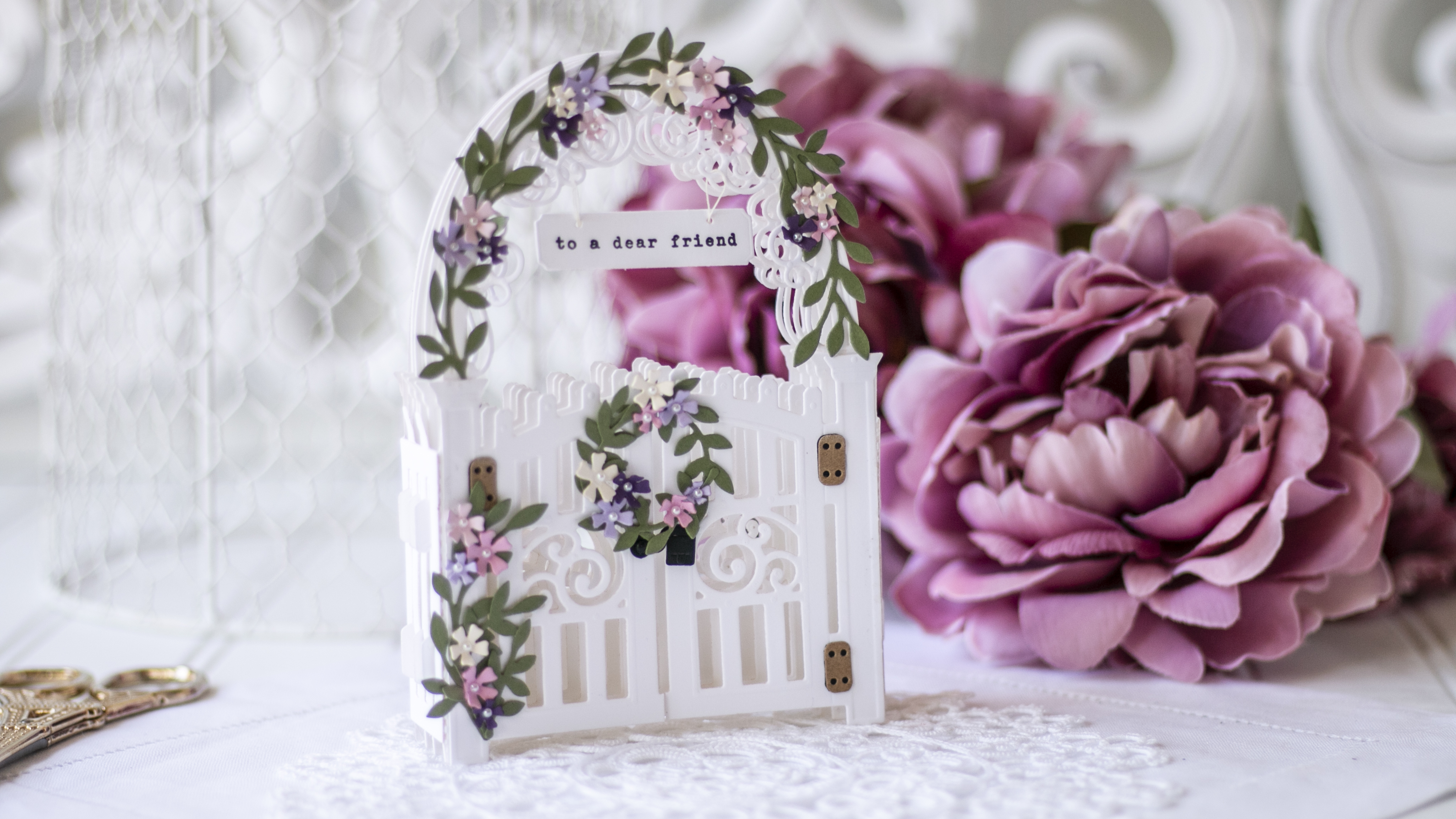 April Showers bring May Flowers!  It's full-on spring around here and we have the garden to prove it!  As you may know, I love dimensional cards that are showpieces.  Stand them up on a desk and they are irresistible to play with and admire.  I'm dreaming of a beautiful picket fence arbor and real garden gate adorned with petite vines and blooms.   Please welcome the Amazing Paper Grace May 2021 Die of the Month – Mini 3D Vignette Garden Gate designed for Spellbinders.  You will be amazed at all the different, lovely things you can make with it!
Some links may be affiliate links, buying products through these links generates a commission at no cost to you.
Inspiration for the Mini 3D Vignette Garden Gate
Right now I'm in love with petite little flowers and vines.  I've been putting them on everything, like Notecards, Tags, Favors.  They've become as important of an embellishment in my craft toolbox, as pearls.  I figured out that the mini vignette with the Garden Gate was an excellent place to play.  In fact, it works with or without embellishment, with or without the arch and is crazy cute.   It reminds me of spring, it reminds me of a serene walk in the garden, it simply makes me smile.
What's Inside the Mini 3D Vignette Garden Gate
As always with my designs, I try to think of those who make A7 Cards and A2 Cards.  Beyond a dimensional 3D Vignette of the Garden Gate, you can make a flat A7 card or use the fence to make a flat A2 Card.  As you'll see from my samples today, it is begging to go on boxes and little favors as well.  My favorite? Hard to choose but the little gate gift bag has grabbed my heart and is perfect for Mothers Day, Easter, a table setting, or a sweet little gift.  As you can tell, this is my passion.
You'll definitely want to the watch to video today to see how easily the Garden Gate goes together!  I'll take you through it, step by step!
I hope you like the video tutorial. Please subscribe to the Amazing Paper Grace YouTube Channel.
More Mini 3D Vignette Garden Gate Samples



No design would be complete if you couldn't make a sweet little bag from it.  This is all I dreamed of!  Please know that when I next get to entertain, each of my guests will find this little favor at their place setting.  Who could ever guess that simple paper can create a mood, a feel and a lovely setting.



I also created a small Picket Fence notecard.  The outside holes were just perfect for slipping in the sentiment banner.  This is easy to do, I simply use the "Hinge" Technique demonstrated in this 5-minute video.



Creating the picket fence ambiance on a box is as easy as gluing a panel to each side of the box.  The vines have the perfect curve to create swags.  As you might guess, I simply adore thinking up ways to make life beautiful!
Coming Up
We have a new hostess over at the Amazing Paper Grace Creative Encouragement Facebook Group!  We're kicking off a new season of giveaways, tutorials, and group activities.  Do you love making boxes, paper flowers, or using your dies in unexpected ways?  Then you need to stop by and visit us at the Amazing Paper Grace Creative Encouragement Facebook Group. We have a library of over 100 diecutting, paper crafting and flower making tutorials in a supportive and lovely community.  I hope to see you there!
The Creative Team always loves to show you their take on the new Die of the Month, see their makes from the Mini 3D Vignette Garden Gate Blog Hop.


Sweet friends, it's always a good day when I know you'll be stopping by.  As always . . . I appreciate it!!  I hope you are finding joy in finally being able to get outside and in the freedom the future will hold, after lockdowns are over.  Hang in there!  It's all going to be okay!!