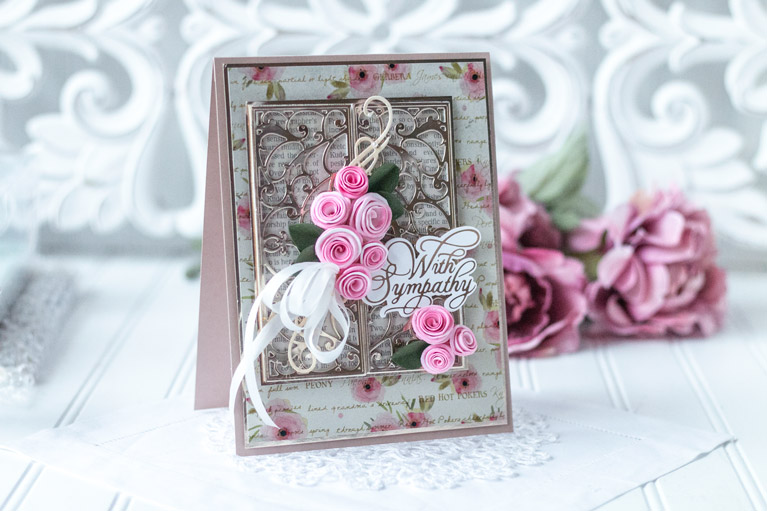 Last week I introduced a set of dimensional flowers in the Amazing Paper Grace Die of the Month for April 2021, Dahlia Dimensional Doily.  Today it's my pleasure to get to play with them once again.  I'm not gonna lie, the little spiral flowers are so easy, that they have become my "go to."  There are people at both extreme ends who use no flowers and then there are folks that cover their card with flowers. I'm three clicks past the no flowers people – I see flowers as punctuation, they add a sweet bit of embellishment.  Toward that end, these really fit the bill!
Some links may be affiliate links, buying products through these links generates a commission at no cost to you
Three new flowers.  We are showcasing three new flowers!  Easy, easier, easiest.
Easy – Dahlia Dimensional Doily is a flower made with round disks that link together to form the base and the petals.  Built on the same concept as dimensional doilies, this representation of flowers creates a focal element that has some height.
Easier – One round piece in the set, with eight cut and folded circles combines to make a familiar round dimensional flower.
Easiest – Sweet spiral flowers with a score line that lets you fold over and shape the spiral. Oh, and don't forget a background that when cut twice gives you a full A2 Background.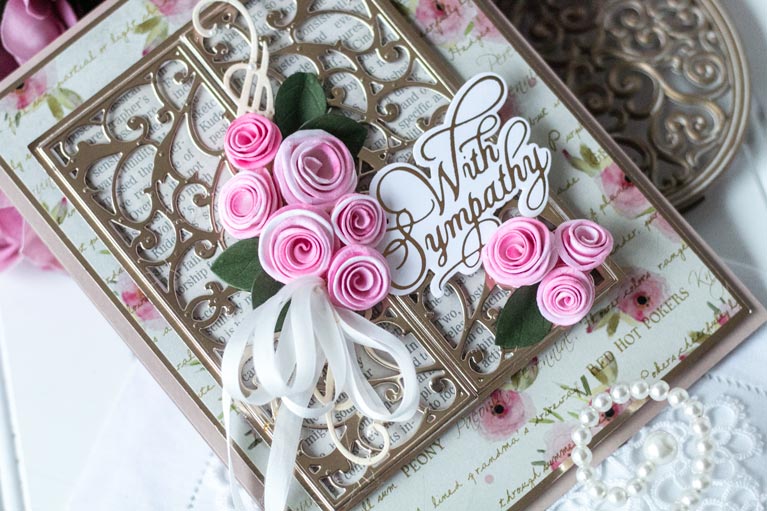 All together the background and flowers create a sweet, layered dimensional finished card that can be made for an A2 or an A7 card base!
There are 11 dies included in the Dahlia Dimensional Doily.
My Project Today using Dahlia Dimensional Doily:
For my project today, I wanted run away with the rolled flowers.  I mounted them to the filigree panel that when combined makes an A2-sized panel.  It was the perfect landing spot!  I pulled my panels off-center for some visual appeal and then framed the words "With Sympathy" by making your eyes follow the flowers.  Cards don't get any easier than this – it might have taken me 10 minutes to ink up and roll the flowers.  You'll want to see the video below for a visual walk-through of how to wet and how to roll the flowers.
Designer Tip:  When working with the spiral dies, spritz your paper with water!  It will keep the paper from being slick and make them stay put and will help when you gently shape and coax them open.



Stamps:    None
Paper:       Lasting Impressions
Ink:             None
Accessories:  Amazing Paper Grace April 2021 Die of the Month – Dahlia Dimensional Doily, GLP-033 – Elegant Occasion Sentiments, GLF-002 Matte Foil
For more Dahlia Dimensional Doily Inspiration
Hop over to each Creative Team blog linked below for their take on creative paper crafting ideas with Dahlia Dimensional Doily, the Amazing Paper Grace April 2021 Die of the Month!
Visit Linda Parker
Visit Kate Skonieczna
Visit Joanna Wisniewska
Visit Beatriz Jennings
Visit Patricia Manhire
Visit Agnieszka Posluszny
Visit Elena Olinevich
Visit Tara Brown
Visit Anita Kejriwal
Visit Becca Feeken at Amazing Paper Grace
The Amazing Paper Grace Die of the Month is available exclusively at Spellbinders Paper Arts during April 2021. Dahlia Dimensional Doily at the special kit club price, along with other membership perks.
Learn how easy it is to roll spiral flowers as well as make the other dimensional flowers in the set:
Which of the three flowers would you use the most?  Share with me in a comment!
I love to chat back and for with our community!
Click here to Follow me on Facebook!
Click here to Follow me on Instagram!
Click here to Follow me on YouTube!