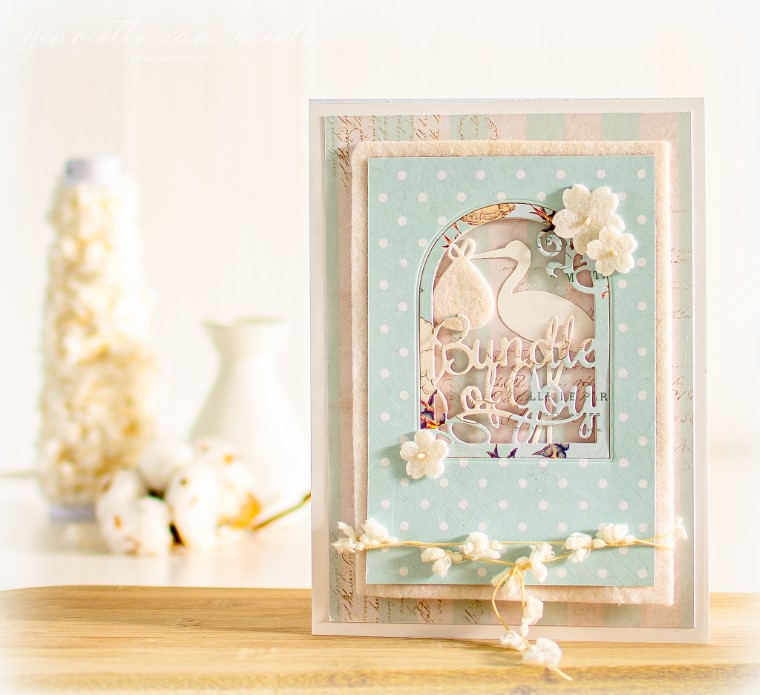 Every month we welcome a new Guest Designer to the Amazing Paper Grace Blog.  It's an excellent opportunity to add a spin on style to what you see here day to day.  Today, I'm thrilled to be introducing Henriette van Mierlo to the Amazing Paper Grace Blog.   Henriette will be sharing designs during November 2019 and I know you'll just find that her style is calm, cozy and sweetly embellished.
The first die she is highlighting is Layered Bundle of Joy and her parade of pastels is perfect for this series of baby cards.  Be sure to take a peek at her blog every week of October for a new creation using Amazing Paper Grace dies.  Let's meet Henriëtte!!
Hi, all! My name is Henriëtte van Mierlo.
I was very flattered to be invited as a guest designer for Amazing Paper Grace.
Here's a bit about me;
I live in The Netherlands with Robert and I have an 18-year-old daughter. I work parttime in financial administration and in my spare time my biggest passion is crafting.
I started years ago with stamping and making cards and through the years I also created foamiran flowers, mixed media projects, albums, boxes, and junk journals.  Yes, I'm addicted to paper.  I also love reading, traveling and I go to the gym 2/3 times a week. In short, I'm never bored.
I'm excited to share my creations with you this month.
Thanks Becca, for this amazing opportunity and the beautiful dies!
Hugs, Henriëtte.
Here are her social media links:
Elegant Inspiration by Henriëtte van Mierlo
Henriëtte designs with so many colors and textures.  Take a walk through her pastels and the sweet depth of colors and patterns and layers to introduce a new little one!
I just love the layers of design paper and how well they mesh together.  Her use of batting as a layer is genius and again adds a layer.  Please follow
Henriëtte
through the month as she spins some amazing designs with APG dies.
I hope to see you tomorrow for the new die of the month!