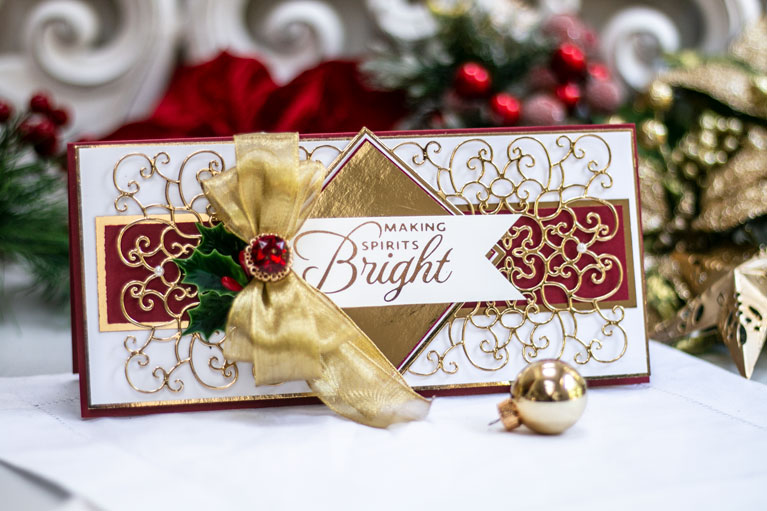 Did you know that it is 120 days until Christmas?  If you are a cardmaker (and of course you are) you know this is the biggest countdown of the year and the busiest card-making season of the year.  I'm grateful because this year, since I've moved, I'll be near family!  Time to get busy!  I have all sorts of new neighbors to bestow cute crafting makes upon and not much time to do it.  I'm thrilled to be joining the Spellbinders Holiday 2021 Blog Hop to help kick off inspiration for the upcoming holiday season.  I'm also thankful that I have a Holiday Collection in the mix with the Amazing Paper Grace Holiday Medley.
Some links may be affiliate links, buying products through these links generates a commission at no cost to you.
If this is your first visit, I'm Becca Feeken and I'm a Licensed Designer with Spellbinders and I'm tickled to have a Holiday Collection called Holiday Medley.  In the collection, I have several "Card Builder" dies that let you use the die for a Slimline, an A2, and an A7 card.  The bonus is that the Christmas element can be separated and the dies can be used all year round!  If you are curious to see more – watch the Facebook Live Tour of the Holiday Medley collection.



Today I'm using S5-465 Celebrate Scrollwork Card Builder.  For my card I went with the full slimline version of the die.  It is made by either cutting two pieces and layering them underneath the focal image or it can also be made by cutting, repositioning die and cutting again.  For a big, bold, elegant sentiment, I reached for GLP-194 Elegant Holiday Glimmer.   The matching place setting is also made with the Scrollwork Card Builder and I also used S4-960 Cinch and Go Poinsettias.



During the holidays I love to use die cuts on the table.  I often make napkin holders or a silverware caddy.  Here I've simply wrapped the slimline around the silverware and napkins for a festive pop.



You arrived here from visiting Yana Smakula and after visiting me here, I'm happy to hand you off to Jill Hilliard who is next on the list.  All links are at the bottom of the post as well.   There's are quite a few collections and much inspiration along the way.
Giveaway:
To celebrate this event, we are giving away a $50 gift certificate to 3 lucky blog readers – selected from the comments on our blog. The Giveaway closes on Sunday, August 29, 2021, at 11:59 pm EDT. The winners will be announced in the blog hop post on the Spellbinders blog on September 1, 2021. The winner is responsible for shipping cost, duties and taxes.
Hop Link List 
Spellbinders Blog
Jennifer Mcguire
Yana Smakula
Becca Feeken – – -> You are Here
Jill Hilliard
Jackie Pasko
Becky Roberts
Nichol Spohr
Carrie Rhoades
Susan Tierney-Cockburn
Annie Williams
Sandi MacIver
Jennifer Kotas
Virginia Lu
Joy Baldwin
Jenny Colacicco
Linda Parker
Rosemary Dennis
Betty Wright
Michelle Short
Norine Borys
Ours is a close-knit community and I love to meet folks.  Here's where you can find me.
Let's Chat                    – Find Becca Feeken on Facebook!
See What's Up            – Follow Becca Feeken on Instagram!
Kick Back and Learn –  Watch Becca Feeken on YouTube!
Get Inspired               –  Amazing Paper Grace CREATES on Instagram
We would love to share your work, so be sure to follow and tag us there!


Accessories:   S5-465 Celebrate Scrollwork Card Builder, S4-960 Cinch and Go Poinsettias, GLP-194 Elegant Holiday Glimmer
Stamps:  None
Paper: Bazzill
Ink:   None


Thanks so much for stopping by!  Wishing you blessings and sweet time with your families in the coming days.  Stay safe!