Hi there blog friends, I hope you had a great weekend!!  I spent a little time this weekend getting inky and  I'm sharing new stamps from Waltzingmouse Stamps. Today is Day One of four days of new releases.  Can I just say that I love it when the mail man brings goodies. The sets that are being previewed today are amazing – today they harken back to the days of The Great Gatsby during the Art Deco age.  Clean lines and crisp color — the motifs were sleek and angular and everything was dripping with gold.  I love doing theme cards so I had to go back and do a little bit of research, but I loved what I was seeing.  My card today is made from the classic shapes that were dominant during the Art Deco age.
I was tickled to pull out Spellbinders Nested Pennants, Spellbinders Circles LG and Spellbinders Circles SM.  The colorway is one of my favorites black, white and gold!!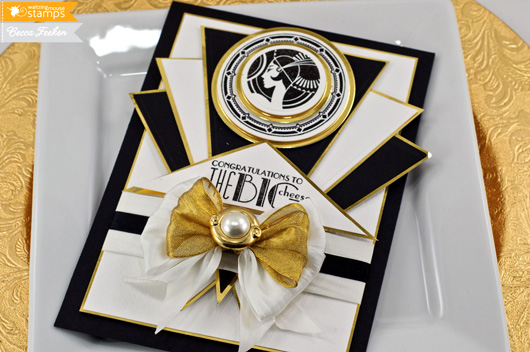 My card making idea was simple, I cut five of the nested pennants and arranged them in pyramid fashion with the bottom of the triangle at the top.  Each piece was edged with gold foil paper.  That motif was then added to a card base with a ribbon tied around it.  The triangle that holds the sentiment was hand cut.
Here's your Step By Step recap of die cuts and layers stacked from the bottom up: Start out with a black Card Base 5-1/2″ x 7″,  foam tape, gold matting layer cut to 4-7/8″ x 6-7/8″, white layer cut to 4-3/4″ x 6-3/4″, foam tape, five nested pennants arranged as described above, foam tape, die cut layer using Circles SM, foam tape, die cut layer using Circles LG, foam tape, die cut layer using Circles SM, foam tape, die cut layer using Circles LG, add hand cut triangle with sentiment, ribbon, bow and button. 
Lots to see with the other Design Team Members!!
Becca Feeken (you are here) • Jean Martin • Jeanne Jachna • Jennifer Holmes • Julia Aston • Kelly Schirmer • Kim Duran • Laurie Schmidlin • Lynn Mercurio • Renee Lynch • Theresa Kline • Tosha Leyendekker • Claire Brennan
Thanks for your ever so sweet comments yesterday.  I was glued to the computer watching Create and Craft TV and as always, the inspiration flooded my craft room!!  I even heard some of the comments that were called in – big hugs to everyone who watched.  All the cards that were shown were amazing – my special thanks to Sue Wilson (Particraft.blogspot.com).