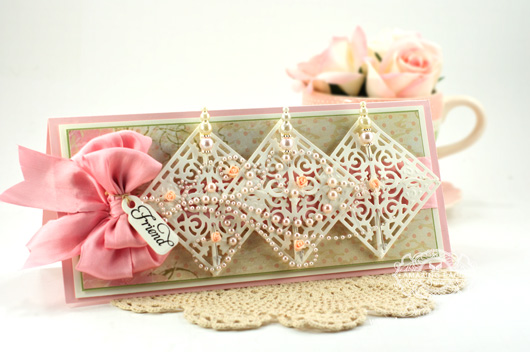 Hi there blog friends!!  I' hope you'll indulge me, today I'm showing another sample.   If you're interested in card making ideas don't forget about long cards.  I've made tall upright card in the past but I'm partial to the wide long card, and remember that a 4-1/8″ x 9″ card fits perfectly into a #10 business size envelope.  Not sure why I don't think to make this layout more often.  Today I'm  using JustRite Custom Filigree Corners die.  This time around I'm using the smaller of the two corners – it is the perfect size for many projects.  So, I figured out that by placing two of the corners together you can form a perfect square.  Since there's a small hole along the middle of each side, when combined the two holes are a perfect distance to thread a trinket pin.  I pulled the Friend sentiment from Just The Right Words and tied it onto the bow after stamping onto a tiny tag from Spellbinders Back to Basics.  I say this all the time but I'm serious, this is a simple card!!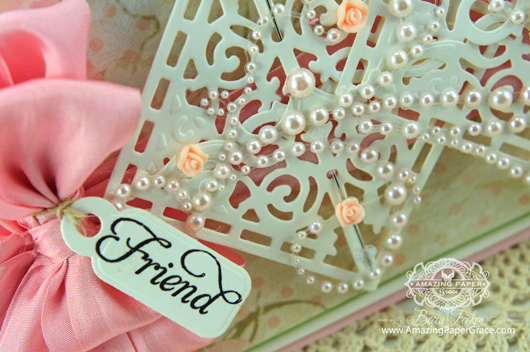 Here's your Step By Step recap of die cuts and layers stacked from the bottom up:  Start out with a Card Base 4-1/4″ x 9″,  foam tape, cream mat layer cut to 3-3/4″ x 8-1/2″, foam tape, green mat layer cut to  3-1/8″ x 7-7/8″, design paper layer cut to 3-1/4″ x 8″, foam tape, ribbon, three squares assembled from six small filigree corners, pearl flourish.   (This one is slightly oversized for a business envelope but most of my cards are sent in padded envies :-)
Many of you asked yesterday, so I thought I would answer here – *yes* you can view the Create and Craft TV show from the United States.   Instructions are at the bottom of my post from yesterday – or click HERE!  In the meantime hugs!! Everyone was so sweet yesterday and a shout out to everyone that popped over to my blog to visit!