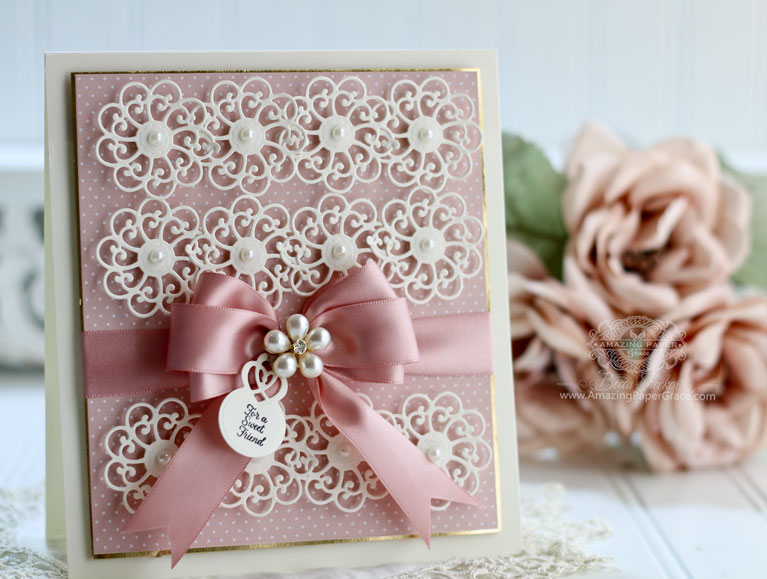 Hi there friends, there's always a little news to share but also a card with a Repeating Motif!  This is a card that I made on TV while at Hochanda.  I was intrigued with the little flower piece that is in the center of  Sweetheart Swirl from Romancing the Swirl.  I built a card around the motif and thought it was so appropriate for say, a young girl :-)  More on how I created it later.
Just a note to remind you that on Monday, May 14 the Amazing Paper Grace Creative Team will be having a Blog Hop and showing you each.and.every.set for Romancing the Swirl.  The dies will be available for sale on Monday and I'll be totally honest with you – A2 Swirl is already sold out from the UK surge.  Many of you email me for sources and I want to encourage you to go ahead and buy them.  We'll be showcasing them for the next several weeks and you can play along.
Speaking of sources, 3D Vignettes is now being stocked in the UK after many, many weeks waiting for replenishment.  Christine with Hope and Chances Creativity managed to get her hands on some so I encourage you to check with her —–> HERE.
My Card Today – with a Repeating Motif
For this card I simply cut 12 motifs.  I placed a piece of double sided foam on the back of each motif and removed the liner so that it was ready to stick.  Then I linked four together horizontally and pulled them taught across while letting them stick to my background.  I did that three times.  Such an easy card!!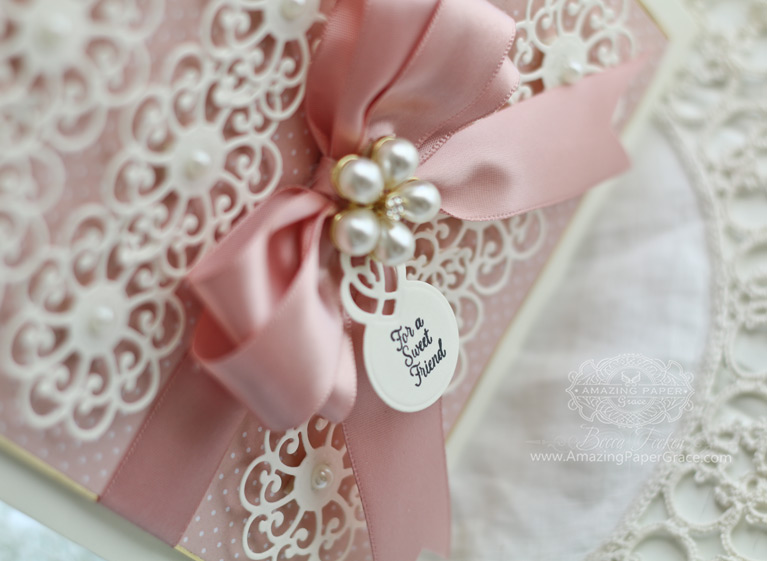 This just seemed perfect to me for a young woman perhaps for graduation.  So feminine and yet elegant and remarkably, how easy!
A Pin for you :-)



Stamps: Amazing Paper Grace – Graceful Tiny Tag and Die Set
Paper:  Neenah Classic Crest – Natural White – 80lb Smooth,  DCWV Meet Me In Paris
Ink:  Versafine – Onyx Black, Ranger Clear Detail Embossing Powder
Accessories:  Amazing Paper Grace Dies by Spellbinders, Sweetheart Swirl, Satin Ribbon, Pearls


A special shout out to Sunrise Crafts in the UK, who laid out the red carpet for me.  I had two demos there and they welcomed me like family…I'm so grateful.  Look at these gorgeous flowers they put in my arms as I said farewell.  Gorgeous!  By the way, they had a lovely shop at the site of a historic mill that created crystal.  More info about them —-> HERE.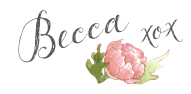 ;