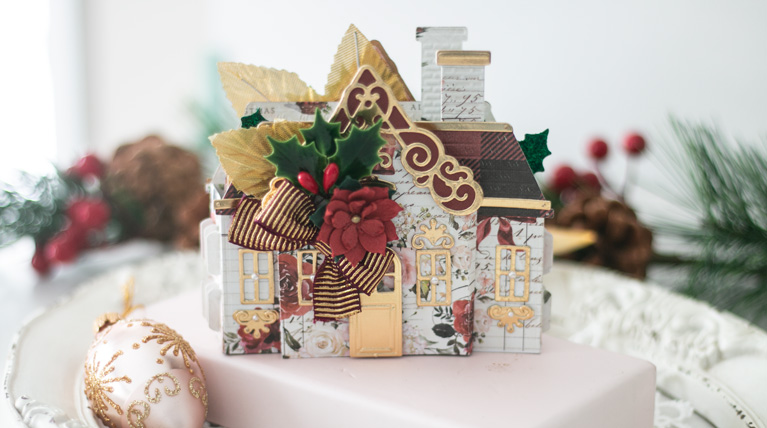 Since we now begin celebrating Christmas in July – I thought it would be precious to see the Pop Up 3D Vignette Home Sweet Home all dolled up for Christmas!  Yes!  If you get my drift, this little die-cut set full of fun is just waiting to be personalized for every holiday and this is the perfect holiday to get started with.  This little cottage is the Amazing Paper Grace Die of the Month for July and is one of the awesome Spellbinders Club offerings that will slip right into your stash.  If you are new to the clubs, they are an amazing value for the money (think huge dies with lots of options) and I'm happy to be sharing some inspiration for you today.
Some links may be affiliate links, buying products through these links generates a commission at no cost to you.
Welcome to the July 2021 Spellbinders Clubs Blog Hop.  You have arrived here from the Spellbinders Blog and after visiting me here, Tina Smith is next on the list.   The hop list is long (I've posted it below) but honestly you won't want to miss any of the inspiration this stellar group has cooked up today.  I'm honored to be hopping along with this bunch and I hope you can leave them some love and I also hope you enjoy all of the inspiration.
If this is your first visit, I'm Becca Feeken and I'm a Licensed Designer with Spellbinders.  I have a thing for little cottages and houses and was so happy to add a sweet cottage this to my collection.  I enjoy making 3D cards that can also be used as flat cards.  In fact, I build as much variety into the Die of the Month set as I can and it makes it usable for those who like A2 Cards, A7 cards and Slimlines.


If you're curious, the house is 4.5″ wide by 4″ tall and 1/5″ deep and can fit into an A2 sized envelope



It's the coolest thing ever that this flattens to go into an envelope!  It fits on a slimline card and the small house facade on the front fits on an A2 card.  It's a lot of fun to put together because you can keep it simple or make it as detailed as you like.  In my make today it still folds flat but I added a store-bought poinsettia, a bow, and some gold leaves.  Every time I've made this up – it's been different and just as cute!  See more Pop Up 3D Vignette Home Sweet Home samples.  For my card today I dug out my favorite Prima Paper "Christmas in the Country" and went to work.  Inside, as you might guess, I have a gift card.



It's so easy to put together, you can watch the assembly video tutorial here.
Giveaway
To celebrate this release, we are giving away a $50 gift certificate to 3 lucky blog readers – selected from the comments on our blog.  The giveaway closes on Sunday, July 18, 2021,  11:59 pm MST. The winner will be announced on the Spellbinders blog, on the hop post you just came from, on Tuesday, July 20, 2021. The winner is responsible for shipping costs, duties, and taxes.
Please note, store credit (gift certificate) cannot be applied to Club Subscriptions. Store credit can be applied to shop past Club products, Club extras, and regular releases.
Hop Link List 
Spellbinders Blog
Becca Feeken <—You are Here!—>
Tina Smith
Bibi Cameron
Annie Williams
Becky Roberts
Yasmin Diaz
Jennifer Snyder
Kathy Clement
Hussena Calcuttawala
Laurie Willison
Ilina Crouse
Virginia Lu
Emily Midgett
Jean Manis
Sheri Holt
Sandra Nagel
Joy Baldwin
Rosemary Dennis
Henriëtte van Mierlo
Betty Wright
Melody Rupple
Jenny Colacicco
Emily Leiphart
Vera Yates
Tracy Ware
Gemma Campbell
Alanna Moses
Michelle Starcher
Deborah Jenkins
Erin Thompson
Birgit Norton
Michelle Sheler
Sandhya Iyer
Jennifer Kotas
Jessica Vasher
Olga Direktorenko
Karen Brown
Tanya Boser
Martha Lucia Gomez
Amy Kolling
Ours is a close-knit community and I love to meet folks.  Here's where you can find me.
Let's Chat                    – Find Becca Feeken on Facebook!
See What's Up            – Follow Becca Feeken on Instagram!
Kick Back and Learn –  Watch Becca Feeken on YouTube!
Get Inspired               –  Amazing Paper Grace CREATES on Instagram
We would love to share your work so be sure to follow and tag us with #amazingpapergrace there!


You made it to the end!  Wasn't that fun – what inspiration, right?!?   Sending hugs friends and thanks so much for stopping by!!