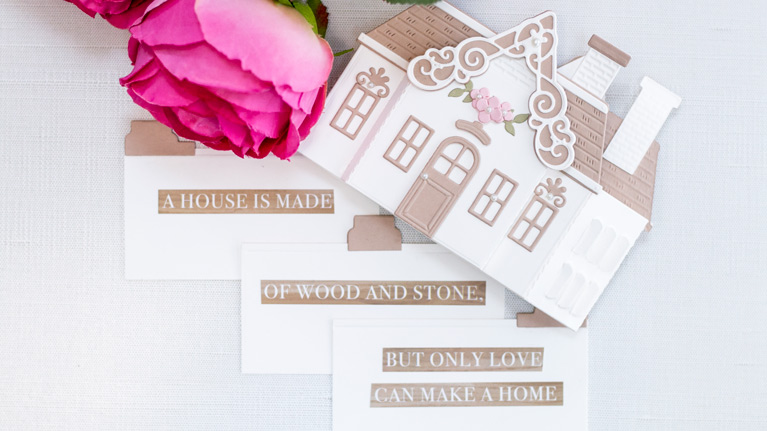 Words cannot describe what comes to mind when you say the word "HOME".  It means comfort, safety, family, fun and most of all  it is the place we nurture our souls.  I have a little thing about papercrafts that symbolize a home so I'm tickled to introduce my sweet version of Home Sweet Home.  Please welcome the Amazing Paper Grace July 2021 Die of the Month – Pop Up 3D Vignette Home Sweet Home designed for Spellbinders.  It's a joy to decide colors and put it all together, but the feeling it will give, once given away, are indescribable.  Fill it up with sentiments, add a picture or two, but most of all – let someone know that they are your home.  More of my "home" saga at the bottom of my post.
Some links may be affiliate links, buying products through these links generates a commission at no cost to you.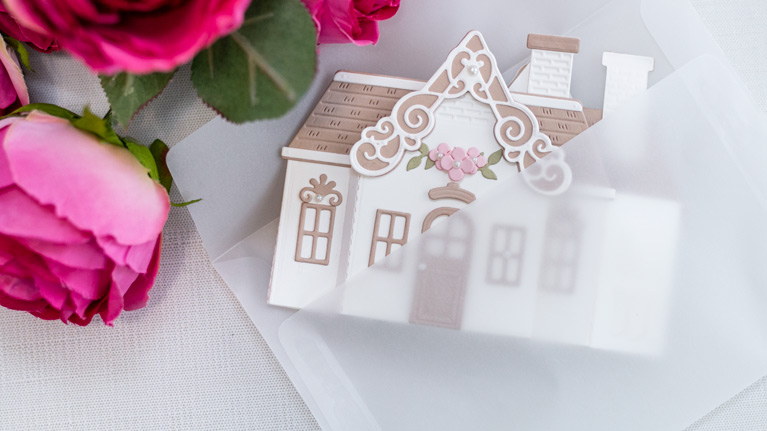 How cool is that – it folds flat!!
Inspiration for Home Sweet Home
I put every bit of my heart into this one.
Little cottages and home-shaped die cuts seem to be my thing, but this one is darling to make and darling to receive.  It folds flat and goes through the mail!  I can't think of any better way to put the feelings of what home means into a card and give it to someone.  My thought is this is an upgrade from a regular card and the little stand-up home is virtually a gift.  I wanted folks to feel like they were putting love in an envelope and that was precisely the inspiration for this die.
Go Inside the Home Sweet Home Die Set
As a designer, I love to create multi-use dies that can be used for die cutting 3d projects as well as multiple card sizes.  The house is 4.5″ wide by 4″ tall and 1/5″ deep so it can definitely fit in an A2 sized envelope.  The base house is wide so it lends itself to a portrait presentation when put on a card and it will work fabulously on a slimline card.  The facade for the leading layer with the peak of the house is tall and works perfectly on an A2 card without the house base.  So many options!
Inside there is room for three tabbed panels for your message.  You can simply stamp on one or you can add pictures or you can attach a gift card – it's up to you.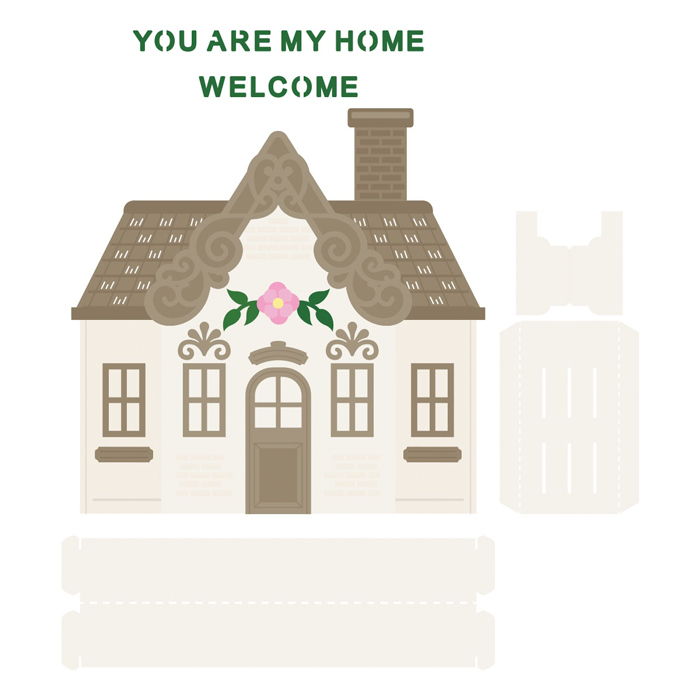 Here is the scoop on how to assemble Home Sweet Home – trust me, it's easy!!
I hope you like the video tutorial. Please subscribe to the Amazing Paper Grace YouTube Channel!
More Inspiration for Home Sweet Home



This house is so easy to make!!



As easy as it is to make, it's just as easy to turn it into a basket!!  I simply created a box that is two inches high on all the edges – four and a half inches wide and 3 inches on the sides.  It was a piece of cake to add a handle.  Then I simply glued a house to the front and to the back.



And of course, some folks will want to make a regular card.  Mine today is an A7 card that sits in a portrait perspective!
Coming Up
I hope you will join us over at the Amazing Paper Grace Creative Encouragement Facebook Group!  We have a library of over 100 diecutting, paper crafting and flower making tutorials in a supportive and lovely community.  I hope to see you there!
Check out the Creative Team's inspiration in our Blog Hop!


If you are following my saga, you know that I'm in a different house now.  No refrigerator yet, no washer and dryer yet but by golly, I have a table where I can work.  Lol, the only boxes that have been unpacked are the craft room so that I can create.  Creating with the Home Sweet Home die has been a blessing to me. This past week helped me concentrate on how important it is to be "homed".  When you feel loved and feel safe and feel welcome – you can do anything!
My kind new neighbors watched this house sit empty since January and wondered when I would actually come to stay in it.  I'm so blessed because even though they never met me and didn't even know my name, they kept an eye on things.  It's a close-knit neighborhood and the neighbors on the left, right and across banded together to welcome me.  All of that to say, there are three little Home Sweet Home gift houses I'll be making to thank them.  I hope they like Starbucks because I'll be planting gift cards inside!!  I'm grateful, happy, blessed, and optimistic.  I hope life is finding you on top as well.