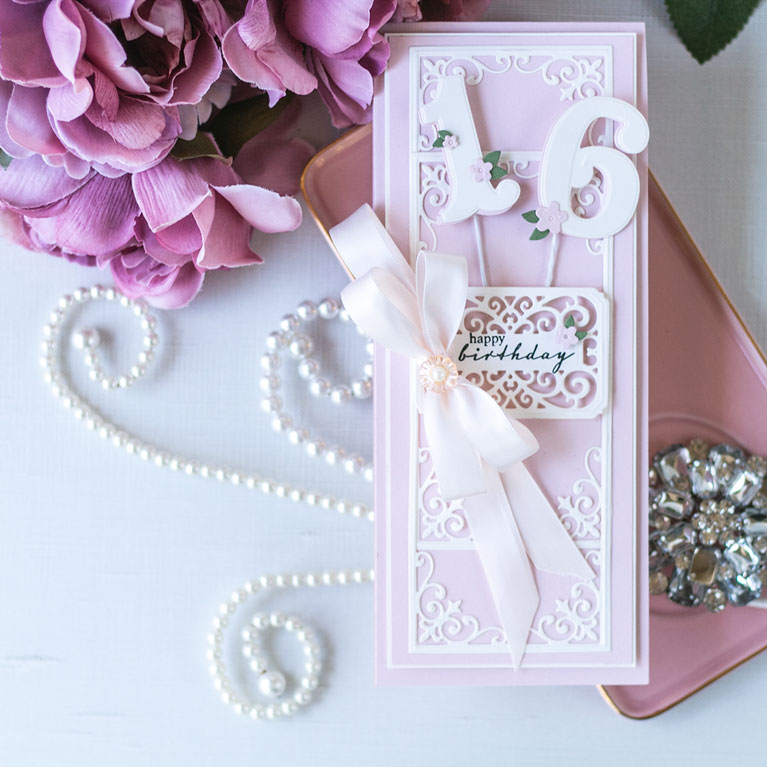 And as easy as that, Amazing Paper Grace now has a slimline die!   Please welcome the Amazing Paper Grace June 2021 Die of the Month – Victorian Splendor Slimline designed for Spellbinders.  It's so many things rolled into one – it's a slimline, it's a card front and it's a border.  All of those things fit into a Card Front and you can include or exclude any of three parts.  It gives you quite a few lovely options.
Some links may be affiliate links, buying products through these links generates a commission at no cost to you.
Inspiration for the Victorian Splendor Slimline
For the longest time, I've loved a tall card.  It's simply so tempting to be able to slip a creation into a business-sized envelope.  I'm tickled this month to have achieved that goal – Victorian Splendor features a mini-slimline that's delicate, graceful, and fits into several other categories as well.
What's Inside the Victorian Splendor Slimline
The format for this month's Die of the Month is an all-in-one.  It features a mini slimline, a border, and an A7 card front.  You can use each of those separately or you can nest them all inside one card front for another look altogether.  Victorian Splendor Slimline has a very delicate frame which I've used as part of a gatefold card and to embellish all of my makes.  The look is complete with a label that is large enough to include an entire sentiment or a one-line slogan.


This month, I'll walk you through how to create the offset Gatefold.  It's the first I've ever made and the instructions here will make it easy.
I hope you like the video tutorial. Please subscribe to the Amazing Paper Grace YouTube Channel!
More Victorian Splendor Slimline Samples



The border design is the first I've done in a very long time.  It really packs a punch!  I used it to create a full background by simply die-cutting one in pink and leaving the chads in place and then die-cutting one in white and getting rid of all the chads.  The white laid over the pink.  It makes for a really quick border without any fuss.



For the gatefold, I used vellum paper so that you could see the subtle lines within.  This is just a little bit different from gatefold cards I've done in the past because the flaps overlap.



The inside is really beautiful.  I have a beautiful sentiment I've been saving for the right occasion, and this is it!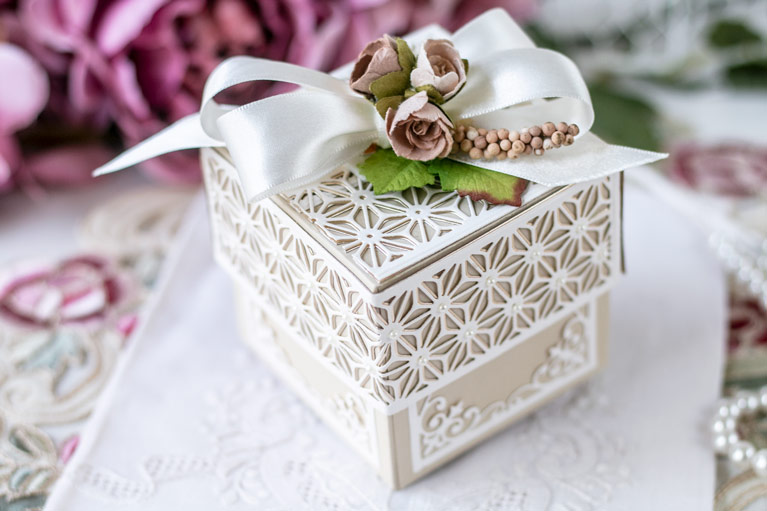 No month would be complete without a way to make a sophisticated looking box.  The elements from the border and slimline align to make a very special look!!
Coming Up
I hope you will join us over at the Amazing Paper Grace Creative Encouragement Facebook Group!   We post over 10 new tutorials each month showing you creative new ways to use the dies as well as tutorials on flower making.
Visit the Creative Team's inspirational Blog Hop with June 2021 Victorian Splendor Slimline.


Hi Friends, as I've mentioned, I'm in the middle of a move.  I've decided it's so much harder than it looks, but I can't wait to get where I'm going.  I'm so excited about the prospect of having an actual craft room again.  Stay tuned, I'll want to tell you all about it!