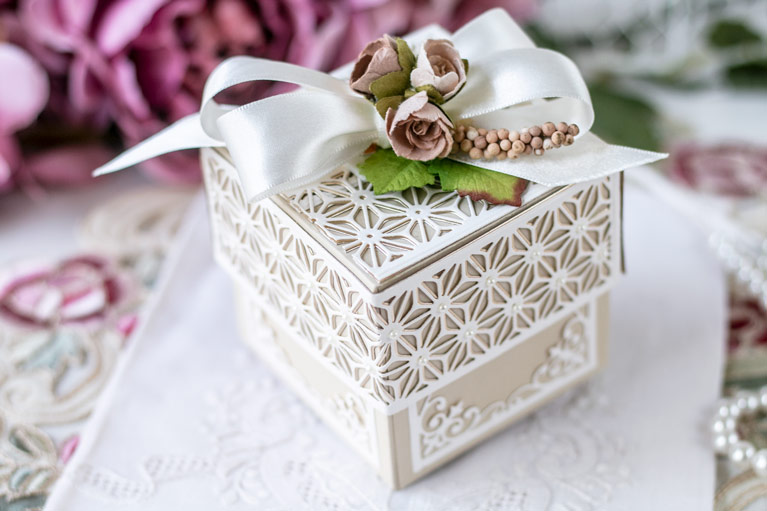 Sweet friends.  So often with the Die of the Month, followers ask us to give them ideas of what can be done with the die.  Today, the Creative Team has a blog hop to share that inspiration. We are introducing a new Slimline Die that is part of an A7 Card Front – we call it an all-in-one.  Who knew that slimline could look so feminine – welcome the slim new Amazing Paper Grace Die of the Month for June 2021, Victorian Splendor Slimline.
Some links may be affiliate links, buying products through these links generates a commission at no cost to you.
Our inspiration is always being able to get the most out of a die set and this one scores high on the bar for functionality and feminine appeal.  If you can imagine a "Card Creator" type of die that has an inset Slimline, a decorative inset Border, and a sentiment label that could all be used in a Card Front – then you'd be looking at Victorian Splendor Slimline.  It has A2 and A7 elements.  It functions as a Card Front and pretends to be a slimline – all in one.
Here are some ideas that might inspire you to use pieces of the set:
1.  Pull the mini-sized slimline out and use it separately.
2.  Inlay the border at the bottom and top of a landscape A7 Card.
3.  Create a tall gatefold by folding in the border panel on two cuts of the A7 card front.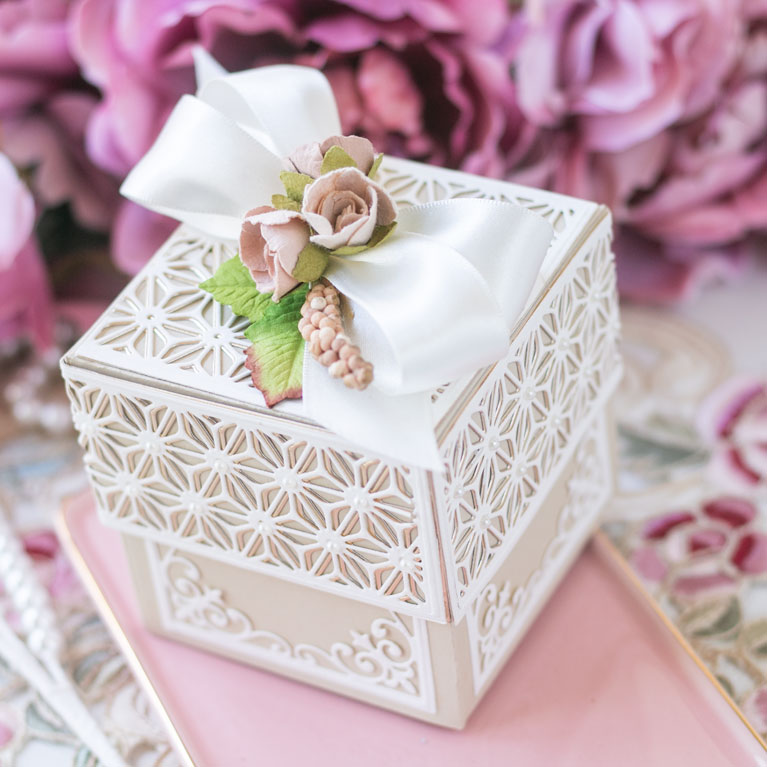 There are 10 dies included in the Victorian Splendor Slimline.


My Project Today using Victorian Splendor Slimline.
For today I made a box (surprise)!  I always make boxes with the dies I create because I love creating ensembles.  This particular box will hold some special tea for the recipient that gets the matching gatefold card.  It was easy to make – this one is 3.25″ x 3.25″.  Give me a shout-out in the comments if you want a tutorial on this one.  To decorate it I simply glued the border die-cut to the edges – it takes two.  For the lid, I simply cut the length I needed and adhered the pieces to the top surface of the box.
Designer Tip:  The small flowers that come with the die set are so trendy.  I keep them handy and whenever I'm cutting anything, I include them on the cutting deck and save them for later.  That way, I'll always have little flowers handy.



Accessories:  Amazing Paper Grace June 2021 Die of the Month – Victorian Splendor Slimline
Stamps:   None
Paper:   Bazzill Almond Cream, Recollections – Dove White
Ink:  None

For more Victorian Splendor Slimline Inspiration
Visit each Creative Team blog linked below for their take on creative paper crafting ideas with Victorian Splendor Slimline, the Amazing Paper Grace June 2021 Die of the Month!
Beatriz Jennings
Patricia Manhire
Agnieszka Posluszny
Elena Olinevich
Anita Kejriwal
Kate Skonieczna
Joanna Wisniewska
Becca Feeken at Amazing Paper Grace
The Amazing Paper Grace Die of the Month is available exclusively at Spellbinders Paper Arts during June 2021.  Victorian Splendor Slimline at the special kit club price, along with other membership perks.
You can check out how to make a gatefold card with the Victorian Splendor Slimline video tutorial on YouTube.
If you are a long-time reader – thanks for coming today.  If you are new, in the comments let me know how you found me.  If you are a maker, share how you would use the Victorian Splendor Slimline dies!
I love to chat back and forth with our community!
Let's Chat                    – Find Becca Feeken on Facebook!
See What's Up            – Follow Becca Feeken on Instagram!
Kick Back and Learn –  Watch Becca Feeken on YouTube!
Get Inspired               –  Amazing Paper Grace CREATES on Instagram


Thanks so much for taking a peek at the things we are working on.  I hope we inspired you to get out your dies and try something new!