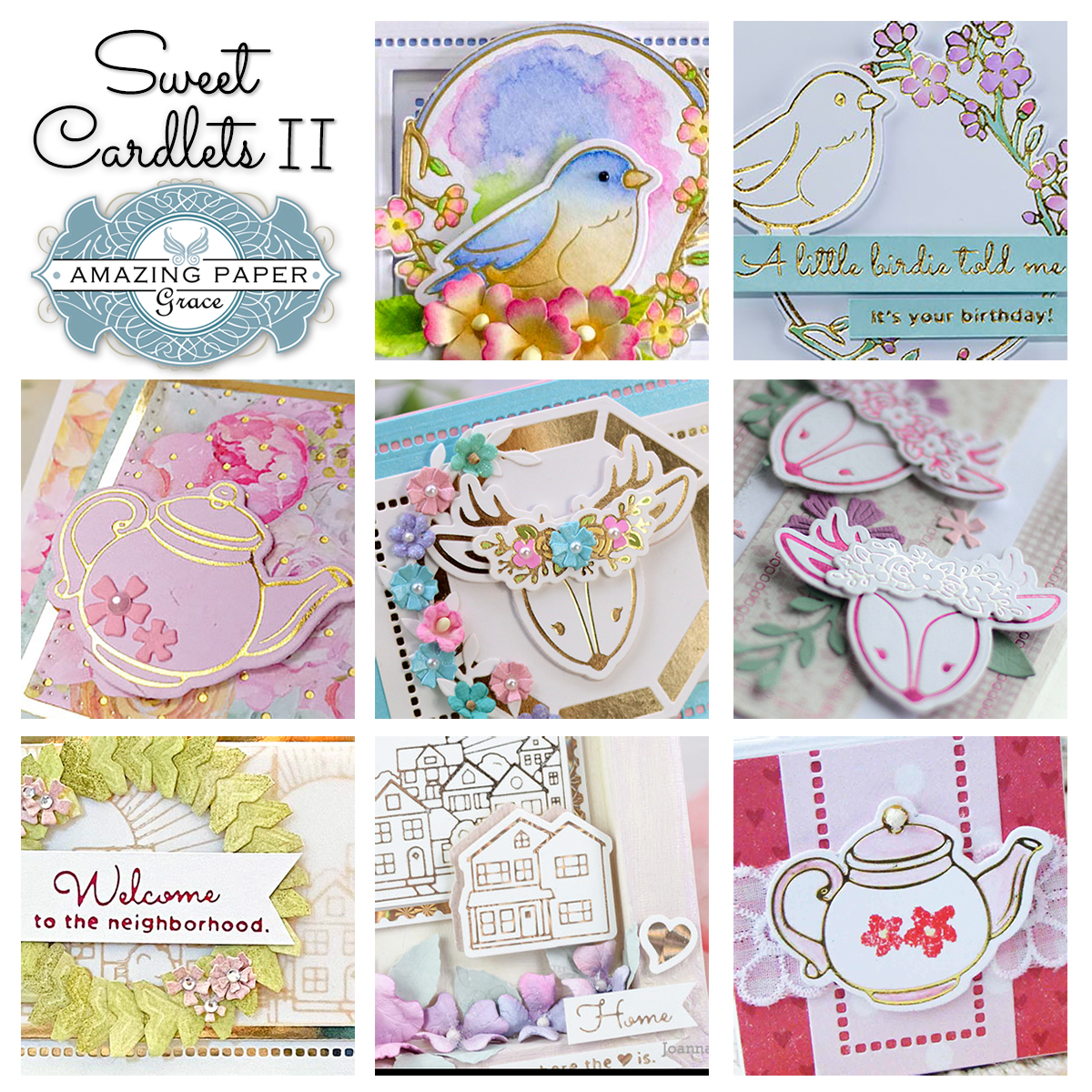 Hello sweet friends, some sneak peeks for you and some personal news at the end!  This morning finds me packing my belongings as I'm getting ready to move.  In the meantime, craft life goes on and I have a new collection that has just come out with Spellbinders – it's so so sweet!  Please help me welcome Sweet Cardlets II.  I love these little three-inch motifs and think they are perfect for slimline cards.  These Glimmer Plate/Die combination sets layer onto my intricate dies and are also perfect for the folks that are tried and true, clean and simple.
Some links may be affiliate links, buying products through these links generates a commission at no cost to you.
I've made them expressly to fit on the new Hemstitch Slimline Die;  they will even fit into the Cascading Card Base and into sweet little Shadowboxes.
The Amazing Paper Grace Creative Team has outdone themselves in making some inspirational samples for you to look at today.  Hit the links below to fill up your inspiration funnel and see if these might be a good fit for your style and the way you give.
Here is the hop list below – if you have time in your busy day, please leave some love.  I have the best design team in the world and they love creating inspiration for you!
Joanna Wisniewska
Beatriz Jennings
Patricia Manhire
Agnieszka Posluszny
Elena Olinevich
Tara Brown
Anita Kejriwal
Linda Parker
Kate Skonieczna
Margie Higuchi
Giveaway!  
You could win an Amazing Paper Grace Die of the Month! Enter to win on our Amazing Paper Grace Creates Instagram account
All of the entry details are there, look for this image below:


For me, like everyone else, this year has been a journey — an unexpected journey.  I've been very quiet because it didn't seem right to talk about my little challenges while everyone else was having such big challenges.  This is a good chapter for me.  I've been adrift since 2018 with nowhere to call home.  I'm happy to say that I'm finally going home.  You've been with me this far!  I hope you stay with me on this next phase of the journey.  Thank you so much to my long-time readers.  I'm sending you a hug.  Let me know you're still there.