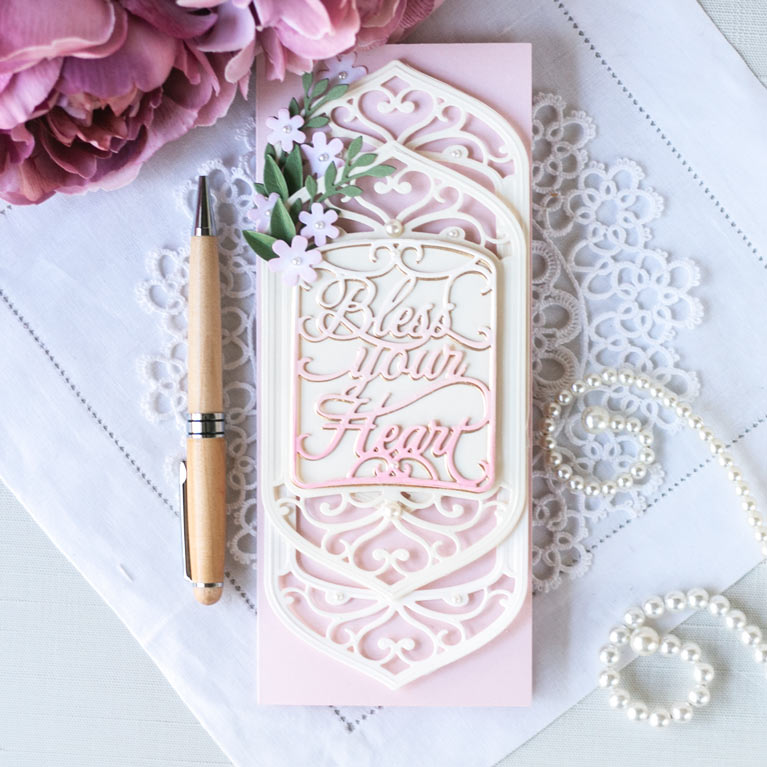 Beautiful card front sentiments do the heavy lifting on a card and the recipient knows exactly what you are trying to say. In that spirit, today we are introducing a new collection called Beautiful Sentiment Vignettes. It spins beautiful, intertwined calligraphic words into a compact label shape, perfect for the front of your card.
Some links may be affiliate links, buying products through these links generates a commission at no cost to you.
Beautiful Sentiment Vignettes Inspiration
Many Amazing Paper Grace followers were so thrilled when the first 3D Vignettes with word inserts came out. Over time, our followers have asked for a greater variety of words to fit into the 3D Vignette apertures. Your wish is our command!
Check your stash of 3D Vignettes. There is a sentiment vignette here to match them all!
S5-453 Heartfelt Thanks Vignette matches S6-164 Grand Crested Tower
S5-459 Bless Your Heart Vignette matches S6-139 Grand Cabinet
S5-459 Bless Your Heart Vignette matches S6-157 Grand Holiday Cabinet
S5-457 Forever In Our Memory Vignette matches S6-159 Grand Christmas Lattice Arch
S5-457 Forever In Our Memory Vignette matches S6-138 Grand Arch
S5-458 Happy Anniversary Vignette matches S6-Grand Snow Globe
S5-458 Happy Anniversary Vignette matches S6-136 Grand Dome
S5-455 Birthday Wishes Vignette matches S5-408 Grand Vaulted Cabinet
All Beautiful Sentiment Vignette layers magnificently over S6-174 Romantic Chargeour
Beautiful Sentiment Vignettes Collection
The Beautiful Sentiment Vignettes Collection is made up of 7 different die sets and a stamp set. Most sets contain a sentiment and a filigree background layer. Each set makes it quite easy to produce a complete card. The bonus is the sentiment shapes each match an existing 3D Vignette. Along with being able to complete a card, the new sentiments will allow another sentiment to existing 3D Vignettes already in your stash. Romantic Chargeour works with all the sentiments.
Beautiful Sentiment Vignettes Collection also contains an "inside" sentiment set that matches the thought on the outside of the card. To top off the collection we've included Petite Floral Potpourri. It's a compilation of all the small flowers and leaves that are most requested by our community.
My Projects for Today
I'm using S5-459 – Bless Your Heart Vignette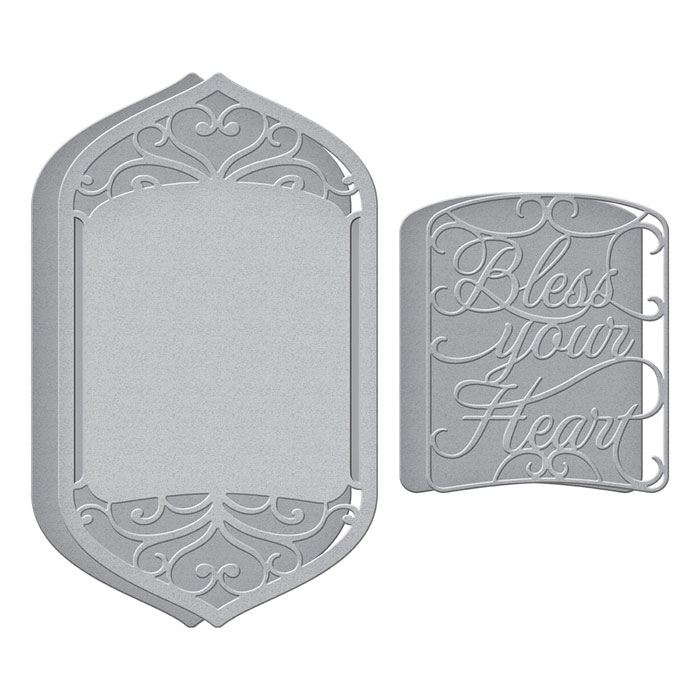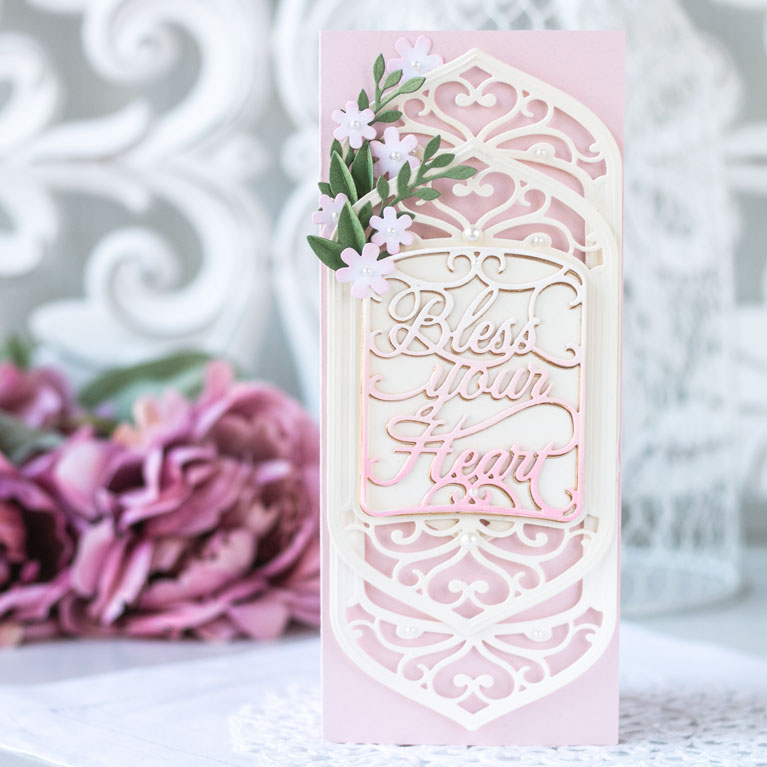 To Embellish, I've decorated with the little "no fuss" flowers from S3-420 – Petite Floral Potpourri
I put the final touch on the card by adding – inside – one of the matching occasion stamps from STP-058 – Beautiful Inside and Out Sentiments
And now for the best part – I pulled out one of my 3D Vignettes and used the same sentiment!! This is a mini-album that holds Starbuck Gift Cards.
For weeks and weeks during my absence, my daughter went over to my house and tended to my lawn.  I thought it would be great to give her a little something for her efforts.  Each mini-album page has a pocket and I slipped a $7.00 Starbucks card into each of the 5 pockets.  It will take her some time to work through all of the cards, so in the meantime, this little album will sit out in her home.  It will remind her to use the cards and also remind her of my gratitude for her help.
Always, when I find something I like to make, I make it many times.  This will be one of my go-to presents and the Beautiful Sentiment Vignettes will give the latitude to change it up for so many occasions!
Designers Tip: Tiny flowers are the perfect embellishment without any fuss.  Simply bend your leaves and press on each petal to give them a hint of shape and make them appear more realistic.
Beautiful Sentiment Vignettes Collection Blog Hop!
Click on the links to each member, they're waiting to inspire you to create something beautiful:
Patricia Manhire
Agnieszka Posluszny
Elena Olinevich
Tara Brown
Anita Kejriwal
Linda Parker
Kate Skonieczna
Joanna Wisniewska
Beatriz Jennings
Margie Higuchi
Becca Feeken at Amazing Paper Grace
Giveaway!
You could win an Amazing Paper Grace Die of the Month! Enter to win on our new Amazing Paper Grace Creates Instagram Account. All the entry details are there, look for this image below:
I love your comments! Which sentiment shape works best for you?