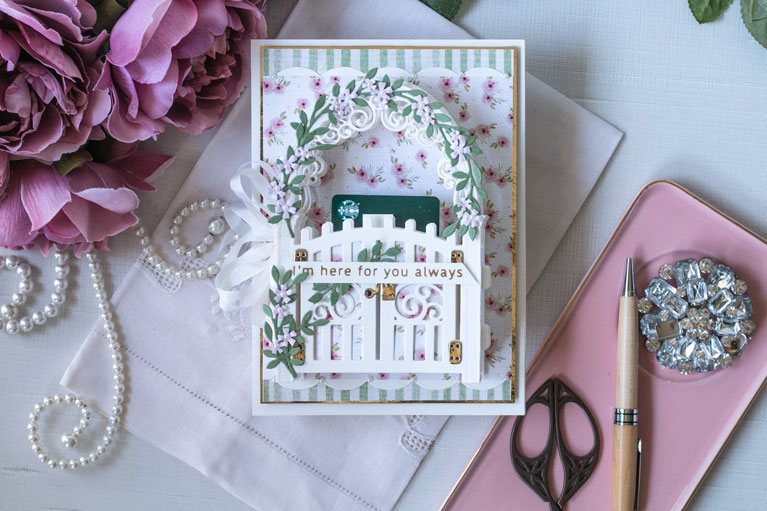 Gift cards are my thing.  True Story!  I love to sent them to someone I know is going through a hard time and quite often I send them to say thank you.  Well, I've found that the Mini 3D Vignette Garden Gate, which is one of the Spellbinders Club offerings for May 2021 by Amazing Paper Grace, makes the perfect gift card caddy.  Score!
Welcome to the May 2021 Spellbinders Clubs Blog Hop.  You have arrived here from the Spellbinders Blog and after visiting me here, Tina Smith is next on the list.  Her links are at the bottom of the post as well.  Be sure to stay for Giveaway details and if you don't mind, please leave some love for all the fabulous people on the blog hop.  I'm honored to hop with this group of superstars and love what everyone does to keep long form blogs alive.
If this is your first visit, I'm Becca Feeken and I'm a Licensed Designer with Spellbinders.  The Garden Gate is my design and I'm tickled to share it with you today.  I have the lovely opportunity of putting a design in each month for one of the fabulous Spellbinders Clubs and I try to create something not seen in the market, something that is a joy to create, something that shows the care and love you put into your creation and something that is a joy to receive in the mailbox.



The Garden Gate die set makes a card A7 and the Gate component makes a card that is A2 sized.  Of course, I frequently use the set to make boxes or other 3D items – you can see some other samples HERE.  For my card today I've simply mounted the entire Garden Gate onto a card front for a display card that someone can keep on their desk.  It has a gift card for Starbucks for someone who helped me out this past week.  I have two more of these to make – as part of a Thank You Card – for two ladies who were invaluable to me recently.  Wouldn't this be great for business cards?



It's so easy to put together – link to video and more inspiration HERE.
Giveaway:
To celebrate this release, we are giving away a $50 gift certificate to 3 lucky blog readers – selected from the comments on our blog.  Giveaway closes on Sunday, May 23rd, 11:59 pm MST. The winner will be announced on the Spellbinders blog, on the hop post you just came from, on Tuesday, May 25th, 2021. The winner is responsible for shipping cost, duties and taxes.
Please note, store credit (gift certificate) cannot be applied to Club Subscriptions. Store credit can be applied to shop past Club products, Club extras and regular releases.
Hop Link List 
Spellbinders Blog
Becca Feeken
Tina Smith
Desiree Kuemmerle
Sandi MacIver
Bibi Cameron
Annie Williams
Becky Roberts
Yasmin Diaz
Jennifer Snyder
Marie Heiderscheit
Jill Hilliard
Ilina Crouse
Dilay Nacar
Jean Manis
Rosemary Dennis
Norine Borys
Betty Wright
Jenny Colacicco
Emily Leiphart
Natasha Vacca
Vera Yates
Amanda Stevens
Kathy Clement
Ours is a close-knit community and I love to meet folks.  Here's where you can find me.
Click here to Follow Becca Feeken on Facebook!
Click here to Follow Becca Feeken on Instagram!
Click here to Follow Becca Feeken on YouTube!
Click here to Follow Amazing Paper Grace Creates on Instagram
@amazingpapergrace_creates is our Creative Teams Instagram Account
We would love to share your work so be sure to follow and tag us there!
Other News!
The Amazing Paper Grace Creative team will be debuting my new Spellbinders collection – Sweet Cardlets II, with a blog hop on Saturday, May 22nd!  I hope you can stop by for a peek.


Thanks so much for stopping by!!