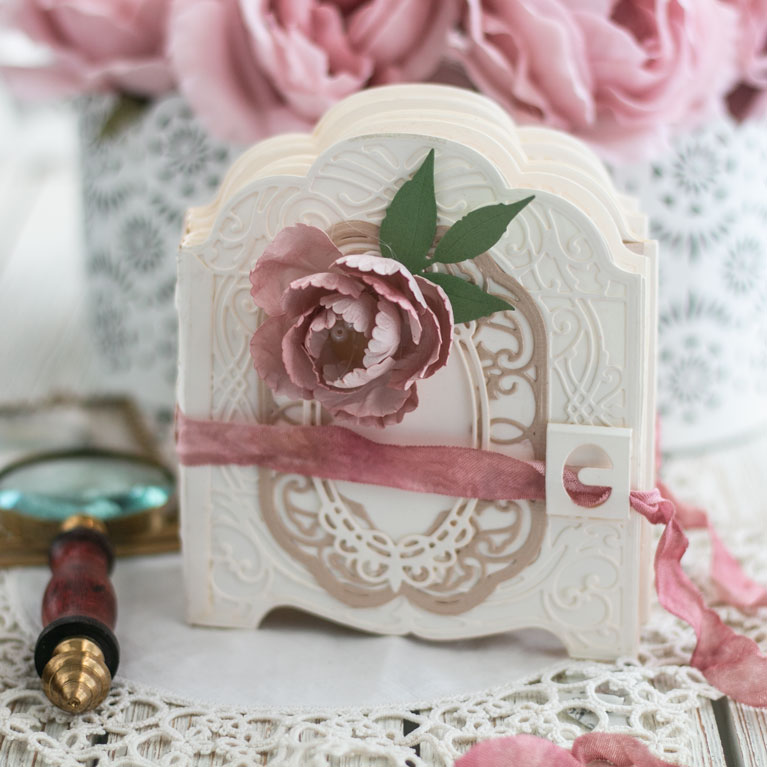 3D Vignettes were introduced almost 2 years ago and along the journey, our readers have begged us not to abandon the concept but to keep adding on.  As always, your wish is our command!  Introducing 3D Vignette Mini-Albums.   When the first 3D Vignettes came out, we fashioned them into mini albums using the familiar side piece and slots but now we've made it permanent with a Universal Hinge.  Plus we've added a whole collection of dies you can use inside the mini-album including two new shaped card profiles and a new Cinch and Go Cottage Bloom Flower that can be used as a dimensional flower or a flat flower inside the mini-album.  Stay tuned as you see a mini-album from each Creative Team Member and card that highlights one of the dies used in the mini-album.
About 3D-Vignette Mini Albums
When the response to the first 3D Vignette cards turned into mini albums blog hop brought such a positive response, readers asked for more.  So I designed an easy to fold Universal Hinge that makes it easy to convert your 3D Vignette cards into  Mini Albums.  I tried to stay true to my mix and match budget sensibility, of course, so all of the elements of this new collection can be used to make flat cards, can be used with original 3D Vignette designs, and older 3D Vignette dies can be refreshed and used with the mini-albums.
Best of all, if you have ever been too overwhelmed to create a mini-album or a scrapbook page, take heart.  Since your choices are mix and match, we've taken all of the guess work out.  The small format is card-sized which makes it doable for those of you accustomed to working on a small card size project.  We've made albums that are tiny up to 6 x 6″ and 8 x 8″.
The beautiful mini albums were showing today are held together with this wonderful die
S5-409 Universal Accordian Fold Spine
Our projects today are embellished with my newest Cinch and Go Flower
S4-1045 Sweet Cottage Blooms.  It is designed to work up as a dimensional flower and as a flat flower that fits into the albums
My Projects For Today
For my project today I made a sweet with mini-album that includes most of the dies from the collection.  I filled it with pockets and places that you can tuck things.
In addition, I've made a card using one of the dies I did not use in my mini album.
Today I'm highlighting  S4-1032 Interactive Pivot Banner Die.
Availability:
These dies are available right now on the Spellbinders website —–> HERE
In the meantime, be sure you leave a comment on this post and on the post of every Creative Team Member for a chance to win an Amazing Paper Grace Die from any previous collection from Becca's Die of the Month offerings.
There are three dies that are being given away.  One name will be randomly picked from comments left on the combination of our 7 blogs on the Introducing 3D Vignettes Mini-Albums post between January 22 and January 27, 2019, at midnight US Central Time.  We encourage all of our international friends to participate!  The randomly selected names will be announced on the Amazing Paper Grace Blog on January 28th.  (All giveaways for this hop are managed by and the responsibility of Amazing Paper Grace).
Up for grabs is an Amazing Paper Grace die of your choice Becca's Die of the Month.  These dies are typically only available to club members however you can win your choice of any die that has not already sold out.
There will be a total of three dies and a winner can win once among all the blogs.  If your name is selected, simply claim it within 2 weeks of the announcement by sending your address through the form under the Contact Tab on the Amazing Paper Grace Blog.  There won't be a reply back but if you leave your choice, the dies will be sent out in our next batch.    The dies will be mailed out from Amazing Paper Grace.  (Please note:  Please be patient, allow 6 to 8 weeks for the delivery of prize winnings.)
Click on the links to each member to be inspired across a broad range of talent:
Thanks so much for joining us for the 3D Vignettes Mini-Album Hop.  Can you see yourself making a gift card mini-album with four pockets and a gift card in each pocket?  Do you have an idea for your next mini-album?  Share in the comments or let us know which dies have found a way into your heart.