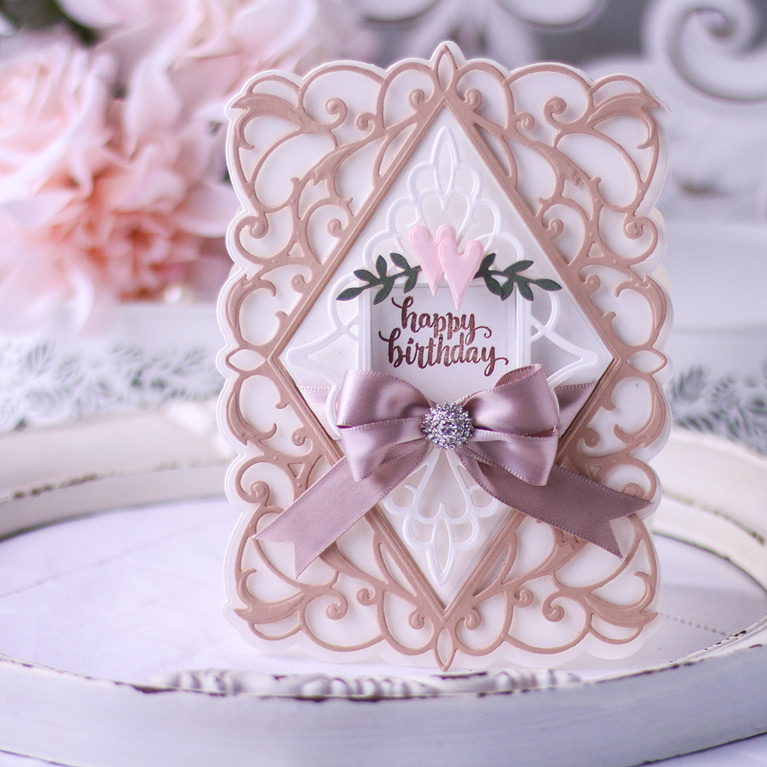 I'm so tickled today to be participating in the February 2021 Spellbinders Clubs Blog Hop with a list of fabulous bloggers.  It's our opportunity to showcase the Spellbinders February Clubs and I have another project to share with you using Bella Diamante which is the Amazing Paper Grace February 2021 Die of the Month.   Here is a look at all of the Spellbinders February 2021 Clubs.
I have placed the whole link list for the hop at the bottom of my post, because you seriously need to see all of this inspiration.  In addition, there are prizes that are described below!
It's no secret that I just can't get enough of the Bella Diamante die set – it was a pure joy to design this die!  The ideas have just flooded through my mind, so today I'm sharing an ensemble.  You know how I love ensembles!  After getting the card made, the pieces of the ensemble come easy – the box is always the easiest and is a great place to show off a pretty die.



This goes in the giving pile for a friend of mine who has a fast-approaching birthday.  I love nothing better than sweetly dragging friends and loved ones into my philosophy about "handwritten cards".  Having said that, one of my favorite gifts to give are note cards – I make them every opportunity  I can.  In the decorated gift box I put four sweet little 4″ x 4″ cards.  It takes about 2 minutes to put these little cards together and it is exactly what I'm always looking for to send off a note to a friend or a reader or the mailman.
These small cards are a great way to show off "handmade" with a smaller investment of time. Moreover, giving an entire set of them speaks volumes and invites someone else to offer something handwritten.
If this is your first stop at my blog, I hope to welcome you back in the future!  I am on social media and love chatting with cardmakers all over the world :-)
Click here to Follow Becca Feeken on Facebook!
Click here to Follow Becca Feeken on Instagram!
Click here to Follow Becca Feeken on YouTube!
Click here to Follow Amazing Paper Grace Creates on Instagram
Amazing Paper Grace Creates is our Creative Teams Instagram Account
We would love to share your work so be sure to follow and tag us there!
Other News!
The Amazing Paper Grace Creative team will be debuting my new Spellbinders collection – Make a Scene, with a blog hop on Monday, February 22nd!
Please stop by for inspiration and for a chance to win more dies!
Spellbinders Club Hop List – Don't miss all this inspiration!!
Spellbinders Blog
Tina Smith
Becca Feeken (You Are Here)
Becky Roberts
Carrie Rhoades
Bibi Cameron
Sandra Nagel
Jackie Pasko
Sandi MacIver
Laurie Willison
Jill Hilliard
Marie Heiderscheit
Jennifer Snyder
Kathy Clement
Jean Manis
Sheri Holt
Annie Williams
Yasmin Diaz
Betty Wright
Melody Rupple
Jenny Colacicco
Hussena Calcuttawala
Mindy Eggen
Emily Midgett
Virginia Lu
Emily Leiphart
Joy Baldwin
Ilina Crouse
Giveaway:
To celebrate this release, Spellbinders is giving away a $50 gift certificate to 3 lucky blog readers – selected from the comments on the Spellbinders blog.  Giveaway closes on Sunday, February 14th, 11:59 pm MST.  Pop in to see if you are the winner!  It will be posted on the Spellbinders blog hop post the following Tuesday on February 16.  The winner is responsible for shipping cost, duties and taxes.
Please note, store credit (gift certificate) cannot be applied to Club Subscriptions. Store credit can be applied to shop past Club products, Club extras and regular releases.


I hope everyone is staying safe!! Me? I'm going stir crazy being in isolation.  What is everyone doing these days to stay sane and occupied?  Leave me a comment – I need some activity ideas!