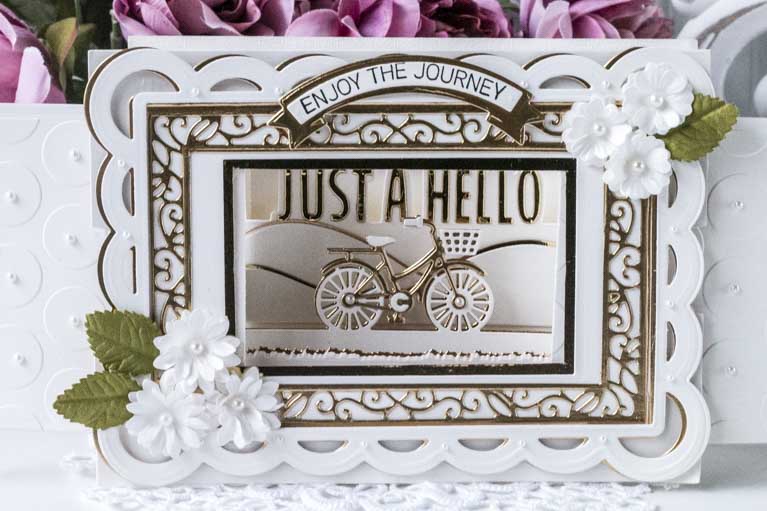 Hi crafty friends!  This collection has been a long time coming.  I'm so tickled to finally be introducing you to a new Amazing Paper Grace Collection that I designed  called Make A Scene!!!  This collection is my heart . . . A long time went into nurturing it and now it's ready to be shown.  It's both clean and simple and at the same time can be dressed up as elegant – beyond that, it's a lot of fun.  I hope you like it!
Some links may be affiliate links, buying products through these links generates a commission at no cost to you.
WHAT IS MAKE A SCENE?
Make A Scene is an interactive card collection and a flat card collection, all in one – you choose based on your style.
The interactive portion is made with a card base that folds in six different layered scenery options.  The 3D card base folds flat but slides open to reveal a dimensional scene.  Since it has a 3D profile, the opened card makes quite a splash and can be set out on a desk for showing off.  The card base is huge and it offers you the chance to snag one of five scenes that cover many occasions.  If the five scenes are not your occasion du jour, then by all means dive into your huge stash of dies and insert your own contents.
The flat card portion is made with the individual scenes.  Each of the components for the scenes can be die cut onto the top of a panel and used on a flat card or as part of a 3D Vignette or as part of a shadowbox scene.
Today we are prepared to show you – each Creative Team Member has created both a 3D Card and a Flat Card so that you can see the best of both worlds!
My Projects for Today
Here are the dies I'm using:
S6-165 Make a Scene Card Base
S5-441 Rolling Along Scene
S6-168 Scallop Facade Frame




<
Here is my interactive card closed




Here is the interactive card open:




Over the last many months when testing these dies, I've cut them many times and have stacks of cream die cuts to play with.  I decided to use some of the many die cuts I already had cut to make my cards for today.  Although the dies can be both casual and dressy, I did my best to take a whimsical element and show it in an elegant light.  I'm tickled how easily the elements flip from simple to elegant.
Today you get an interactive card and the same elements as a flat card.  Such a fun way to play with the dies!
Designers Tip:  These elements are begging for heavy cardstock, especially for the Make A Scene Card Base.
How to Assemble:
When you see the card base it will make total sense how this goes together.  Here is a quick start video to lay it all out for you.
Make A Scene Collection Blog Hop!
Click on the links to each member, they're waiting to inspire you to create something beautiful:
Nida Tanweer
Tara Brown
Anita Kejriwal
Kate Skonieczna
Joanna Wisniewska
Beatriz Jennings
Patricia Manhire
Agnieszka Posluszny
Elena Olinevich
Beth Pingry
Margie Higuchi
Becca Feeken at Amazing Paper Grace
Giveaway!  
You could win an Amazing Paper Grace Die of the Month! Enter to win at Amazing Paper Grace CREATES on Instagram. All of the entry details are there, look for this image below:
I love your comments!  Tell me, which scene is calling your name?
Let's Chat                    – Find Becca Feeken on Facebook!
See What's Up            – Follow Becca Feeken on Instagram!
Kick Back and Learn – Watch Becca Feeken on YouTube!
Get Inspired                – Amazing Paper Grace CREATES on Instagram