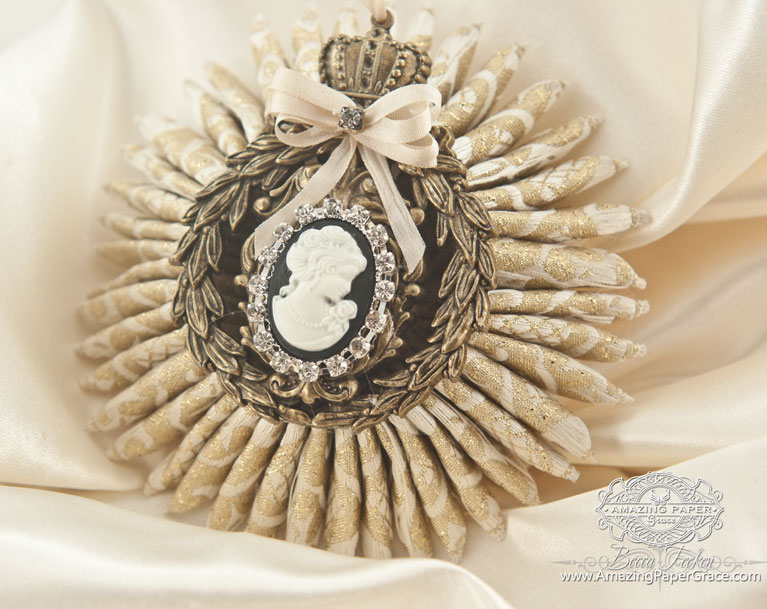 Good morning crafters!  I wanted to pop in today with one of the two last  gifts made for my recent guest.  Since we are slowly but surely approaching the season, I thought it only fitting that she have a Christmas Ornament from my house to hers.  It's an ornament made by folding ribbon and I topped it with A Gilded Life Crowned Medallion Bronze by Spellbinders.  It's simply glued on with Fabritac and then a cameo glued on top of the medallion – I used E6000 to secure it but was so tempted to use my trusty hot glue gun.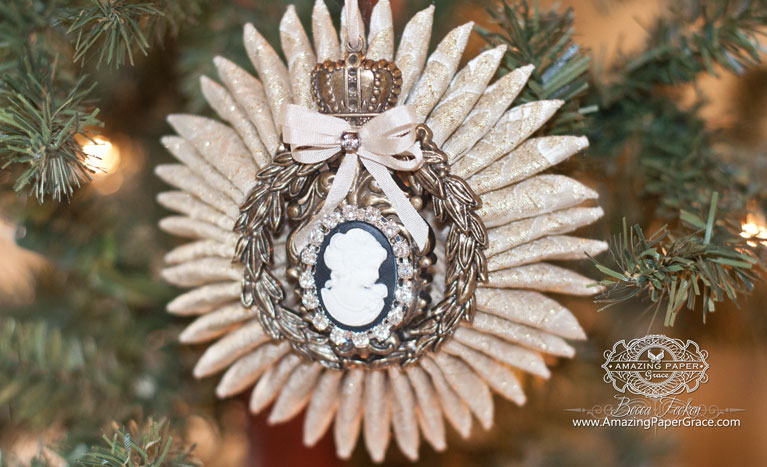 Since the medallion has a ring, it was easy to thread some silk ribbon through the hole for hanging.  I also put a petite bow on the crown for a totally feminine ornament.  The ornament is slightly larger than the palm of my hand and hopefully won't get lost amid all the beauties on her tree.
I adore simple gifts that can be made in a sitting. I was so thankful to get these done in time for her visit.  This seemed unique because of the dimension which you can see below.  It's a balanced ornament but would be just as lovely laying on a table – the back is flat.  Stay tuned, I'm playing around with this type of project so that I know all the ins and outs – when I have it down pat, I'll share.



Rubber Stamps:  None
Craft Paper:  None
Ink:  None
Accessories:  A Gilded Life Crowned Medallion Bronze by Spellbinders, Gold Ribbon, May Arts Silk Ribbon Paper, Cameo Button from my stash


Thanks for stopping by!!  I'm a little behind on emails because I'm taking a class this week.  Stop by tomorrow for Day of Giving Friday and on Saturday I'll be showing the last gift and card combo.