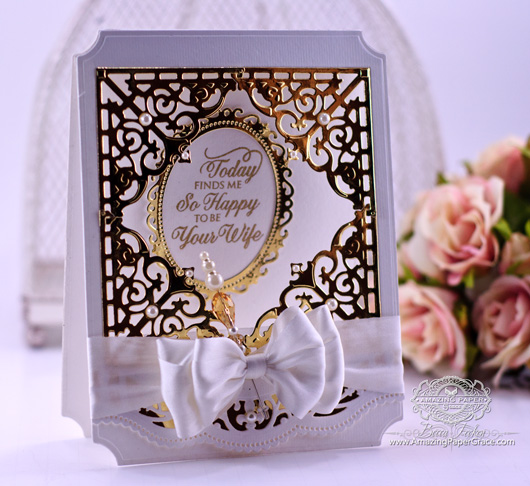 Dear friends, I hope your week is going well!!  Someone asked me about anniversary and wedding card making ideas so I wanted to pop in with this card that I made recently.  It's one of the batch that went to the UK but since it's so easy and makes a unique wedding/anniversary card I thought I'd show it here.   By the way, a picture would be lovely in the frame with the sentiment stamped below – just sayin!  Oh, and hello wedding invitation, right?
The basic card includes Spellbinders Grand Large Labels made into a card base.  I have two tutorials that show you my method to do this Spellbinders Hinged Card Bases.  They come in handy with this card because you get a clean window on the front when the front and back are cut separately, then the window cut (using Spellbinders Grand Squares), then front and back joined.  I also used JustRite Filigree Corners with Mix and Match Sentiments, Spellbinders Floral Ovals (hollowed out by Spellbinders Classic Ovals LG) and Spellbinders Scalloped Borders Two.    It is simply a window card and the floral oval with sentiment inside is glued to the inside of the card (see below) :-)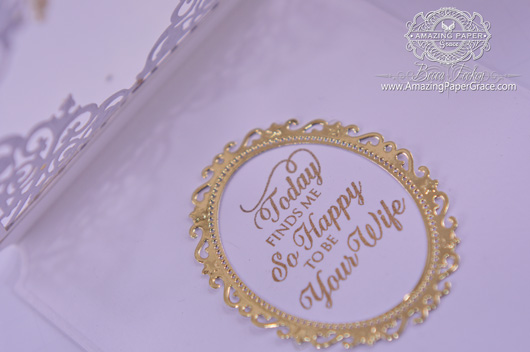 Here's your Step By Step recap of die cuts and layers, from the bottom up:  Start out with a Card Base cut using Grand Labels as described above – 5-3/8″ x 6-7/8″ , die cut layer using four of the small corners from Filigree Corners adhered to front of card, foam tape, die cut layer with Scalloped Borders Two on lower end of card.  Floral ovals glued to inside of card.  Add bow and bling. 

CRAFT SUPPLIES I USED
Rubber Stamps: Justrite Papercrafts – Mix Mix and Match Sentiments
Craft Paper: Neenah Classic Crest – Solar White, DCWV – Gold Foil
Ink: Versamark
Accessories: JustRite Filigree Corners, Spellbinders Grand Large Labels, Spellbinders Classic Ovals LG, Spellbinders Grand Squares, Spellbinders Floral Ovals, Spellbinders Scalloped Borders Two, May Arts Silk Ribbon, Recollection Pearls, Becca's Peg Bow Maker, Grand Calibur Die Cut Machine
Thanks as always for peeking in!! I'll see you soon!!