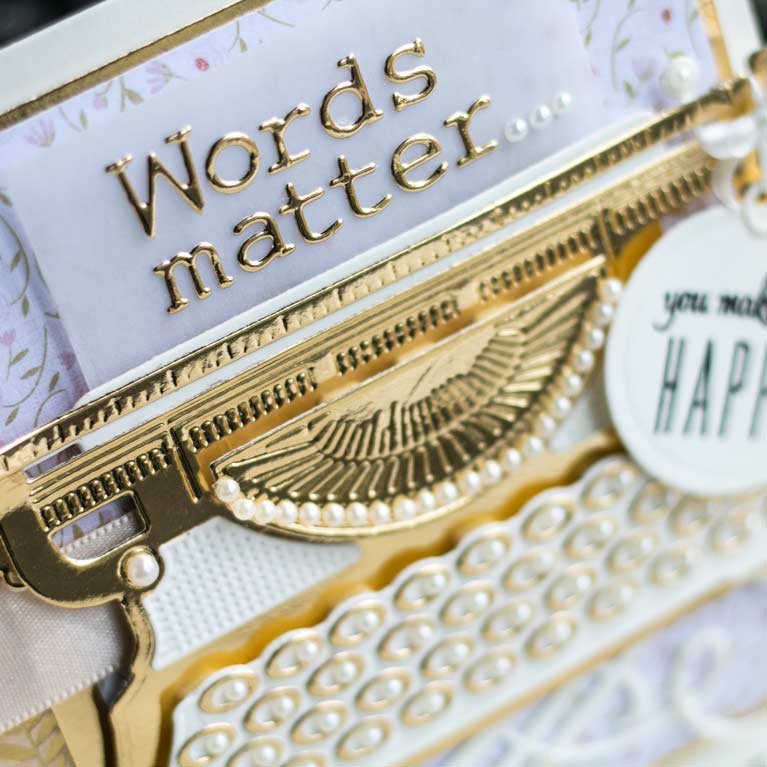 You may have well guessed that I am a lover and a collector of typewriters. In the picture below I've photographed a real antique with the paper antique and I can't tell you how much joy that gives me.  The typewriter is a vintage icon of our civilization and our march towards print freedom and in recent years, a collector's item.  Typewriters are far from being a relic of the past!  I thought by creating a dimensional typewriter with paper coming out of it, it would give you the perfect place to stamp what you want.  Introducing, Pop up 3D Vignette Typewriter. 
Some links may be affiliate links, buying products through these links generates a commission at no cost to you.
The typewriter goes together just like all other 3D Vignettes, yet it is open at the top.  It still folds down flat so that you can mail it!  This die set comes with die-cut word inlays yet you can stamp your message on the front page or all the pages.  There is lots of inspiration from the Creative Team today, so be sure to jump through all the links at the bottom of my post.
Here are the dies included in the set:
My Card Today
I peeked this version of the typewriter earlier but I got a few questions on it, so I decided to highlight it on my post today.  I love all the colors of the typewriters I've seen so far, but I knew I wanted to do one in gold.
Many asked where I got the words from. I simply reached for a set of letters I have in my stash – any letters will do – die-cut or stamped.  One of my mantras is that "words matter".  Whenever I'm speaking to someone or writing a text or email, I carefully curate my words.  Spoken words can bring such comfort or can absolutely turn the light on if the right word is used.  Once spoken, they are lovely to reference but also can't be erased.  So stating that words matter, I thought it appropriate to follow up with good words :-)
Someone else asked how long it takes to put the typewriter together. The answer is, it depends.  It depends on how detailed you want to be.  A 3D Typewriter will probably take about 35-40 minutes the first time around and then when you've figured out where everything goes it will likely take 25 minutes.  Now if you are going to add the key rims on every key, it will take quite a bit longer but most people will only want to scatter a few of those little ovals across the front.  On the sample above, I thought it would be cute to drop a pearl into every key rim.  Change it up!  Do it different every time!
Stamps: None
Blog Hop
More inspiration is just a click away.  Stop by with each Creative Team Member to see how they crafted this die to come up with a unique paper typewriter for you to try!