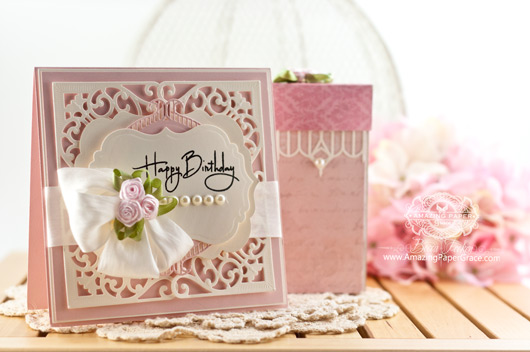 Good morning sweet friends! Today is the final day of the series One Box, Three Occasions; the occasion I chose to highlight today is a Birthday.  Well, not just a birthday, a birthday for a little, little girl.  I had to do it!  So often I pull something from my stash for my little friends but today I decided I would make a custom box (not what it appears to be) that is definitely for a wee one and designed to hopefully bring a smile.    At first glance todays samples seem much like yesterdays – I created a soft pink card using Spellbinders Antique Corner (cut four times) and built up with Spellbinders Labels Thirty Nine followed by Spellbinders Fleur de Elegance and finally JustRite Vintage Labels Seven.  A tad on the elegant side but this card was 30 minutes from start to finish and is easy, classic layers.  The finished card size is 5-1/2″ square.  If you are intrigued as I am with boxes and want to know how to make the original box – instructions can be found on this post: http://www.amazingpapergrace.com/one-box-three-occasions-day-1/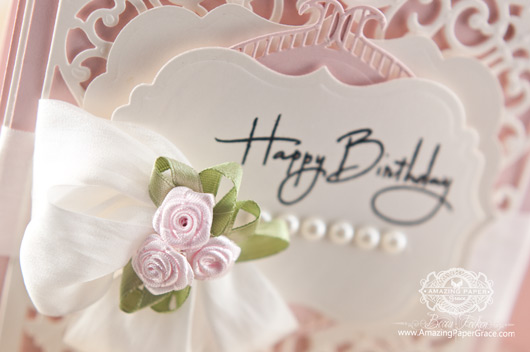 I decided to go easy on the embellishments; I know I wouldn't have any problem mailing this out!  The silk bow and ribbon roses compress quite a bit to a flat profile although I never have a problem with the larger bows and flowers I use (creative packing :-)).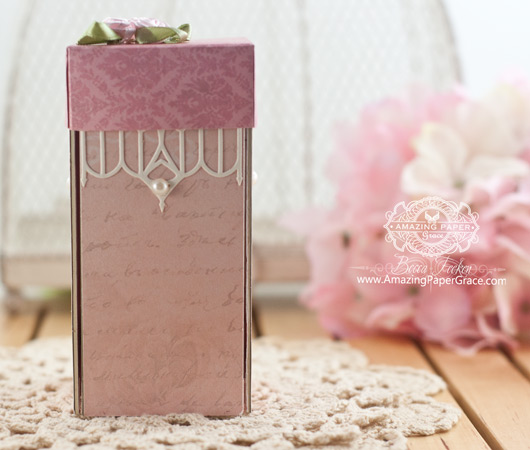 If you look closely, my box looks different.  It is :-) It's made from mat board and it has a single thickness lid that I fashioned by scoring.  The box is 2-1/4″ square and 5″ tall.  Today I used Spellbinders Gate Elementt as a border and attached it directly to the box instead of the lid.  



Then the magic happens when the lid comes off, yikes – an explosion box with a little ballerina inside :-)  The ballerina is Spellbinders Tiny Dancers



Spellbinders Labels Twenty Seven works "perfectly" as the four way hinge on the inside bottom to make the explosion box.  I simply scored Labels Twenty Seven on each of four sides, applied glue above the score line and attached to four matboard panels which were covered on front and back with design paper.  When I lift all of the four panels, their hinge brings them vertically into a box that can be capped with a simple top.  I decorated by gluing the gate element on the front and wrapping it around to the inside.  If you are feeling adventurous and want to try an explosion box, there's an excellent resource HERE.  I cut the  2 tiny dancers from a cereal box weight chipboard because I wanted a sturdy base.  Then I cut again from cardstock and  glued over the chipboard.  I added lace as the skirt, ribbon as a top and a band of gold for a crown then glued the two sets of girls back to back so they look good from every angle.   Lastly I used Spellbinders Ribbon Banners to add Happy Birthday to the base of the box.
CRAFT SUPPLIES I USED 
Stamps: Wordsworth – Birthday
Craft Paper: Neenah Classic Crest Natural White – Smooth 80 lb,PTI Sweet Blush, K & Company – SW Floral Mat Pad
Ink:  Versafine Onyx Black
Accessories: Spellbinders Labels Twenty Seven,  Spellbinders Antique Corner, Spellbinders Labels Thirty Nine, Spellbinders Fleur de Elegance, JustRite Vintage Labels Seven, Spellbinders Gate Element, Spellbinders Ribbon Banners, Spellbinders Tiny Dancers, May Arts Silk Ribbon, Want2Scrap Pearls, Glossy Accents for adhesive, matboard, Offray Ribbon Roses, lace, Recollection Pearls
I've enjoyed each remake of the filigree box :-)  I did the series because I couldn't choose just one and I thought the options were interesting.  One more card coming with the Gate Element die and then back up on the shelf it goes – it kept me occupied this week and I hope it gives you some ideas of what you can do with it!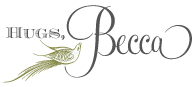 Question Parking Lot:
Elaine Johnson on comment #3 asked me when the Tiny Dancer dies would be available.  They look to be available right now in the Spellbinders store – I clicked on them and they were placed in my cart :-).   I think what was not available were measurements because these two figures would be difficult to measure or the measurement has not been loaded yet.