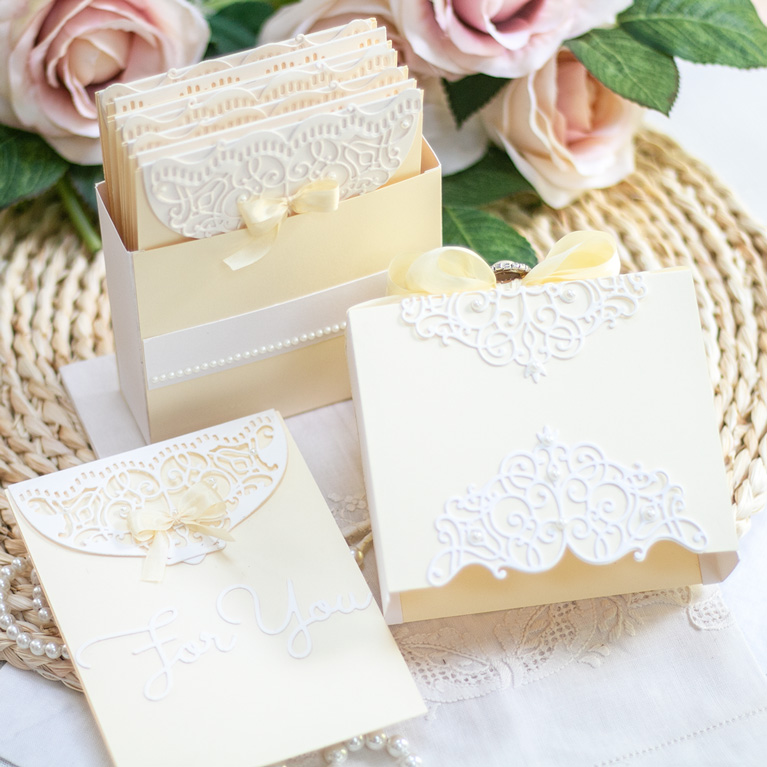 Hi there crafty friends, I'm tickled to be introducing a new collection.  This one is a "must-have" for my toolbox and with it, I'll be able to jot a pretty die-cut note in the blink of an eye.  The Sweet Serenade Notecard Collection is simply to extend a sweet thought or warm greeting to let them know you're thinking of them through a heartwarming notecard.  Each member of the Amazing Paper Grace Creative Team has created a boxed set to show you how nice they are to have on hand and how lovely they are to give as a gift.  I hope it will inspire you to make some of your own.
The Inspiration behind Sweet Serenade Notecard
Sweet serenade . . . music to the ear with a delightful trail of melodious notes.  Similarly, a sweet note is music to the heart of a friend, the inspiration behind this collection is the ability to create beautiful handwritten notecards. Everything in this collection coordinates together from the card base to the embellishments to the stamps to make wonderful notecard creations! Notecards also make a wonderful gift as a boxed set! Swoon your family and friends with a special handmade gift! Make it seasonal for fall or for the holidays. Maybe a specific style such as soft vintage, clean and simple, or even a mixed media twist!
Some links may be affiliate links, buying products through these links generates a commission at no cost to you.
My Projects for Today

Here are the two dies I'm highlighting today for my Boxed Set.
S4-1149 Perfect Harmony Notecard Embellishments and S4-1148 Sweet Saying Notecard Sentiments
Today, as promised, I'm keeping things simple.  I know that if I make simple notecards I make a bunch and I'll use them.  I don't want to overwhelm myself with too much embellishment and the need for perfection.  The overriding factor is to make it quick and to share them all the time.  So, today I'm sharing a notecard set for me but it can also be a gift.  These notecards are unique in that they are "foldover".  The little flap makes for the closure of the notecard and it essentially becomes self-contained.





Designers Tip: My biggest tip today with creating notecards is – keep it simple.  Save the masterpieces for the cards you make.  This will encourage you to have a stack on hand and to send them frequently.



Sweet Serenade Notecards Availability:
These dies and plates are available from Spellbinders right now! Click here: Sweet Serenade Notecards Collection.



Accessories: S4-1149 Perfect Harmony Notecard Embellishments and S4-1148 Sweet Saying Notecard Sentiments
Stamps: None
Paper:    Michaels Recollections Paper – Cream, Michaels Recollections Paper – White
Ink: None



For more Sweet Serenade Notecards Collection Inspiration
Visit each Creative Team blog linked below for their take on creative paper crafting ideas using the Sweet Serenade Notecards Collection!
Patricia Manhire
Agnieszka Posluszny
Elena Olinevich
Anita Kejriwal
Tracey Fehr
Tracey Sabella
Robin Clendenning
Kate Skonieczna
Joanna Wisniewska
Becca Feeken at Amazing Paper Grace

Please comment: Which notecard format do you like best?  Are you inclined to send sweet note cards?

Let's Chat                    – Follow Becca Feeken on Facebook!
See What's Up            – Follow Becca Feeken on Instagram!
Kick Back and Learn –  Follow Becca Feeken on YouTube!
Get Inspired               –  Amazing Paper Grace CREATES on Instagram
To learn more about all things Amazing Paper Grace, I invite you to join our private Facebook Group Amazing Paper Grace – Creative Encouragement Facebook Group.  We have a library of over 100 diecutting and papercraft tutorials in a lovely community.  I hope to see you there!


Hey there friends, I know that many of you don't do Facebook and I understand.  For those who do, I hosted a Facebook Live yesterday and had an opportunity to talk about my love of the handwritten word.  It's an art that I feel is going away.  To this day, I wish I had saved more of Johns handwriting.  Whenever I come across something handwritten that was his, it's like finding a treasure.  I try to do my part by handwriting notes and much of the inspiration for this collection comes from my passion of writing encouragement notes for others.
If you get time, go to the replay link on the Amazing Paper Grace Facebook Page. Otherwise, I'll chat with you wherever I see you {heart}