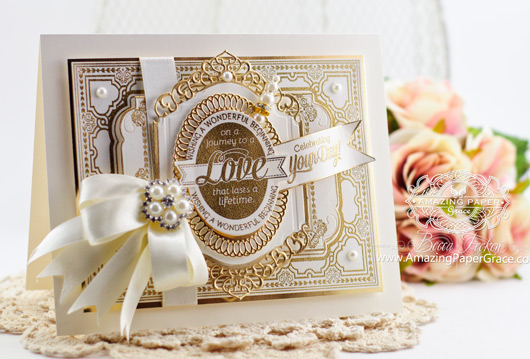 Good morning sweet friends!  This week JustRite Papercraft  has been showing new releases for the month of September.  I love an elegant card that doubles for both wedding and anniversaries so today I'm sharing a card made with Wedding Wishes.  Cream and gold are my favorites so I layered up the Vintage Labels Eight Background stamp by cutting the center part out with Vintage Labels Eight then added Spellinders Divine Eloquence, Spellbinders Elegant Ovals and Spellbinders Classic Ovals SM.  

I'm in a phase that I've been using my Krylon Gold marker on everything lately.  Someone told me they make a pen in red so I'm on the hunt!  It's such an easy way to add embellishment!
Here's how I made it – step by step:
Score a cream 5-1/2″ x 11 panel at 5-1/2″ and fold in half to create a card base.
Stamp background stamp on cream paper and trim close to stamping.  Mat with a piece of gold paper leaving under a scant 1/8″ around each edge.
Stamp a second background on cream paper, cut and emboss Vintage Labels Eight along the appropriately stamped line.  Rim with Gold Krylon Marker and attach to stamped/matted background with double layers of foam tape.
On left side of panels attach a vertical oriented piece of ribbon, tape behind.  Attach all to card base using double foam tape.
Cut/emboss peaked piece from Divine Eloquence using cream paper, rim with Gold Krylon Marker and color filigree with marker.
Cut/emboss oval from Elegant Ovals from gold paper.  Adhere to card base using foam tape.
Stamp sentiment and emboss with gold embossing powder.  Use Classic Oval die to trace around shape and manually cut making sure not to cut off horizontal pennant.  Adhere to card base using foam tape.
Stamp 'Celebrating Your Day", manually cut pennant shape and rim with Gold Krylon Marker.
Attach bow, pearl button, pearl pins and pearls to card.
Be sure to pop in and visit the other designers who have creations to show today:
JustRite Inspiration • Becca Feeken  • Darsie Bruno  • Marisa Job • Eva Dobilas • Kristi Schurr 
Thanks so much for stopping by!