Hi there friends! I think I mentioned that two weeks ago I went to the west coast to attend the Craft and Hobby Association (CHA) show in Anaheim, California. While I was there I had an opportunity to splurge and take a private class to make this vintage book from silver serving trays. I do all sorts of crafts, papercrafting is my heart but I jump at an opportunity to craft outside the box.  This wasn't as involved as making jewelry but quite a bit more involved than making a card and well worth the effort.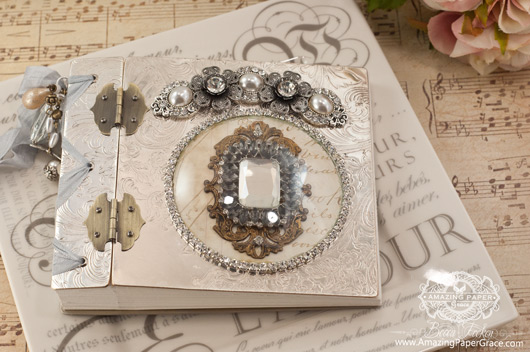 This wonderful creation is the brainchild of Michelle Hurtt of Vintage Bloom Studios.  She walked us through a day long, stress-free class where I still can't believe I actually put this together (nuts, bolts and eyelets, glued on flowers and bling, punched holes and even cut back metal plate). Michelle provided all the necessary tools as well as the kits with the metals, hinges, paper and ribbon while I provided the front decoration.  I loved that there was ample time to get everything done without rushing.  Michelle is such a soothing and empowering coach; she firmly planted the idea with us all that we could do this!  It was the inspiration I needed to be on the other side of the table. I love learning and since I tend to be intimidated by power tools, chalk one up to my new years goal of living bravely. This keepsake is a piece I'll treasure and I had a wonderful time making it, just thought I'd share.  It was truly a wonderful trip to California and I'm so grateful I had the opportunity to get together with two of my dear friends Tosha Leyendekker and Linda Duke as well as get in some actual crafting time.
Other Happenings:
Yes, prize winners – prize winnings won on my blog are on their way to you – I even had an international winner!
This week and until February 2nd, JustRite Papercraft is having a 30% off sale on JustRite Dies and this includes dies I designed for them earlier this year ;-) you can see them HERE.
That sums it up for me today!  I hope you don't mind me sharing something different.  Thanks so much for stopping by!!  By the way if you have any questions about this project/class (other than the size – which is 4-3/4″ tall x 5-1/2″ wide by 1″ thick) pop over and leave Michelle a comment on her blog.  Since it is her process and she makes/sells custom books as well as teaches this class, she is most definitely the expert :-)