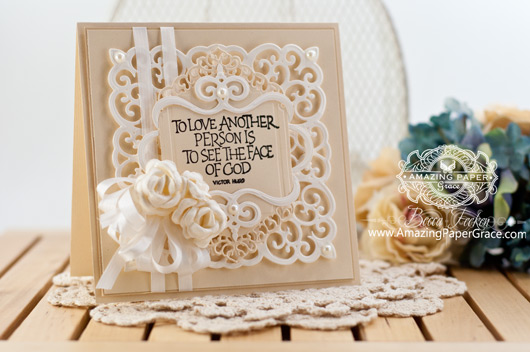 One more short post to cap off the week :-)  This is a card that I had on my work board that I finished up and wanted to share that uses Spellbinders Victorian Medallion Three, Spellbinders A2 Divine Eloquence and Spellbinders Twisted Metal Tags and Accents.  The sweet stamp is from my stash of Wordsworth from the Hugo Collection.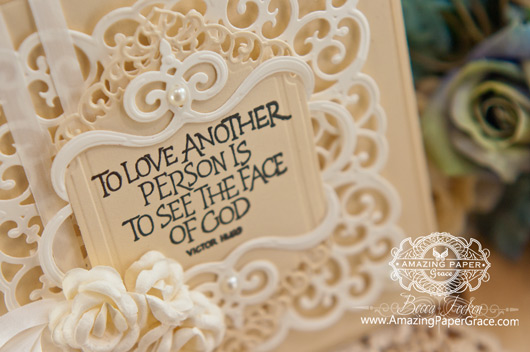 Thanks for all your sweet words of encouragement this week!  I'm so grateful for the community of stampers and crafters that so graciously give the gift of their time to visit – it really means a lot to me.   Oddly, with the world stretched out before me, I've found such comfort in my surroundings and have unbelievably become a homebody; being settled is so good for my soul :-)   Very often, the company for the day is the kind word I see on my blog and Instagram; it's like a sweet morsel, it is dessert,  it is enough, I couldn't ask for more and again I'm compelled to tell you how grateful I am.  Don't worry, even if you don't leave comments, I thank you still because I feel your sweet spirit.  I leave you with a quick snap of the wonderful calendar I have on my desk to greet me each morning – it so inspiring.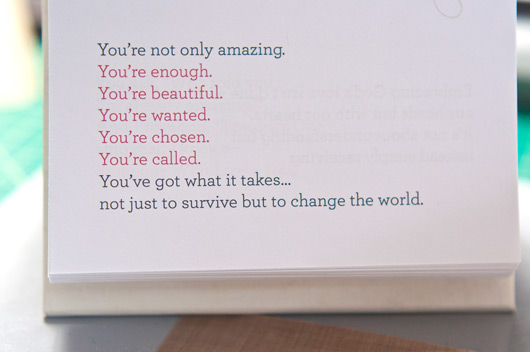 Please tuck that away in your mental file folder and pull it when you need it :-)  Isn't that just a glorious thought?
Wishing you a remarkable day and sending blessings over the miles…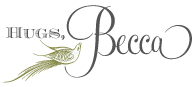 Question Parking Lot:
See yesterday's post for information about the clear boxes I've used in the past…