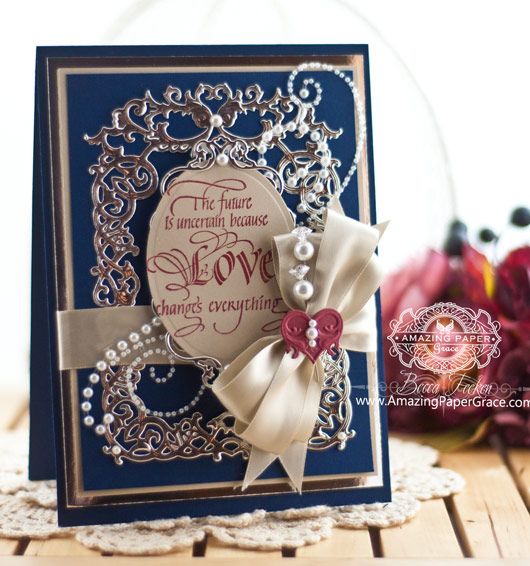 Hi there sweet friends!  The thing about Valentines Day cards is that I think we often make the card we'd love to receive . . . call me guilty.   No worries about that and even though pink and white, draped with flowers, lace and bows and handing it over to a man – works . . . today I wanted to do something different.  I wanted to make a Valentines Day card that would work just as well for an anniversary, and I wanted to work with something other then pink, white and red.   Recently I found lovelies from Quietfire Design in my mailbox and all the sentiments had to do with love,  just in time for Valentines Day!!   BUT, since these don't say Valentines Day specifically, I do think they will work all year around and fit quite neatly into the 'Anniversary' and 'In Love' categories in my stash.  So here's a card that could go for either using a sentiment called The Future is Uncertain.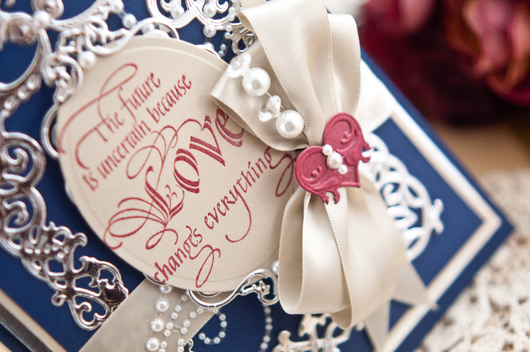 I'm using the new Spellbinders Floral Affair, Spellbinders Reflection, and Spellbinders Classic Ovals SM.   I opted for silver and navy because every once in a while I have to give cream and gold a rest :-)
CRAFT SUPPLIES I USED 
Stamps: Quietfire Design, The Future is Uncertain
Craft Paper: Bazzill, The Fine Touch, Silver Poster Board, Coredinations
Ink: Clear Snap – Chianti
Accessories:  Spellbinders Floral Affair, Spellbinder Reflection, Spellbinders Classic Ovals SM,  Satin Ribbon, Prima Pearls, Recollection Pearls, clear embossing powder
Hope your day is spectacular!  Thanks for stopping by, and I'll see you soon.
Question Parking Lot:
Several have asked which set the heart on the bow came from – it's the smallest in the Spellbinders Floral Affair set :-)