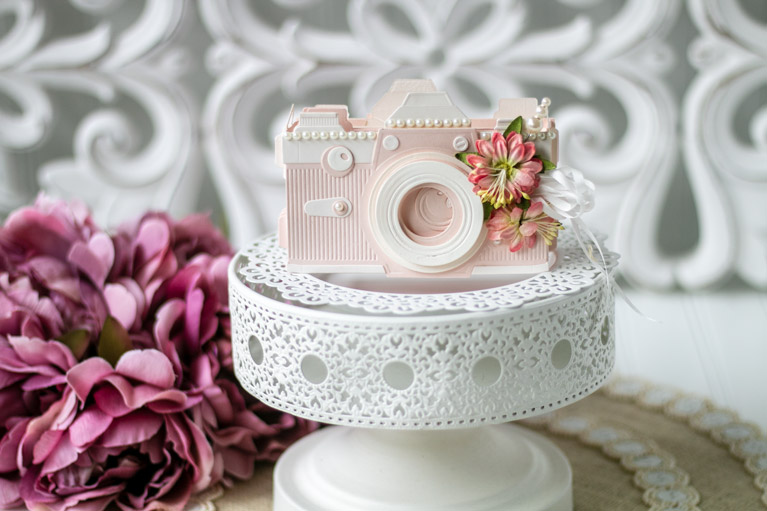 Good morning Gracelets!!  Its the beginning of the month and I'm excited to be introducing a new Die of the Month.  Every month I say it's my favorite and I'm actually not fibbing.  Because I get to play with it beforehand and savor it throughout the month it is indeed my favorite (at the moment).  Please welcome the Amazing Paper Grace October 2020 Die of the Month – 3D Pop Up Vignette Camera.  As with all the other 3D Vignettes, it collapses flat to be sent in a regular envelope
Some links may be affiliate links, buying products through these links generates a commission at no cost to you
Please read to the end of the post, I have some exciting news to share :-)
Inspiration for 3D Pop Up Vignette Camera
I could never really call myself a scrapbooker but I adore sending long quotes, snippets, and little pictures.  These are things from the heart and they instill or invoke memories from the recipients.  That's why I love the half vignette format – it's a card, it's a mini scrapbook, it's a showpiece.  These are the kinds of cards that someone keeps out on their desk. That is the inspiration for this Month's Die of the Month, 3D Pop Up  Vignette Camera.  I've given you four small panels inside the camera.  They are just enough for a recipe, just enough for a picture or two, just enough for two inspirational quotes.  For any extras simply add some washi or cover them with pretty designer paper.
It is an easy assembly.  Here is a short video that shows how:
Pop Up Vignette Camera Samples
You might just be looking at this box and wondering where the camera is?  Yep, inside.  This is a Christmas Explosion Box.  Simply lift the lid and the sides fall away to reveal what is inside.
This is the view once the lid is pulled away.
This is one of my favorite gifts to give.  There are four small panels inside the camera that allow me to place pictures.  Ever year I do a project to send that includes the Christmas photos from the previous year.  I know it sounds small but often it is the most treasured gift at Christmas time.  Do you wonder why?  Well, it's because scrapbooking is such a huge adventure and often people want to do it, but never get around to it.  This way, four pictures is a biteable chunk.  I know I can get it done.  The pictures are used and we have something beautiful to show for it.  I hope this inspires you to at least try this project to give.
We can't forget to use Glimmer on our projects, right?  On this camera above, I glimmered the body of the camera before cutting for a quirky, elegant presentation.  This just whispers wedding….
I had to do a card with just the camera!  This is for a woman but guess what . . . just take off the bow and you have a masculine card.
So many ideas, so little time.  What do you dream of doing with the camera?
For more inspiration using the 3D Vignette Camera Die of the Month,  follow along on our Blog Hop with the Amazing Paper Grace Creative Team!


More News!
Sweet friends, I have some other news.  I'm not the biggest fan of Facebook but earlier this year I've found my way by creating a place there that is free of drama and some of the negative talk you find online.  I call it an oasis.  We have created the Amazing Paper Grace Creative Encouragement Community and it has been clicking along for more than 6 months.
Along with the creative team we are now offering a tutorial every other day during the month, to boost up our skills.  Each tutorial is lead by a member of the Creative Team and falls within their expertise.  I invite you to join our group and make use of the Guides we are setting up to enhance your skills.  If you are curious, join, if even for a day.  To provide inspiration and encouragement is on my heart.  So many readers asked for a venue like this; it is exclusive to Amazing Paper Grace dies and showing you additional ways to use them.
For example, you can watch Anita Kejriwal's video teaching how to create realistic poinsettia flowers with my Cinch and Go Poinsettia die The paper flowers are amazing!
I hope to see you there and as always, thank you for stopping by!!