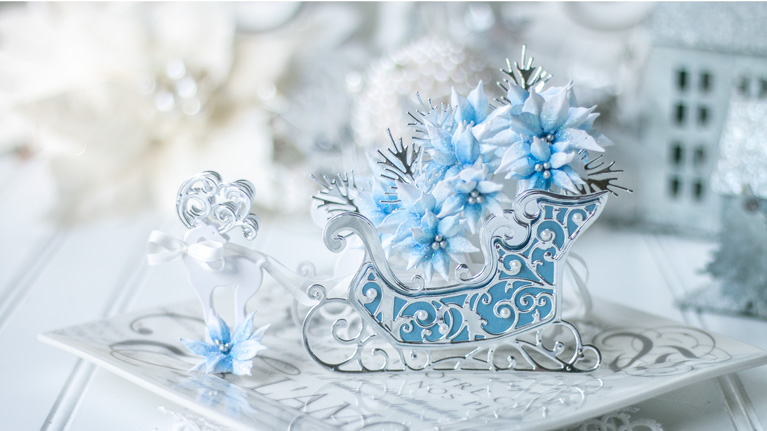 I'm always so tickled to move into the holidays!  It's that time of the year to devote one of my Dies of the Month to something that is so specially Christmas!  Are you ready to Sleigh it?   Please welcome the Amazing Paper Grace November 2020 Die of the Month – Pop Up 3D Vignette Poinsettia Sleigh.  How cute is this sleigh card that folds flat?  I think it's going to be darling filled with candy or sitting on your holiday table.
Some links may be affiliate links, buying products through these links generates a commission at no cost to you
Inspiration for Pop Up 3D Vignette Poinsettia Sleigh
I absolutely love the holidays.  For "All Things Christmas", I just can't get enough.  Especially this year, it will be something to be savored, something to be thankful for, and something that will let us look forward to the future and getting back to normal.  I challenged myself to create something that could be left sitting out – something that would be a showpiece.  What better way to do that, than another vignette type card that can also hold things.
Here is a short video that shows how to assemble the sleigh:
Pop Up Vignette Poinsettia Sleigh Samples



The place that my soul starts is always with "traditional" Christmas.  It's always the icing on the cake, the first picture in the stack.  When I look back on my traditional pictures each year, I consider the box checked.  But, there's so much to be said for non-traditional colors.  So the lovely thing is that this little sleigh wears them all so well.  Whether it is red, green and gold or icy shades of blue and silver – there's no doubt when you see the layout, that Christmas is coming or better yet, Christmas is here.  Yep, we actually start celebrating when we throw our hearts into the preparation.



I couldn't resist but to pair the sleigh with the little deer from my Christmas Cascade Collection.  Can't you just imagine this little sleigh tied on to a little gift?

Paper Poinsettias!
And the blue flowers for this sleigh were inspired by Creative Team Member Patricia Manhire.  I absolutely fell in love with them.  You're in luck!  She teaches how to make them, step-by-step, in one of our Learning Units in the Amazing Paper Grace Creative Encouragement Facebook Group.   That, along with over 100 other tutorials will help to get you ready for Christmas, is what we've been up to this past month.
As always, I had to do a flat card.  I've been doing slimline for many years so I'm so glad to see everyone embracing the long/tall cards.  I thought it was a perfect way to showcase the sleigh.  So there, just as easily as you have something 3D, you can have the conventional 2D card as well.
As always you know we have something up our sleeves.  There are so many fun dates coming up.
Watch as Anita Kejriwal teaches us How to Make Paper Poinsettias using the Cinch and Go Poinsettia dies in in the Amazing Paper Grace Creative Encouragement Community, our Facebook Group.
Join our Creative Team Blog Hop with the Pop Up 3D Poinsettia Sleigh.


Please know that I count you all as blessings in my life.  I've passed some recent milestones and have tried to sit and write about them but the words just wouldn't come.  I'll try again but didn't want to miss the opportunity to thank those of you who have stood by me for so long.  I really appreciate it.  This blog and the friends I've found here are part of my being.  Thank you.
It always touches me that you stop by.  For many, it has been a decade.  This is not something I take lightly – I am continually humbled.  Thank you!