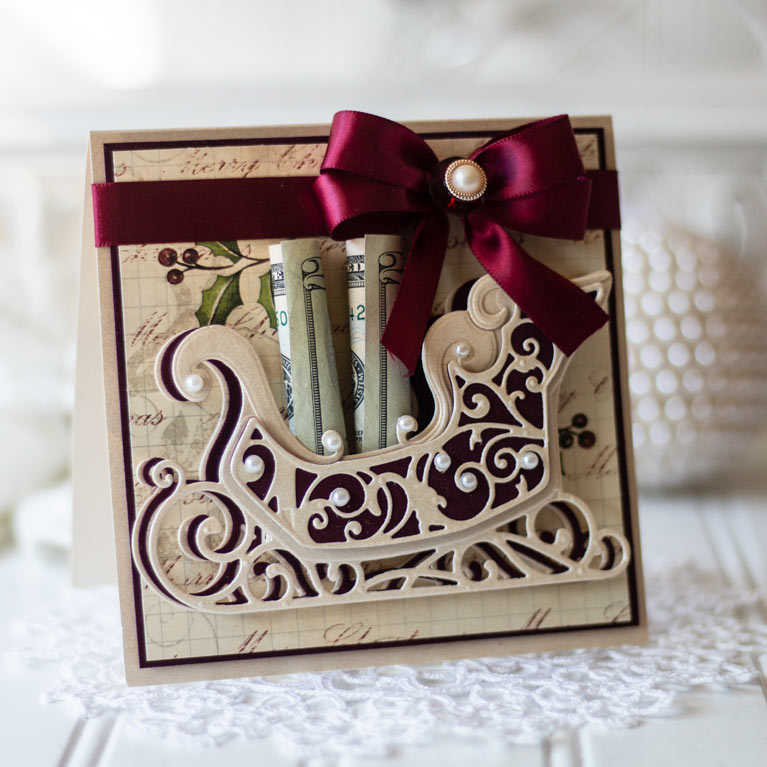 If you haven't already jumped into Christmas preparations, are you ready to sleigh it?  Today we are sharing the Amazing Paper Grace November 2020 Die of the Month – Pop Up 3D Vignette Poinsettia Sleigh.  This one is a little bit different because it folds down flat for mailing as do all the dies in the 3D Vignette lines.

Some links may be affiliate links, buying products through these links generates a commission at no cost to you

Poinsettia Sleigh Details
What better for Christmas than a Christmas Sleigh?  This one is 3D and I can think of oh, so many ways to use it.  This die can be used as flat detail on a 2D surface but transforms into a 3D showpiece so easily that we're happy you will have both options.  I love to create high end dies that double as a decoration piece in November of each year.  Let's just call it icing on the cake for the holidays.  It's really a satisfying venture to grab a cup of coffee and sit down to put it together as it is to set it out on the table.
Today we want to inspire you to think of different combinations using the Poinsettia Sleigh.  Here's what we had in mind:
Table Center Piece
Table Setting Favor
Filled with Candy and Goodies
Part of a Wonderland Menagerie
Flat 2D on the front of a card

In the comments let us know how you think it should be used.
There are 21 dies included in the Pop Up 3D Vignette Poinsettia Sleigh
My Pop Up 3D Vignette Poinsettia Sleigh Card

For my project today, I pulled together a couple of quick money holder cards for Christmas.  I assembled the sleigh as normal and nestled a little box behind the first sleigh so that my gift card or my money bills could slip into.
Designer Tip:  Stacking and slightly offsetting two of the sleighs creates the illusion of depth without an excessive amount of bulk.  In between sleighs stack 3 or four pieces of adhesive foam.



Stamps:   None
Paper:  Michaels Dove White, K and Company, Coredinations
Ink:  None
Accessories:  Amazing Paper Grace November 2020 Die of the Month – Pop Up 3D Vignette Poinsettia Sleigh 
P.S.  In the Amazing Paper Grace Creative Encouragement Facebook Group there are two Step-by-Step Tutorials that take a novice through creating some spectacular poinsettias.  I hope you'll join the group so that you have both of those methods in your toolbox.  They'll come in handy this Christmas Season.
You can also view the 6.5 minute YouTube on the Poinsettia Sleigh Assembly.

Visit the Creative Team for more Poinsettia Sleigh Inspiration
Visit each Creative Team blog linked below for their take on creative paper crafting ideas with the Poinsettia Sleigh, the new Amazing Paper Grace November 2020 Die of the Month!