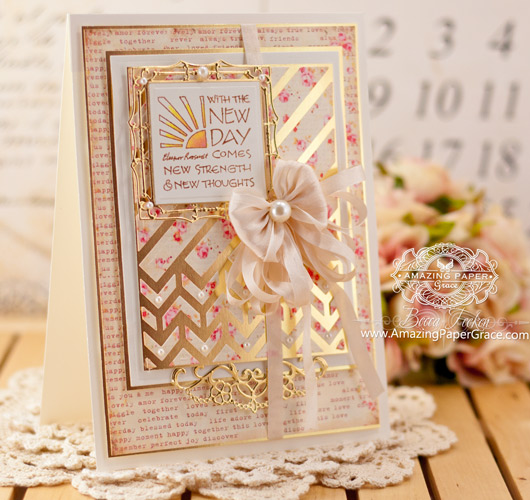 Hi there friends!  As always, I'm working on stuff in the background but took a moment have a look at what's new in my stash.  I  was so inspired by this Wordsworth sentiment I've had on hand and it reminded me of the new Spellbinders Diagonal Chevron I had laying on the table.  It's very contemporary but in cardmaking I feel strongly that there are no rules – go where ever your heart takes you!  I thought that this template was a great opportunity to show some design paper so I cut the die template, flipped it over, placed Glossy Accents on the the back of the pieces that would normally fall out but then laid a piece of gold paper on top and let it dry.  Once dry, I took off the die template then removed the diecut and the leftover pieces stayed glued to the gold paper.  The small sentiment is popped up on Spellbinders Labels 42 – Decorative Accents and Spellbinders Classic Squares LG.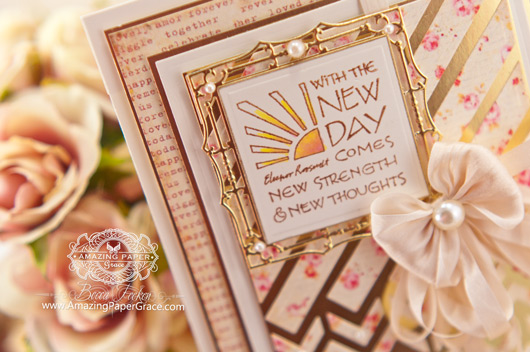 See my tiny bows?  Yep, I didn't want to cover up too much of that pretty background :-)  I embellished the bottom of the card with Spellbinders Corners and Accents One.
Here's how I made it – step by step:
Create a card base with cream card stock that measures 5-1/2″ x 7-1/2″.  (Card base is made with two pieces of 5-1/2″ x 8-1/2″' paper scored and glued as in this Hinge Video.)
With print paper, cut a panel 5″ x 6-7/8″ and mat it with a gold panel cut to 5-1/8″ x 7″.  Adhere with print paper on top.
With cream paper cut emboss outside border from Diagonal Chevron and mat it with a gold panel cut to 4-3/8″ x 5-5/8″.  Adhere to previous layer with foam tape.
With floral design paper cut/emboss Diagonal Chevron, flip die template over so back is face up and place Glossy Accents on the fall out die pieces.  Cover with a gold panel cut to 3-7/8″ x 5-1/8″ pull off main die cut and fall out pieces should remain glued down to gold paper. Adhere to previous layer with foam tape.
Wrap ribbon and lace vertically on right side of card, taping on back.  Adhere grouping to card base.
Cut/emboss Labels 42 – Decorative Accents and adhere to upper left corner using foam tape.
Stamp sentiment on cream paper then cut/emboss with Classic Squares LG #4, rim with gold Krylon pen.  Adhere square directly to Labels 42 – Decorative Accents
Cut/emboss Corners and Accents One and adhere to bottom of card
Attach bow, add Pearls.
I'm listening to a circa 2008 Oprah rerun and they are talking about 'schlumpadinkas' (google it).  Oh emmm geee – that's me, it's just a schlumpadinka day – it's raining and I'm sure sitting here in my sweats!  Come on sun, time for me to get outside and walk :-)
Parking Lot Questions: