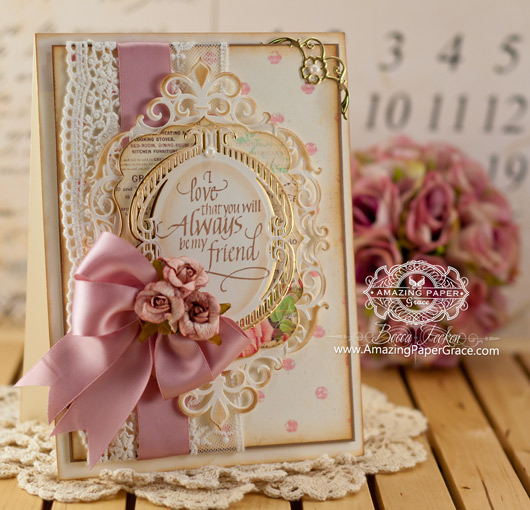 Greetings friends!  Mercy, this has been a week that has kept the mailman on his toes.  I'm not complaining; I love it when I get happy mail and oh my, has it ever been happy.  Of course you'll get to see everything, including new Spellbinders, as I get them made up into projects.   One of the sets that showed up was this new red mounted rubber friendship set from Quietfire Design.  I don't know if you remember last month I  used a beautiful friendship saying One cannot tell the precise moment when friendship is formed – this one is just as lovely.  I have all sorts of friendships stamps but few that say what I'm feeling is in such a special way.  This one is called Always Be My Friend.
So yes, I'm sporting shiny new Spellbinders die templates :-)  This romantic combination of Spellbinders Fleur de Elegance, Spellbinders Labels Thirty Nine and Spellbinders Corners and Accents One fit perfectly with the sentiment in more ways than one!
Here's how I made it – step by step:
Create a card base with cream card stock that measures 5-1/2″ x 7-1/2″.  (Card bases is made with two pieces of 5-1/2″ x 8-1/2″' paper scored and glued as in this Hinge Video.)  Smudge all card edges with Brushed Corduroy Distress Ink.
With polka dot paper, cut a panel 5″ x 6-7/8″ and mat it with a dark brown panel cut to 5-1/8″ x 7″.  Adhere with polka dot on top.
Wrap ribbon and lace vertically on left side of card, taping on back.  Adhere grouping to card base.
Cut/emboss Fleur de Elegance with cream cardstock – ink emboss through opening with Brushed Corduroy Distress Ink.
Cut/emboss Labels Thirty Nine with design paper, rim with Krylon Pen and adhere to card with double foam tape.
Cut/emboss two of the slotted elements from Fleur de Elegance, one cream and one gold.
Stamp sentiment on cream element and cut gold element in half vertically then mount behind cream stamped element.  Adhere to card with double foam tape.
Cut/emboss Corners and Accents medium sized piece and glue to top right corner.
Attach bow to left corner of card.  Add Flowers and Pearls.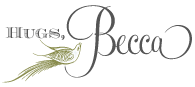 Thanks so much for stopping by!  I appreciate it!!