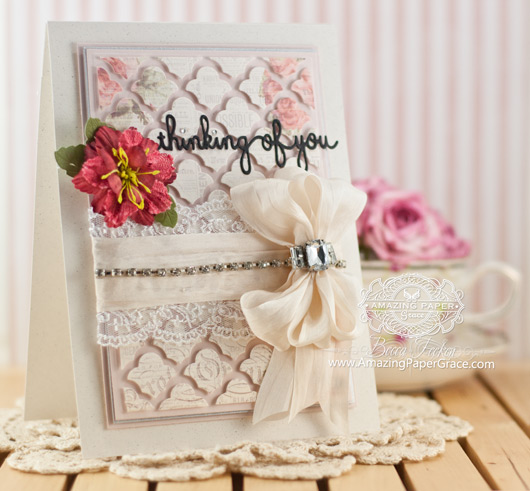 Good morning friends!  Die cut words are everywhere so today, I decided to put some I have in my stash to use!  I absolutely love them and they make for a quick card – no stamping this time around.  The set I'm using is Spellbinders Sentiments 4.  I imagine these would be fabulous on a little set of cards you send to someone and they could attach which ever words were appropriate for the occasion.  Just daydreaming out loud :-)
I used Spellbinders Grateful Lattice to create the background for the card.  Once cut, I flipped the die over to reveal the paper side and pulled the diecut out of the die.  The I placed a pop dot onto each of the normally thrown away pieces while still in the die and laid down a panel of paper on top of the sticky pop dots.   This allowed me to pull all the discards out of the die at one time adhered to a panel of paper – spaced perfectly!   I added lace, a flower and the jewels and bow to finish the design off!!
By the way, I've received a couple of questions about when the dies I'm using will be available.  So on each of the items, if you click through to the product, the shipping dates are listed with each product!  Hope that helps you all :-)
Hope you're heading into a spectacular weekend!!  I've had a great week so I'm hoping for more of the same this weekend!  Hugs to you friends!!
Parking Lot Questions: