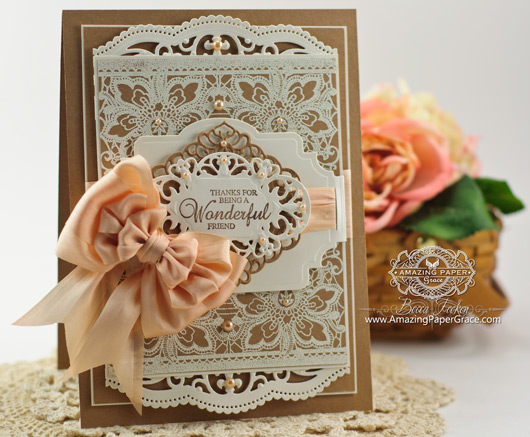 Good morning sweet blog friends!  Today is Day 5 of new releases at JustRite Papercraft and I have a card to share with lots of die cutting goodness.  I'm using a new background stamp called Floral Lace Vintage Tag Background that I've heat embossed in cream on a dark brown background and card base.  With a background like this I try 'not' to cover up the intricate detail of the back, so I chose to embellish using one of my new favorite dies from Spellbinders called Spellbinders Belly Band One.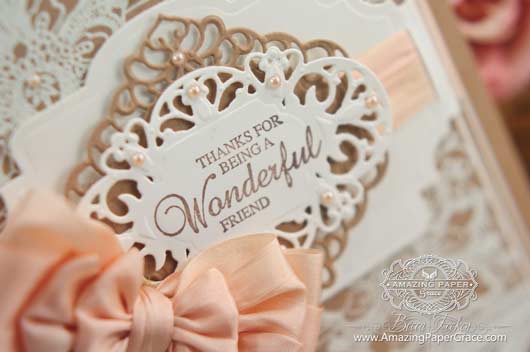 I'll pile on a couple more fav's :-) — my next layers are from Spellbinders A2 Divine Eloquence — yes it looks different than normal but as you know I love to alter my dies to suit the card they embellish.  This time around I simply snipped off the top and bottom of the second largest die to shrink it down to fit within the confines of the belly band.  It is taped together on the backside and the next layer (also from Divine Eloquence) hides the seam line.  For my focal panel, I've matted it on cream cardstock but to embellish the matting I also attached Spellbinders A2 Scalloped Borders Two simply taped into place.
You Can Make This Card Too:  Start out with a hinged card base sized 5-1/2″ x 7-1/2″.  Here are the rest of the layers from the bottom up.  Matted panel with cream cut to 7″ x 5″ and brown cut to 6-7/8″ x 4-7/8″ (Foam tape on back).  Cream panel cut to 5-7/8″ x 4-5/8″ – cut two Scalloped Border Two and tape to each end of panel.  Floral Lace Background stamp panel trimmed on each edge to fit cream panel.  Belly Band die cut raised with foam tape.  Divine Eloquence die cut (trim each end off and tape together) raised with foam tape.  Smaller Divine Eloquence die cut, raised with foam tape. Embellish with a bow and pearls.
Here are the rest of the design team members that have designs to share:
JustRite Inspiration • Becca Feeken  • Kristi Schurr • Amy Tedder • Marisa Job • Darsie Bruno • Margie Higuchi
Blessings to you on this glorious day sweet friends!! Thank you so much for stopping by – I really do appreciate it!