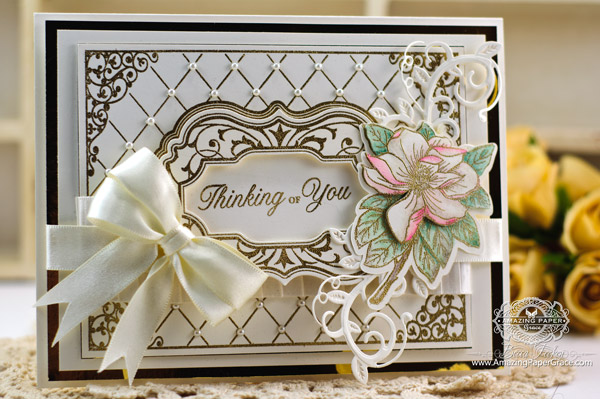 Good morning sweet friends!  Today is Day 3 of new releases at JustRite Papercraft and there are new goodies to show you today.  I'm sharing an elegant card with a sweet magnolia on it and I'm strutting like a peacock because my magnolia doesn't look like it was cut out by a first grader.  Wanna know why?  The reason why is because with this release JustRite is offering SVG files that match their stamps. Typically they will offer SVG files for things you would attempt to fussy cut.  Created to use along with the metal dies we use every day, the SVG cutting files work fabulously to compliment the line of JustRite Custom Spellbinders Dies you've been used to seeing as well as the fabulous Spellbinders dies we all collect hoard.  I mentioned to Kellie that normally my card would never see that lovely magnolia because I'd have to cut it out and my cutting is so totally unprofessional that it would be a no go….  I'd look at the card and my jaggedy cutting wouldn't look as professional as the clean cut lines of all my Spellbinders and get pulled off.  Well no more :-)   You can see all the new SVG's that are being offered with new releases this week HERE and the one I used today is HERE all the new stamp designs areHERE.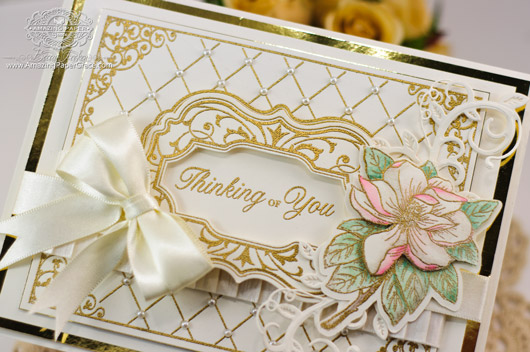 So here's what I did….I created my card knowing I wanted the layered goodness of that Magnolia so I cut it out with my die cutting machine.  There were two version offered, one that is an 'exact cut' — it matches the stamp exactly and one that has a thin border around the edge.  I cut one of each knowing I wanted the bordered cut on the bottom (I like that look) and the second one was as exact cut.  Why?  The exact cut is just like if you had fussy cut by hand – I wanted to layer up the magnolia so my upper layer is the same as the bottom except I did cut off the bottom leaves.  So there you have it.  Lol, this particular card saw three different versions of the Magnolia (colored, not colored, colored differently) before I settled on this one.  So I paired this SVG up with two of my go-to dies – JustRite Spellbinders Custom Die – Vintage Labels Seven and Spellbinders Foliage Flourish.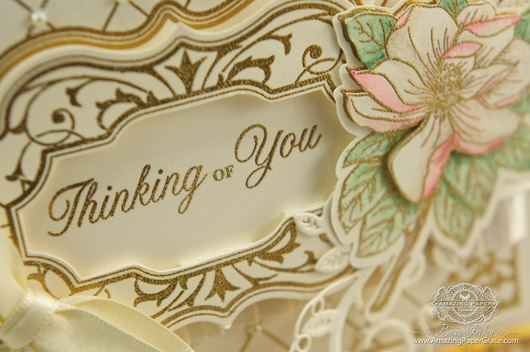 Here are the rest of the design team members that have designs to share:
JustRite Inspiration • Debbie Olson • Darsie Bruno • Becca Feeken • Sheri Holt • Eva Dobilas • Heidi Blankenship • Kazan Clark • Amy Tedder • Margie Higuchi • Marisa Job • Michele Kovack • Kathy Jones • Kristi Schurr • Angela Barkhouse
So now you know exactly how I feel out fussy cutting (cutting out by hand) sound off here and let me know how you feel….leave me a comment and let me know is it easy or hard for you?