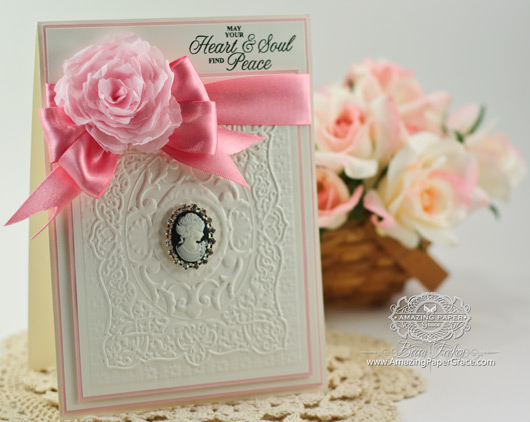 Greetings friends….hallelujah, spring is coming!!  I love everything about spring and it makes me reach for the powdery light pastel colors of heavenly flowers.  Today I have a clean and simple card to share and I wanted to show off the gorgeous detail of a new embossing folder – Spellbinders Mediterranean Medallion.  It's a card made using a new sentiment from the Magnolia Vintage Labels Seven set from JustRite Papercraft and doubles down for sympathy or for someone who is going through a hard time.  For the latter occasion, I send out many cards – probably more so than birthdays.  How about you?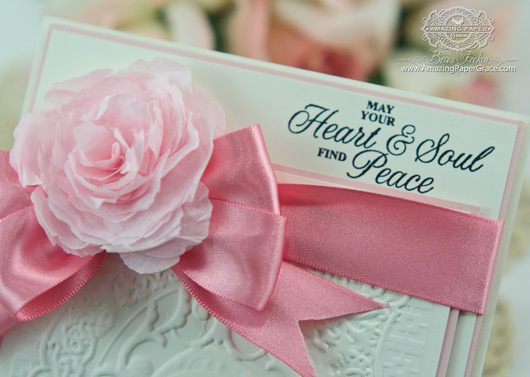 I wanted a soft flowing look for my flower so I simply diecut using pink tissue paper and Spellbinders Create A Rose.   The finished rose was glued down to the top of my bow then I embellished the card front with a cameo button from my stash.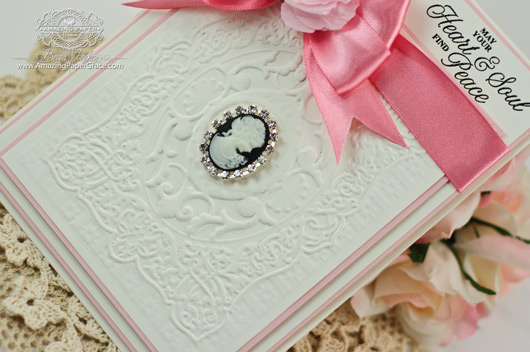 The embossing detail is so lovely and it would be a shame to cover it up!  What a struggle for me!  After that, I sat on my hands so I wouldn't be tempted to keep adding.  Yes, it was very hard :-)
Yay spring, get here soon!!  Hope you're having a beautiful day wherever you are!