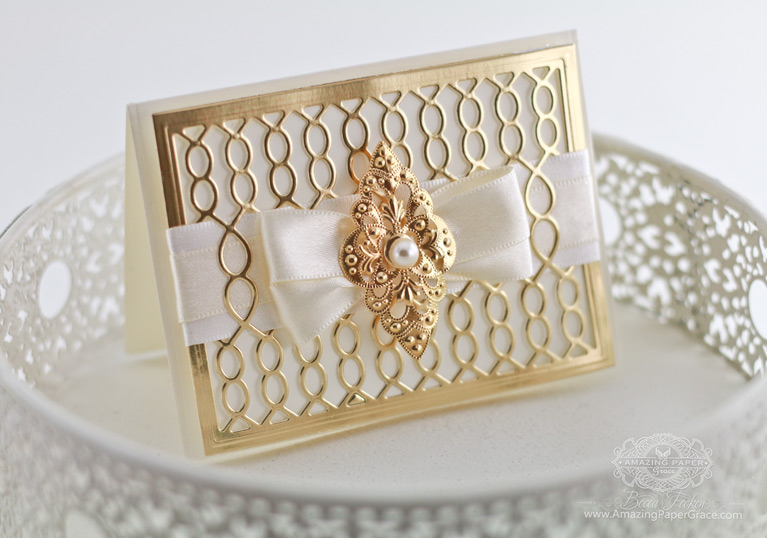 Hi there, welcome to the Introducing Venise Lace Blog Hop with the Amazing Paper Grace Creative Team.  Today we are introducing my new die collection called Venise Lace – you can take a quick peek of the entire collection ——-> HERE. It's never enough to see just the die, so each of the Creative Team has taken two of the dies and woven them into the types of gifts and cards you like to create and send – these are "doable" projects that let you see the beauty of the dies.  As the designer, I have to say that what I gave them was just a die and what they created was beyond what I dreamed and you can do that too :-)  Enjoy the journey!  I'll list all of the creative team so that you don't miss a beat but don't forget, each of us will be giving away an Amazing Paper Grace die pulled from the comments left – one from each blog.  The prize details are at the bottom of my post.  So, without further ado let me talk about the two dies I get to introduce:
First up is Spellbinders S4-793 Venise Lace – Gossamer Knot Ensemble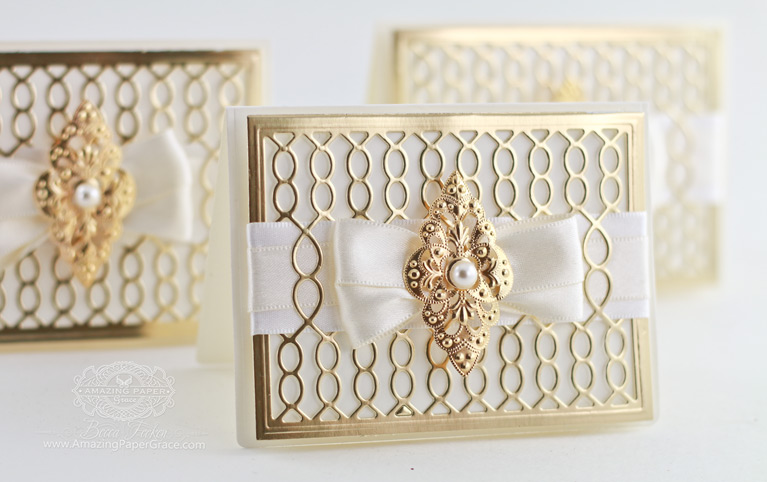 For my project I created a small set of gift cards for giving.  So many of my friends want thank you cards at hand.  These can be personalized because a different color ribbon can be threaded in between the motifs.  Also a small rectangular piece of paper can be threaded between the spokes to hold your sentiment or adhered.  These mini-cards are 4″ x 3″.  

I loved playing around with the Gossamer Knot Ensemble! There are four dies in the envelope.  Each of the main pieces can be cut as an inlay or in conjunction with the rims so that you can cut out the whole panels.  I found them to be a good size for a background and  'coincidentally' the inserts are interchangeable with the inserts for the Filigree Booklet :-)


Second up is Spellbinders S6-124 Venise Lace – Mini Card/Booklet Gift Box








 I created a matching gift box for the cards I made.  The Gossamer Knot Insert seats into the top of the box as an inlay or can be cut and adhered to the top.  The second inlay is an embellishment to the front and sides of the box.  The finished box is 4.5″ x 2″ x 3.5.   It's a nice way to give a gift or to give a gift of a card set.  It conveniently holds a set of cards or several books – even the thicker bound ones made with Spellbinders Filigree Booklet.
There is an instruction sheet that comes with the dies that shows how to put the box together – it's very easy.  Another happy coincidence – if you have the Filigree Booklet from Vintage Elegance in your collection – those inserts work with this gift box as well!!



Availability:
These dies have just arrived and are indeed available on the Spellbinders Website ——-> HERE
In the meantime, be sure you leave a comment on this post for a chance to win an Amazing Paper Grace Die from the Vintage Elegance Collection.
Prizes:
There are five dies that are being given away. One name will be randomly picked from comments left on each of our five blogs on the APG Creative Team May Blog Hop post between June 13 and June 16, 2017 at midnight US CST and our international friends can participate!  The randomly selected names will be announced on the Amazing Paper Grace Blog on June 17th.
Up for grabs is an Amazing Paper Grace die of your choice from the Vintage Elegance Collection; there will be a total of five dies and a winner can win once among all five blogs.   If your name is selected, simply claim it within 2 weeks of announcement by sending your address through the form under the Contact Tab on the Amazing Paper Grace Blog.  The dies will be mailed out by me, once I've received your winning info and choice.
More Eye Candy:
Visit Melissa  – keepsakesbymelissa.blogspot.com  to see her take on Emmeline Treillage and Franchesa Label.
Visit Kristi      – kristispapercreations.blogspot.com to see her take on Isabella Frame and Isadora Trinkets
Visit Teresa    – victorianpaperqueen.blogspot.com to see her take on Victoriana Crest and Bella Claire Border
Visit Joanna   – joannakrog.blogspot.com to see her take on Cinch and Go Flowers II and Hemstitch Rectangles
Visit Anita      – craftingforever-anita.blogspot.com to see her take on Marchine Plume and Cinch and Go Flowers II
Visit Becca    –  amazingpapergrace.com/blog to see her take on Gossamer Knot Ensemble & Mini Card/Booklet Gift Box
Thanks so much for joining us for Introducing Venise Lace!
Leave a comment – tell us, which die is tugging at your heart?