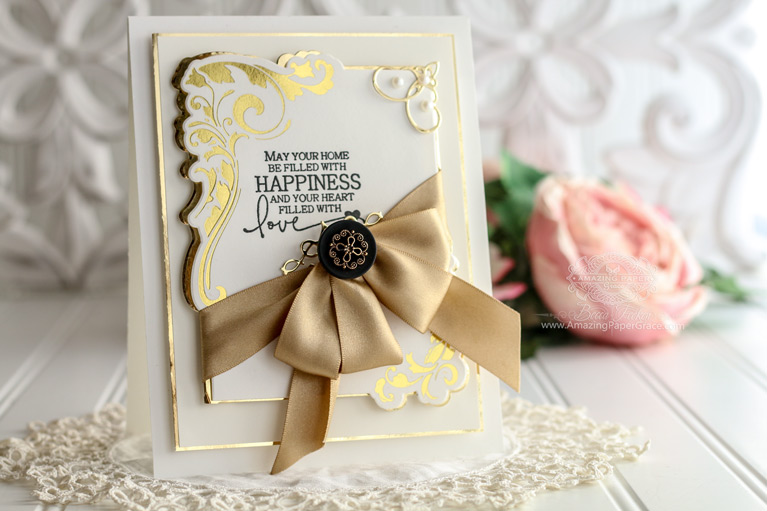 Greetings glimmeristas!    Today, we are launching The Gilded Age – a small glimmer collection with some exquisite plates.  Join us as we introduce five new Glimmer Sets (some with dies) and 1 brand new Die Set that has matching glimmer plates. We've eased into the beautiful habit of building card layers and layering frames with foil and the Spellbinders Glimmer Foil System.   These metal plates are just like stamps and can be used for letterpress and deep embossing as well as transferring gorgeous foils to many items.  So, welcome to The Gilded Age Collection – I'd love the share the inspiration for the collection below.
Inspiration for The Gilded Age
I have a romantic fascination with days gone by and the beautiful, fragile relics that survive to create our memories. The Gilded Age is a look back to a time when beautiful things were all around and each item had a story tied to it.  Fineries were hard earned and treasured, garnered with much pride and bathed with love and sentimental value.  Whether in art or clothes or architecture, the timeless glamour of the era thankfully punctuates our lives today.
It was an age where dreamers knew no bounds in decorating and inventing, paving the way for exquisite art, extravagant embellishment and a level of grandeur that defies simplicity.   We're fortunate that traces of the era live on.  One of our present day methods of gilding comes in the way of foiling. Once only able to be carried out at prints shops, it was an expensive process that signaled exceptional taste; your eyes can't help but be drawn to it.
In the collection, I've curated a couple of looks inspired by a ladies stationary desk.  A desk where she might sit a compose "Thank You" notes with care and attention to detail using her coveted fineries of the day.  Each plate in the collection delivers a mark that can be considered hallmarks of fine penmanship and papers.  I'm convinced that each of us has a mark, an indelible mark – the tools are there, calling out for us to use them.

My Projects For Today:
I'm tickled to introduce GLP-119 Gilded Leaves Shaped Panel.  It contains both dies and plates.
It is a glimmer plate that three of us are introducing.  We will each show you a different technique for displaying these sweet swirls.  My representation is as a "Shaped Panel".
Here is what the plates actually look like:
I so loved working with this set because of the multiple ways it can be used!!  I'm using it one way, and both Kate and Judy on the link list below are using it in a totally different way.  My hope was that it would be used as a 'shaped panel' and it's a bit unique.  For my first card here's what I did:
I laid out the dies for reference, then laid the plates into place.
Before glimmering – I removed the dies as they were just for reference.
After glimmering, I then die cut the panel.
For the shadow layer, I simply moved my dies 1/4″ further apart giving me a larger diecut.
I love the depth that the shadow gives and having it all in one panel give a unique yet polished look!!
Here is another colorway and the panel is rotated horizontally :-)
Availability:
These plates are available right now on the Spellbinders website —–> HERE
Prizes:
In the meantime, be sure you leave a comment on this post and every Creative Team Members post for a chance to win an Amazing Paper Grace Die from any previous collection.
There are three dies that are being given away.  One name will be randomly picked from comments left on the combination of our seven blogs on the Introducing The Gilded Age Blog Hop post between March 17 and March 22, 2018, at midnight US Central Time.  We encourage all of our international friends to participate!  The randomly selected names will be announced on the Amazing Paper Grace Blog on March 23rd.  (All giveaways for this hop are managed by and the responsibility of Amazing Paper Grace).
Up for grabs is an Amazing Paper Grace die of your choice from the Vintage Elegance Collection, the Graceful Borders Collection, the Venise Lace Collection, the Chantilly Paper Lace Collection, the 3D Vignettes Collection, the Romancing the Swirl Collection, the A Charming Christmas Collection, the Glorious Glimmer Collection or the Shadowbox Vignettes Collection.  There will be a total of three dies and a winner can win once among all the blogs.  If your name is selected, simply claim it within 2 weeks of the announcement by sending your address through the form under the Contact Tab on the Amazing Paper Grace Blog.  There won't be a reply back but if you leave your choice, we'll get it, I promise.  When sent, you will get an email that your die is on the way. The dies will be mailed out from Amazing Paper Grace.
Creative Team:
Visit Joanna   – joannakrog.blogspot.com
Visit Teresa   –  victorianpaperqueen.blogspot.com
Visit Melissa  – keepsakesbymelissa.blogspot.com 
Visit Ewelina –  elinaart.blogspot.com
Visit Judy       – judyhayesdesign.blogspot.com
Visit Kate       – craft2owls.blogspot.com
Visit Becca     – amazingpapergrace.com/blog
Thanks so much for joining us for the Introducing The Gilded Age Blog Hop.  We hope you'll find a little bit of inspiration along the way!  Don't forget to leave a comment to tell us which plate you like best – do you have a favorite?  Have you tried Glimmer yet?  What's your favorite way to use foils?  If you are new glimmer you can see this post for answers to frequently asked questions ——-> HERE.