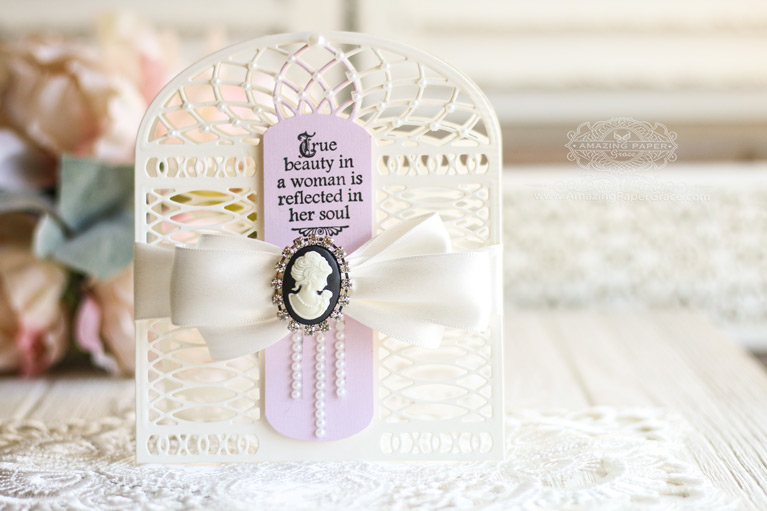 Sweet friends, I'm back to share a little card I had in my mind using the March Die of the Month and also in celebrational of International Women's Month.   When you look at the die, it's easy to think that it is "just" a background die, right.  Wrong :-)  I designed it to be cut up so that all the parts and pieces can be used for embellishment.  We've had fun all month slicing and dicing the die up and today I'm coming to you with a shaped card.
Shaped Cards
I've always loved shaped cards because of their uniqueness.  I achieved this look by cutting two panels but one of the panels is cut with a hinge.  You can see my video for that technique ——–> HERE.  The center column in the design is perfect for a sentiment so I cut an additional one in pink.  That leaves a sweet little space in the back for a little note – like thank you.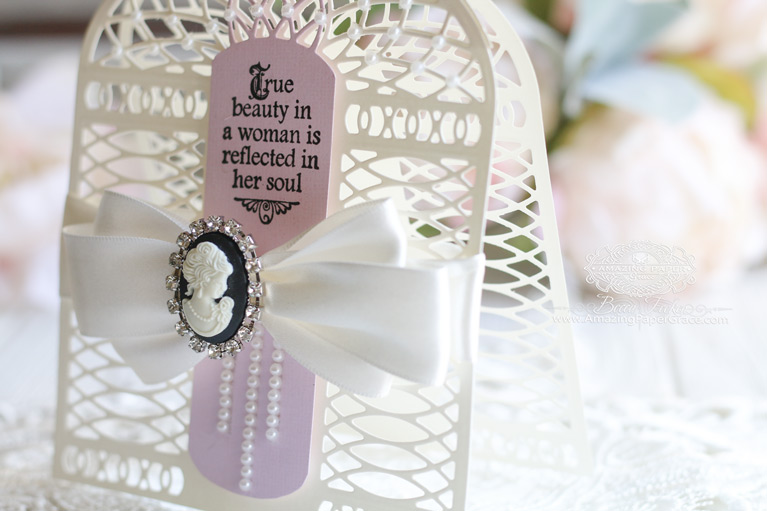 Speaking of thank you, thank you for joining us as we introduced The Gilded Age.  It's a collection that is close to my heart and I've loved using it!!  There is more to come this month with the collection but in the meantime, let's get to some winners.
And now for the Prize Winners and the Blogs where the names were picked!
From Kate's Blog –  KarenLadd who left a comment 18 March 2019 at 06:50
From Melissa's Blog – Rozy who left a comment March 22, 2019 at 8:26 PM
From Becca's Blog –  Fay Marie Gardner who left a comment on March 17, 2019 – 3:45 pm
Leave a message on the contact tab in the upper right corner of my blog to claim your die.  Remember you can select from the following collections: Vintage Elegance Collection, the Graceful Borders Collection, the Venise Lace Collection, the Chantilly Paper Lace Collection, the 3D Vignettes Collection, the Romancing the Swirl Collection, the A Charming Christmas Collection, the Glorious Glimmer Collection or the Shadowbox Vignettes Collection.
The hurricane saga continues for me.  I've not been able to move back home yet, but I think (hope) all the remaining answers will come soon.  It's been the most unexpected journey for me.  Even though it has been difficult, I believe with all my heart that there is a lesson in this journey.  I think it was an event to wake me up; I see it as a journey of letting go of the old and bravely searching for the new.  At times I've been reluctant to look ahead because it's easy to get into a comfort zone, it's my cocoon of safety.  In fact, for the last six months I've felt vulnerable every.single.day.    I have to remind myself over and over that "que sera, sera."  I'm where I'm supposed to be right now – comfortable or not.  I thank you so much for continuing to check up on me.