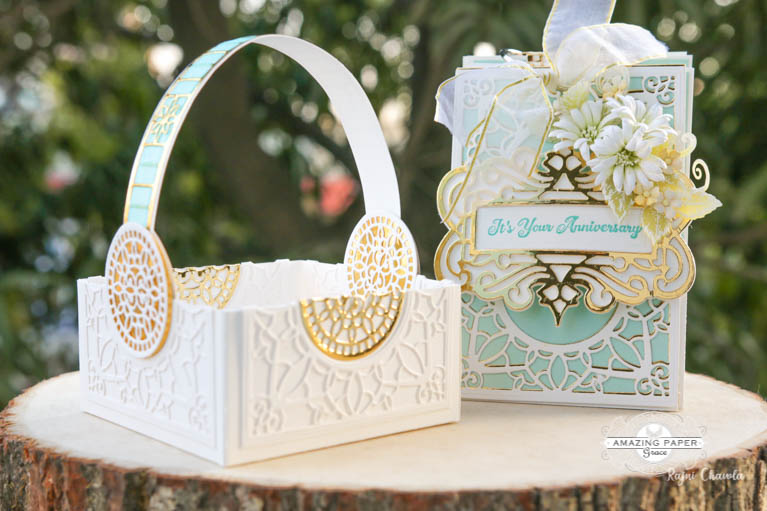 I am so tickled to introduce Rajni Chawla as a new addition to the Amazing Paper Grace Creative Team.  Rajni has a magnificent style and is absolutely prolific when it comes to creating projects and designs.  It's so easy to see that she is passionate about her crafts.  P.S.  Prize winners from our last Introducing Blog Hop are listed at the bottom of the post.
To mark the occasion, Rajni has taken my newest collection called Flourished Fretwork and created some new card designs.  Our goal in the group is to share as much inspiration as we possibly can to teach you how to use the dies I create.  If you are new to die-cutting, you learn by copying and once you get the hang of things then you'll have the confidence to substitute in different dies from your stash.  As always with my cards and certainly with these shown here – it takes only minutes to make a replica.  When copying, be gracious and give credit to the creator – these are not things you should claim as your own nor should you enter them into any contests.  Instead, use them as inspiration to grow until you are comfortable on your own.  Please check out Rajni's blog for additional items she has created with Flourished Fretwork – she has a magnificent card you will want to see.
Welcome Rajni!!  I've included a link to her blog above and there you can also grab her social media links:
I am Rajni Chawla from New Delhi, India with my four kids – a daughter, a son and two cute little Labradors. About 7 years back, I started off in the field of cardmaking as a newbie. And now, thousands of projects later, I can proudly say that I start each of my creations with the same enthusiasm as I started my first one with. I eat, sleep and breathe everything that has to do with crafting. My love for ART simply grows with each project that I make. Flowers and birdies are my weakness.
Vibrant and bright colors are my style. But that said, I enjoy experimenting and love to make mistakes (I call them happy accidents) so that I create something new. Besides designer, I'm a craft instructor and a product developer too.  I conduct various craft workshops all across India and have developed products as well.



Rajni Chawla – Inspiring You To Create



Here Rajni created a square box and used the brand new Richelieu Square to embellish – simply folding it over the edges of the box.  The tone on tone look punctuated by gold is beautiful!!  To finish off, she simply added a handle.



In creating another piece for the ensemble, Rajni created a tag book.  By using two of the Richelieu Squares overlayed she was readily able to make a rectangular piece.  She covered her seams by using the motif and stamp set from the huge All Occasions Stamp and Sentiment Set.  Her tag book is ready to take pictures and is cinched at the top by a ring.
Blog Hop Winners
In the madness behind the scenes to get a full-fledged Facebook Group up and running, we forgot to do something.  We forgot to pick the winner from the Flourished Fretwork Blog Hop.  As such, I'm publishing the winners here, but I will reach out to the winners directly to pick their prizes.  And the winners are:


I'm so blessed to have a wonderful group of friends and my lovely design team that always surrounds me.  It's these good feelings and good friendships that spark the creative juices I rely on, to create.  Creating is my therapy and is my way of life. Without it, I wouldn't have a purpose and would probably be quite sad.
My Latest Good Thing
I'm rarely on Facebook but I do now have an Amazing Paper Grace Creative Encouragement group on Facebook where I am actually able to chat back and forth with the public.  It is a bright spot in my life and quite reminds me of the early days of blogs.  Some of you don't do Facebook, no worries, but please know that you are able to enjoy the safety of my private group even if you don't look at other Facebook conversations.  Politics are banned from the group and only encouragement and positive posts, as well as learning posts, are allowed.  Since encouragement is part of my mission, I do look at other posts and try to return the encouragement given to me, 10 fold.  I'd be honored if you joined me there but understand if you cannot.
On one last note today, please be safe where ever you are in the world.  Even though these are scary times, it is also a time to draw close to your family.  Love on them, protect them, savor the time you have with them and turn the negative to a positive.  Life changes, and this is one of those times where we are called on to remember what is important.  We can make the best of the time so that goes quickly.  What are you doing to keep busy and stay positive?