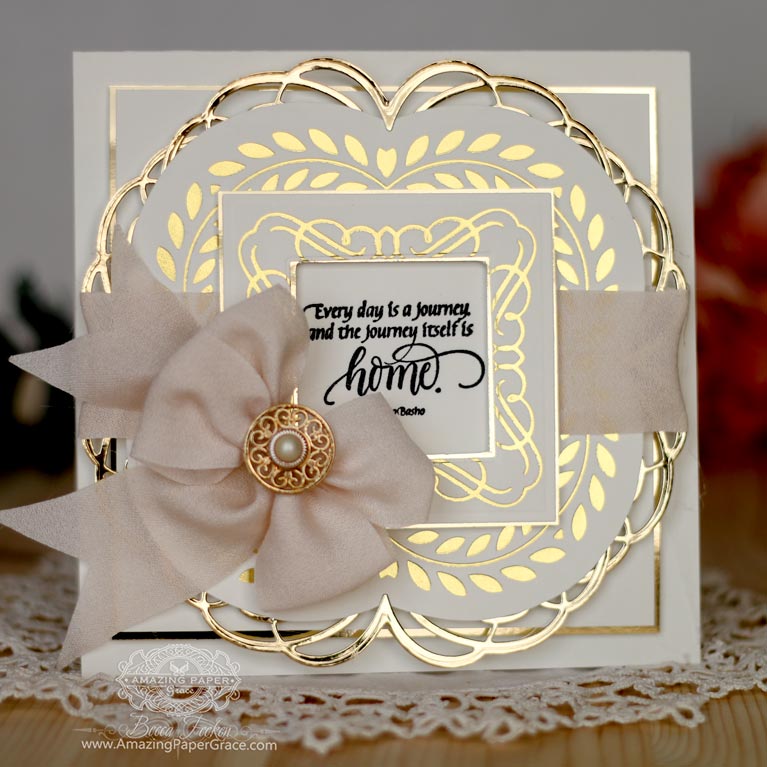 All that glimmers may well be gold!  Hi there, today we are sharing with you a wonderful new tool – Spellbinders Glimmer Foil System and I'm introducing a new collection, Glorious Glimmer Classic Plates.  In a nutshell, it's an accessory to your die cut machine that will let you add foil motifs to materials from paper to vellum to leather to wood to fabric and more.  The machine employs heat and pressure along with metal stamps (Glimmer Plates) to transfer foil to a surface – like cardstock.  The Glimmer Plates work just like rubber stamps and in addition to transferring foil, they can transfer ink, they can letterpress and they can deep emboss.  Some of the sets feature both plates and dies!
Adding layers of gold or colored foil motifs creates an extra dimension to the sweet cards you send in life. This is a game changer for elegant cards!  Crafters are finally able to get that professional printer look, but at home and for way less than engaging a printer to do foil.  I like to think that the glimmer plates will make instant backgrounds and borders, but now there's a new thing to include in your pretty layers!
About Glorious Glimmer
I jumped at the opportunity to create a set of classic, never go out of style plates for the new Glimmer Machine.  My newest collection, Glorious Glimmer Classic Plates have that sweet calligraphic look that has been popular throughout the ages.  Whether used as a background, framed or layered up with a sweet die cut peeking out from underneath, these plates have options that will allow you to highlight them beautifully in any project.
Join us for our blog hop where we will show you some inspiration on crisply transferred foil that spans from a clean look to a more involved elegant look!!  Also today we have the pleasure of introducing a new Creative Team Member.  Please welcome Ewelina Panka – you have seen and have swooned over her work before.  She creates classic beauty on her —-> Blog as well as on her —-> Facebook and on her —-> Instagram.  Please be sure to subscribe to her in each of these areas and watch as she dazzles with her fine eye for detail as well as her magnificent flowers!
My Projects For Today:
First up is GLP-031 – Glorious Glimmer Elegant Square
Here is what the plate actually looks like.
This is one of my favorite images, it reminds me of leaves and is oh, so elegant.  I simply took a circle die and traced around each of the mounds so that I could lift my shape up.  This is a perfect shape to layer with one of my intricate squarish dies – so that's what I did.  Then I took the inner piece and made it a frame so that it could accommodate a sweet sentiment from Quietfire Design called Every Day is a Journey.  It's that easy to add glimmer to all the layers :-)
For this card, instead of glimmering it, I simply embossed it.  The Glimmer Plates give a very deep and pronounced emboss that seems even more detailed than 3D embossing folders.  For this I simply used to motif as a background element – I love using the plates this way!!
Second up is GLP-040 – Glimmer Place Card Mini Topper
Here is what the actual plate looks like:



This particular plate works with my Filigree Booklet die to make a book cover or mini card.  There are actually dies with this set of Glimmer Plates that will allow you to make a quick and simple place card.  Today, I made simple baby cards by glimmering the background and adding some precut elements.
Availability:
There is much more inspiration in store today and for the weeks to come.  Just pop down the list of Creative Team Members to see more!
P.S.  I am still displaced from the Hurricane that hit Florida and that means, that the dies I use for prize winners are in Florida.  There are roughly five people waiting on dies.  I have not forgotten you, please bear with me :-)