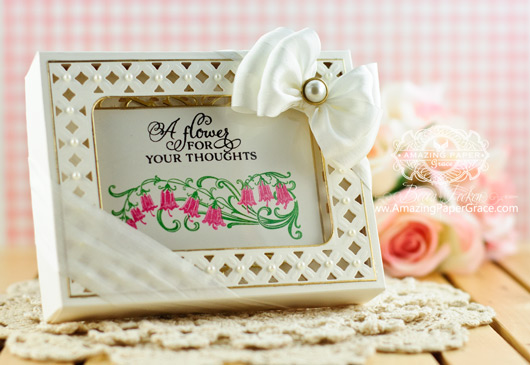 Yep, I love it when I have a new set of stamps to release and today is that day!!! This is truly one of my favorites, it's called A Flower for your Thoughts. Its another set that has mix and match mojo so I made a little boxed set of cards to show you how easy it is to switch out the sentiments and the flowers for many, many unique cards out of the same set.  You can pop over and see the full set on the JustRite Papercraft website and you can snatch all the Pinterest Pins HERE :-)    So first of all, the flowers are broken out as separate stamps so that you can color them separately with two step stamping.  There are so many palettes you can apply – I went with crisp primary colors today, but I can see doing powder pink for a girl, or russet tones for fall flowers and foliage and don't forget embossing in white or gold for a totally elegant look.  Take a look at our Tip Sheet just to see how the groupings work – CLICK HERE to download PDF or use the download link over on the JustRite site HERE.
I loved that garden lattice look of Spellbinders A2 Diamond Effects and decided to use it as the backdrop for each card.  Diamond Effects makes the card base when assembled as shown in this Hinge Video.  Stamping is done on a 2-5/8″ x 3-7/8″ panel, embellished with Heirloom Flourish One  and attached to the card base with foam tape.  I used a Krylon Gold pin to add a rim around all the edges.   That's it for the cards!  Every year I have a 'go to' set that I can make quick cards from and that I can make a gift set of cards from – yep, this'll do.  Here are the cards in the set:
Oh, and one more thing . . . for the next three days that set is on SALE @ 25% off.  Lot of other goodies on sale too – definitely worth a look!
CRAFT SUPPLIES I USED 
Rubber Stamps: JustRite Papercraft – A Flower for your Thoughts

Craft Paper: Neenah Classic Crest – Natural White – 80 lb, Gold
Ink: Versafine Onyx Black, Fresh Ink – Pink Lemonade, Fuchsia, Gypsy Blue Amuse Studio – Grape, Evergreen, Buttercup
Accessories: Spellbinders A2 Diamond Effects, Heirloom Flourish One, The Paper Studio Pearls, May Arts Silk Ribbon, Pearl Brad, Krylon Gold Pen 

The other ladies have made some charming samples out of this set, I hope you pop around to see:
JustRite Inspiration • Becca Feeken • Debbie Olson • Kristi Schurr •  Eva Dobilas • Marisa Job  • Heidi Blankenship • Darsie Bruno • Kathy Jones 
Thanks so much for stopping by, there will be loads of goodies to see tomorrow too!  Join me back here for an elegant wedding card that can easily be used for an anniverasary.  See you soon!!
Question Parking Lot: